Are you looking for a summer getaway with sun, sand, and crystal clear water? Look no further than the beautiful beaches of Israel! From Tel Aviv to Eilat,Israel has some of the best beaches in the world.
Whether you want to relax on Gordon Beach in Tel Aviv or explore the coral reefs of Dolphin Reef Beach in Eilat, there's something for everyone! In this blog, we'll take a look at 13 of the top beaches in Israel and what makes them so special. So grab your sunscreen and get ready to hit the beach – here are the top 13 beaches in Israel!
1. Gordon Beach, Tel Aviv
Gordon Beach in Tel Aviv is one of the most popular beaches in Israel. Located in the city center and just south of the historic Jaffa port, Gordon beach has been an iconic part of Tel Aviv since its creation in the early 1920s. Its wide stretch of white sand beach is perfect for sunbathing or a leisurely stroll along its inviting shoreline.
The crystal clear waters offer unbeatable swimming conditions throughout summer months. The café scene along Gordon Beach make it a great spot for socialization and people-watching, with outdoor cafes lining Dan Panorama Street to provide the perfect sunset view. With its combination of culture, relaxation and recreation, one can see why Gordon Beach is such a beloved landmark of Tel Aviv!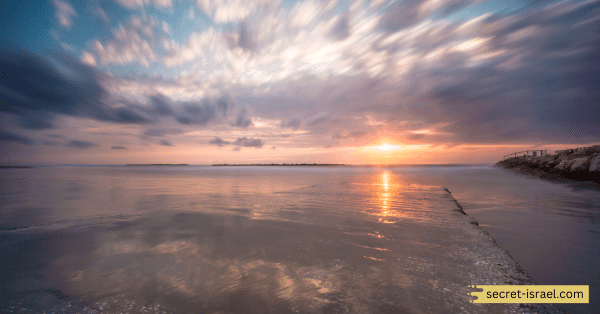 2. Hof HaCarmel Beach, Haifa
Hof HaCarmel beach in Haifa, Israel is a beautiful beach boasting soft golden sand and crystal-clear sea waters. With its arc of crescent sandy shores, the beach provides an idyllic spot for visitors looking to relax and unwind. It features a wide range of perfectly placed amenities to ensure maximum beach pleasure – including grills for barbecues, seating areas, a playground for children, and even volleyball courts!
The blue expanse of the Mediterranean Sea will provide unforgettable memories from your visit here. Furthermore, with its ideal location close to the city, it provides an perfect escape from all the hustle and bustle, yet remains accessible from all parts of Haifa. No matter what you're looking for in a beach experience, Hof HaCarmel beach has something for everyone!
3. Frishman Beach, Tel Aviv
Frishman Beach, located in the bustling city of Tel Aviv, is one of the oldest beaches in the city. This long sandy shoreline is perfect for swimming, lounging and windsurfing. There's also plenty to explore along the shore and during low tide you can spot some interesting sea creatures.
Visitors from all over Israel come to Frishman Beach to take advantage of its convenient location, vibrant atmosphere, and great surf.
No matter what time of year you visit there's always something new to experience or discover among its lively seafood restaurants, bars and shops which are just steps away from the beach. Whether it be wading in its waves or basking in the sun while admiring beautiful views, a trip to Frishman Beach is sure to delight!
4. Ma'agan Michael Beach, Tiberias
Located on the beautiful Sea of Galilee in the city of Tiberias, Ma'agan Michael Beach is an ideal destination for a sunny summer getaway. Boasting excellent snorkeling and scuba diving opportunities alongside its impressively pristine white-sand beaches and boardwalks lined with lush Mediterranean foliage, you won't regret taking a dip in its crystal clear waters!
Not only does Ma'agan Michael make for fantastic swimming, but visitors can also enjoy many activities like sailing, bike riding and indoor sports due to the beach's close proximity to Tiberiasis hotels and holiday centers. Of course, you could take your time strolling along its boardwalk which offers plenty of great shops, cafes and terraces.
With the amazing experience of sunbathing or simply relaxing by the lake coupled with the natural beauty surrounding this region, Ma'agan Michael truly has something for everyone.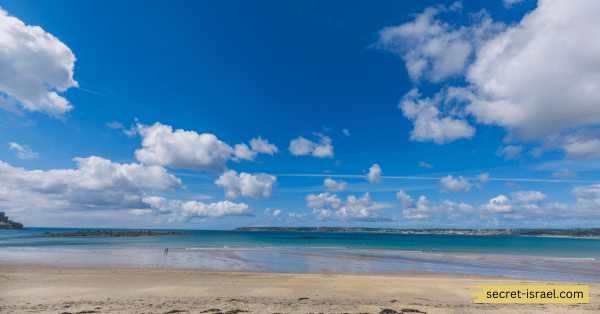 5. Kfar HaNokdim Beach, Eilat
Kfar HaNokdim Beach in Eilat is a paradise for beach lovers. With crystal clear waters and powder-fine white sand, it's an ideal place to soak up the sun and relax. The beach also has a range of flora that adds to its tranquil atmosphere.
These include nearby date palms and local desert plants, bringing color into what would otherwise be a breathtakingly beautiful yet monochromatic panorama. Kfar HaNokdim Beach is the perfect spot for anyone looking to experience some of the best nature attractions that Israel has to offer.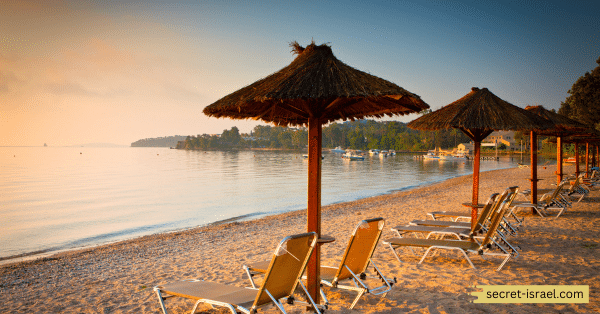 6. Livnim Beach, Kinneret
Located just less than 3 miles from the north shore of the Sea of Galilee in northern Israel is Livnim Beach, an incredible spot for a day filled with fun and relaxation. Facing Kinneret Mountain and surrounded by lush green hills, this paradisiacal beach offers tranquil waters perfect for swimming and a wide variety of family-friendly activities.
Aside from swimming, visitors to Livnim Beach can enjoy beach volleyball or rent paddle boats or other gear. Those looking to really relax will be happy to know that they can grab a mat or sun lounge chair, granting them some respite after exploring everything the area has to offer.
Whether it's to cool off on a hot day or simply to take advantage of one of Northern Israel's stunning views, Livnim Beach truly offers something for everyone!
7. Palm Beach, Herzliya
Located in the center of the Israeli Coast, Palm Beach Herzliya is a magnificent stretch of beach that boasts tranquil blue waters, white sands and stunning sunsets. Whether you're looking for fun in the sun or a peaceful location to quietly enjoy the ocean breeze, Palm Beach offers both.
With its accessible location and amenities such as lifeguard supervision, showers and toilets, this beach is the perfect destination for visitors and locals alike. Visitors also have access to a wide array of restaurants, bars, shops and cafes near by to explore after spending time at the beach.
Whether you're visiting for a few hours or planning an entire vacation around it, Palm Beach Herzliya is sure to provide countless memories that will last a lifetime!
8. Mikhmoret Beach, Netanya
Mikhmoret beach is an amazing natural oasis that is nestled along the Mediterranean Sea in Netanya, Israel. During the hot summer days, it's a great place to cool off and relax by enjoying the clear blue waters – perfect for swimming and snorkeling! This beach has something for everyone including a promenade lined with thriving restaurants and shops, making it a popular spot among locals and tourists alike.
Mikhmoret also boasts a selection of playgrounds and sitting areas, making it ideal for families with children; there are plenty of activities available to keep everyone entertained. Whether looking for a day of fun in the sun or simply seeking peace and serenity, Mikhmoret Beach is sure to give you an unforgettable experience!
9. Dolphin Reef Beach, Eilat
Dolphin Reef Beach in Eilat offers a unique experience like no other. It's not your average beach; what sets it apart is its main attraction – the dolphins! Visitors can observe, swim and even dive with the friendly dolphins.
The shallow waters provide perfect conditions for swimming with them, as you'll be able to watch them in their natural habitat up close. What's more, the beach also has an underwater observatory for a closer look at the incredible marine life. With its abundance of activities and stunning landscape, Dolphin Reef Beach is an amazing destination to explore and make memories that will last a lifetime.
10. Oceana Beach, Tel Aviv
Oceana Beach in Tel Aviv, Israel is truly a sight to behold. From the sun-drenched sand and crystal clear waters to the captivating beauty of its golden hour sunsets, it's easy to understand why this beach has been attracting locals and visitors alike for generations. It has become a go-to destination for activities such as swimming, surfing, snorkeling, and beach volleyball.
During peak summer months, you'll find ample opportunities to sample freshly cooked seafood from local restaurateurs who congregate around the area, as well as street vendors selling drinks and souvenirs. This stunning beach getaway is a must-see for visitors hoping to experience one of Israel's most breathtaking destinations.
11. Zikim Beach, Ashkelon
Zikim Beach in Ashkelon is an idyllic spot for a family vacation. Located on the Mediterranean coast, the beach is known for its soft white sands and crystal clear waters. Visitors can take a dip in the sea or relax in decorated lounge chairs while enjoying views of Tel Aviv along the horizon.
With restaurants offering local dishes and activities like kayaking and paddle boarding, there's something to please everyone at Zikim Beach. For those wanting to explore beyond the beach, nearby attractions include historical sites with monuments from hundreds of years ago. Whether you're seeking adventure or relaxation, Zikim Beach provides a unique opportunity to experience it all during your vacation.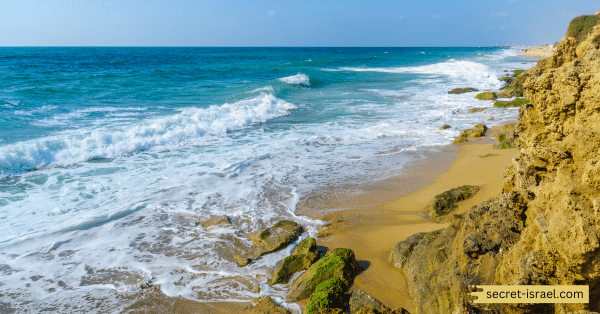 12. Atzmaut Beach, Haifa
Atzmaut Beach in Haifa offers everything a beach day could want. Stretching for over two kilometers, the glimmering white sand and crystal clear waters make it the perfect place to relax.
Whether you're looking for a tranquil afternoon to sunbathe, or an exciting time playing beach volleyball with friends, there's something for everyone at Atzmaut Beach.
Enjoy taking a leisurely stroll down the beachfront promenade as you admire views of the Mediterranean Sea where sailboats can often be seen catching a peaceful breeze. For holidaymakers and locals alike, a trip to Atzmaut Beach is always full of fun and adventure!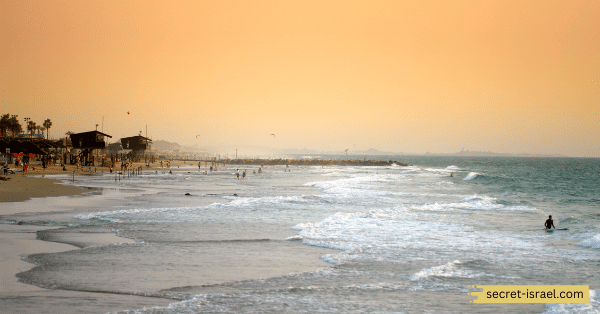 13. Dolphin Beach, Eilat
Dolphin Beach in Eilat, Israel is the perfect spot for sun lovers and wildlife enthusiasts alike. This scenic beachfront gets its name from the large number of dolphins that can be spotted in its vicinity. It is a popular spot among locals during the summer months since it provides easy access to boat trips around the breathtaking coral reefs of the Red Sea.
In addition, an array of water sports including parasailing and relaxation options such as massage cabins are also available for visitors. Whether you decide to spend a day lounging on the shore or marveling at the marine life, Dolphin Beach offers something for everyone.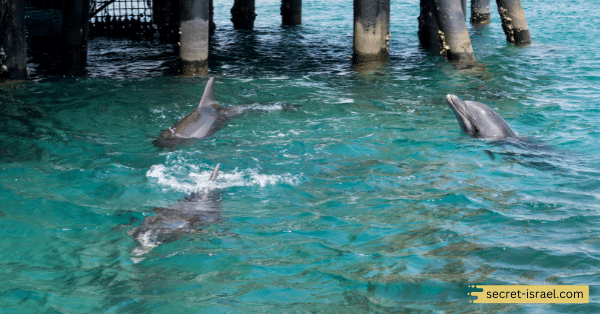 In conclusion
Israel is the perfect destination for beach lovers looking for sand and sea. With its wide variety of beaches that span from the Mediterranean to the Red Sea, you can find one that suits your tastes whether it be for a calm getaway or an active adventure. From iconic beaches such as Gordon Beach in Tel Aviv to Atzmaut Beach in Haifa and so much more, you can guarantee yourself an unforgettable experience with some of the best beaches in Israel.