Summer is the perfect time to enjoy the Mediterranean beaches of Caesarea. With its crystal-clear waters and stunning scenery, it's no wonder why the area has become a popular summer destination. From long stretches of golden sand to hidden coves and secluded spots, there are plenty of opportunities for relaxation and exploration in this coastal town.
In this blog post, we'll take you through some of the best beaches in Caesarea, so that you can make the most of your time there and find the perfect spot for a memorable beach vacation. So come along and join us as we explore the eight beautiful beaches of Caesarea!
1. Mikhmoret Beach
Located along the Caesarea coastline in Israel, is a stunning and peaceful destination for beach lovers. With its pristine sandy shores, clear turquoise waters, and picturesque surroundings, it offers a serene escape from the busy city life.
The beach's calm and gentle waves make it perfect for swimming and water activities, catering to both beginners and experienced swimmers. Snorkeling and diving enthusiasts will be delighted by the vibrant marine life, including colorful fish and coral reefs.
For those seeking shade, there are ample picnic spots and grassy areas to relax and enjoy a beachside meal. The beach is well-equipped with facilities such as showers, restrooms, and lifeguard services, ensuring a comfortable and safe experience for visitors.
2. Gedor Sea Beach
A tranquil haven situated along the stunning coastline of Caesarea in Israel. As one of the eight beautiful beaches in the area, Gedor Sea Beach offers a serene and relaxing escape for visitors seeking respite.
Its pristine sandy shores, kissed by the gentle waves of the Mediterranean Sea, create a picturesque setting for sunbathing, leisurely walks, and peaceful contemplation. The beach's tranquil ambiance invites swimmers to dip into its refreshing waters or engage in water sports activities.
Address: Hadera, Israel
Hours Open: 24hrs
3. Beit Yanai Beach
Among Caesarea's eight stunning beaches, Beit Yanai stands out as a gem of the Mediterranean Sea. This beach boasts clear blue waters and soft, sandy shores, where visitors can bask in the sun or take a refreshing dip in the sea.
Despite being one of Israel's most popular beaches, Beit Yanai remains tranquil and serene, offering a peaceful retreat from the hustle and bustle of everyday life. Whether you want to enjoy water sports or simply relax on the sand, this beach has something for everyone.
Address: Israel
Hours Open: 24hrs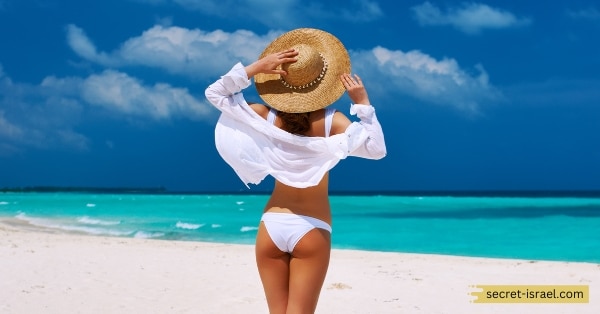 4. Cochav Hayam
Caesarea, a small yet stunning ancient port city in Israel, boasts eight striking beaches. One of these beaches is the Cochav Hayam, which translates to "Star of the Sea." This picturesque beach is located on the southern side of Caesarea.
It offers a relaxing and peaceful atmosphere, perfect for those who want to escape from the hustle and bustle of the city. Cochav Hayam's crystal-clear waters, golden sand, and incredible sunsets make it an ideal location for couples, solo travelers, and families looking for a serene and beautiful place to recharge.
Visitors can enjoy the beach's amenities, including beach chairs and umbrellas, showers, and restrooms. Cochav Hayam is undoubtedly one of the jewels in the crown of Caesarea's beaches and is not to be missed.
Address: Sdot Yam, Israel
Phone: +972 4-610-9233
5. Caesarea Beach
Caesarea Beach is an idyllic destination that boasts some of the most stunning stretches of coastline in Israel. It's the perfect place to escape the hustle and bustle of city life and unwind in the sun.
Whether you're looking to take a dip in the refreshing Mediterranean Sea, soak up some rays on the soft sand, or indulge in some water sports, Caesarea Beach has something for everyone. It's also steeped in history, with remains of an ancient port city that dates back to Roman times.
6. Dor Beach
Nestled along the exquisite Mediterranean coast lies a hidden gem known as Dor Beach. With an impressive length of 7 kilometers and a breathtaking view of the Mediterranean Sea, Dor Beach is renowned for its tranquil ambiance and stunning natural beauty.
Located in close proximity to the ancient city of Caesarea, this beach is an ideal destination for those seeking a relaxing escape from the hustle and bustle of everyday life. Whether you want to bask in the sun, swim in the crystal clear waters, or simply take a leisurely stroll along the shore.
Dor Beach offers a serene setting that will leave you feeling refreshed and rejuvenated. So why not take a break from the chaos of the world and immerse yourself in the splendor of Dor Beach?
7. Olga Beach
A secluded stretch of golden sand that offers visitors the perfect retreat to unwind. The beach boasts crystal-clear waters that invite swimmers to splash around, while sunbathers can soak up the warm rays of the sun in complete serenity.
For those seeking more adventure, Olga Beach also provides access to an array of water sports activities, including windsurfing and stand-up paddle boarding. With its soothing atmosphere and breathtaking views, it's no wonder that Olga Beach is a must-visit destination for anyone looking to relax and recharge.
Address: Hadera, Israel
Hours Open: 24hrs
8. Musa Fish Beach
With its clear turquoise waters and sandy shores, this beach offers a serene and tranquil atmosphere to visitors looking to soak up some sun and enjoy the Mediterranean breeze. Whether you're looking to immerse yourself in the refreshing Mediterranean Sea, work on your tan, or enjoy a leisurely stroll along the shore, Musa Fish Beach offers it all.
In addition to its natural beauty, the beach also boasts a plethora of amenities, including showers, changing rooms, and sun loungers. So, don't hesitate to pack your swimsuit and head on over to Musa Fish Beach for a day of relaxation and rejuvenation in one of Caesarea's eight stunning beaches.
Address: fisherman village, Jisr al-Zarqa, Israel
Open Hours:
Sunday – Thursday 10:30 AM – 9:00 PM
Friday – Saturday Closed 
Phone: +972 52-636-0082
In conclusion
When it comes to experiencing relaxation on the Mediterranean coast, Caesarea's eight beautiful beaches prove to be an amazing destination. With each beach offering its unique atmosphere, visitors will find the perfect spot to unwind and soak up the sun.
Whether it's strolling along the soft sand or taking a dip in the clear blue waters, Caesarea's beaches provide an escape that the busy world cannot offer. The stunning views and tranquil surroundings make it the perfect place to recharge and find inner peace.
Overall, it's no wonder why Caesarea's beaches are a popular attraction for locals and tourists alike.