Are you considering relocating to Jordan? This small yet vibrant middle-eastern country has a rich history and culture, making it an attractive destination for expats. To ease your worries, we have put together this comprehensive guide that will walk you through all the necessary steps of moving to Jordan.
From cultural norms and language tips to transportation and healthcare, we've got you covered. Find out how to navigate this vibrant country like a pro and make your relocation hassle-free.
So sit back and read on as we take you on a journey to discover what it takes to relocate to this beautiful country.
Jordan Culture and Lifestyle
Before we dive into the logistics of moving to Jordan, it's important to get a feel for the country's culture and lifestyle. Jordan is a conservative country with strong Islamic traditions, so it's essential to respect its customs and beliefs.
The official language is Arabic, although English is widely spoken in major cities. The people of Jordan are known for their warm hospitality and generosity, making it easy for expats to feel at home.
It's also worth noting that Jordan has a diverse population, with influences from neighboring countries such as Palestine, Syria, and Iraq. This melting pot of cultures adds to the country's charm and uniqueness.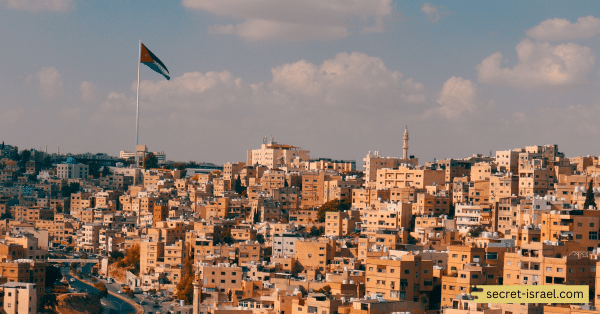 Weather in Jordan
The climate in Jordan varies depending on the region, but overall, it is generally dry and sunny. Summers can be scorching hot, with temperatures reaching up to 40°C (104°F), while winters are mild, with temperatures ranging between 5-15°C (41-59°F). If you're not a fan of extreme heat or cold, the best time to visit or move to Jordan would be during spring or autumn when the weather is more moderate.
Language in Jordan
As mentioned earlier, Arabic is the official language of Jordan. However, English is widely spoken, especially in urban areas and tourist destinations. Learning a few basic Arabic phrases can be helpful and show respect to the locals. Some of the most common words you'll come across are:
Hello: Marhaba
Thank you: Shukran
Yes: Na'am
No: La'a
Goodbye: Ma'a salama
Healthcare in Jordan
One of the most important considerations when moving to a new country is healthcare. In Jordan, there are both public and private healthcare options available, with the latter being more costly but offering better quality care.
Expats are recommended to have international health insurance, as it can cover any medical emergencies and give you access to private hospitals. It's also worth noting that while most doctors in Jordan are trained to a high standard, some may have limited English proficiency. Therefore, it's advisable to do some research and find a doctor who speaks your preferred language.
Transport in Jordan
In Jordan, the most popular and convenient mode of transportation is by taxi or shared taxi, locally known as "service." Taxis are readily available and relatively affordable, with the fare usually negotiable before starting the journey. However, to ensure even more convenience and overcome any potential language barriers, it is advisable to download a local ride-hailing app such as Careem or Uber. These apps provide a hassle-free experience and allow you to easily book and pay for rides.
Alternatively, if you prefer more flexibility and independence in your travels, you can consider renting a car. It's important to note that renting a car in busy cities can be expensive, so it's recommended if you are familiar with driving in such environments. Renting a car gives you the freedom to explore at your own pace and venture into lesser-known destinations.
Jordan Currency
The official currency in Jordan is the Jordanian Dinar (JOD), which is further divided into 1000 fils. When visiting Jordan, it is recommended to exchange your money upon arrival at a bank or an authorized exchange office, as they usually offer more favorable exchange rates compared to other places.
While credit cards and debit cards are widely accepted in major cities and tourist areas, it is always advisable to have some cash on hand for smaller purchases and in case you encounter places that do not accept cards. Having a mix of payment options ensures convenience and flexibility during your stay in Jordan.
Schools Jordan
If you are moving to Jordan with your family, one of the top priorities is finding a suitable school for your children. The education system in Jordan is based on the British model, and there are both public and private schools available.
Private schools can be costly, but they offer higher quality education with English as the primary language of instruction. It's important to do some research and visit potential schools before making a decision. You can also consult with other expat families or your employer for recommendations.
Jordan Food & Drink
Jordanian cuisine is a fusion of Middle Eastern, Mediterranean, and Bedouin influences, making it rich in flavors and variety. Some must-try dishes include mansaf (a national dish made with lamb, rice, and yogurt), falafel (deep-fried chickpea balls served in pita bread), and kunafa (a sweet dessert made with cheese and semolina dough). In addition to local delicacies, Jordan has a thriving food scene with international restaurants offering a range of cuisines.
When it comes to drinks, tea is the most popular beverage in Jordan. It's often served as a gesture of hospitality and can be found almost everywhere. For something stronger, you can try arak (an anise-flavored alcoholic drink) or enjoy a cold beer at one of the many bars and clubs in the country.
Jordan Crime Rate
According to the Global Peace Index, Jordan is ranked as one of the safest countries in the Middle East and North Africa region. However, as with any country, it's important to remain vigilant and take necessary precautions, especially in crowded areas and tourist hotspots. It's also recommended to avoid any political demonstrations or protests.
Conclusion
Relocating to a new country can be daunting, but with the right information and preparation, your move to Jordan can be smooth and enjoyable. From embracing the culture to navigating transportation options, we hope this guide has given you valuable insights into what to expect when moving to Jordan. So pack your bags and get ready for an unforgettable experience in this beautiful country!