It's not Greece's Gyro or Turkey's Doner Kebab, and the Shawarma is far better. Combining the best of all worlds (exceptional meat, great salads, wonderful price-to-fullness ratio), the Shawarma stands tall as one of Israel's top street foods. It's highly recommended to anyone who eats meat and is prepared to not eat anything else all day (considering you'll take the lafa, and not settle for a pita). But be warned – many are the crappy Shawarma shops in Israel. Therefore – go to these top 10 posthaste!
Haj Kahil – jaffa \\ Map
This legendary place is named after the family that's running it since its establishment 120 years ago. In the very same place where it opened, the restaurant offers great shawarma and also freshly cooked kebabs and chicken. They have turkey or lamb shawarma, or you can try the mix.
Bino – jaffa \\ Map
This one is very close to the previous place, near Jaffa's clocktower. It's a humble stand, which doubles as Dr. Shakshuka's restaurant's backside. They are the best if you prefer lamb meat.
Well, Hakosem's full name is "Falafel Hakosem," but the lines don't endlessly stretch across the road for falafel balls alone. The secret to the great taste here is just the right amount of fat added to your meat to make it that much greasy and savory. It tastes better than it sounds.
Keter Hamizrach – tel aviv \\ Map
This place (roughly translated to "The Eastern Crown") is known to be a favorite among Israeli celebrities. We doubt you'll recognize any of them, but it's good to know you're in good company. We recommend the turkey shawarma, with an extra dose of dill-onion salad.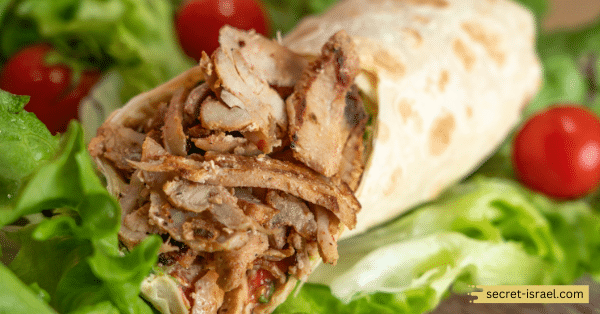 Torek Lahmajun- tel aviv \\ Map
This Turkish restaurant keeps on branching all through Israel. They have lamb, turkey, or cornish hen, but the specialty is using a unique lafa bread (called "lahmajun"), which is essentially laffa with sauce and meat built-in. You won't be disappointed.
Shawarma Emil – Haifa \\ Map
No salads or fancy dressings are needed. You can also ask to put just a tiny bit of Hummus. It's all about the meat here. It's seasoned to perfection and cooked with love (and knowledge). We recommend you ask to get it on a plate and enjoy it without any distractions.
Hello Teiman – Jerusalem \\ Map
Looking for a range of possibilities? You've found the right place – they have lamb, beef, turkey, or chicken, all spinning around, smelling absolutely amazing. Plus, you can ask to mix them all together for a celebration of meaty delights. Again, it tastes better than it sounds.
Massov – Jerusalem \\ Map
The ultimate location for those seeking a late-night munch in the holy city. There's no time you'll see this place crowded with people from all over the city: Yeshiva boys, uni students, adults, and kids, religious and secular. Seriously, it's like an ad for a vacation in the city.
Hamarush – Jerusalem \\ Map
Roughly translated to – no-one has any idea what this name means, hamarush is a tiny-tiny place in the center of town that you shouldn't miss if only for the generous amount of fries you get alongside your shawarma.
This place puts a classy spin on the old shawarma joint. It's elegant and sophisticated in its design. Very Tel-Aviv. Therefore, it has only fish shawarma. It's good but prepare for something different.