If you didn't know, Tel Aviv is one of those cities that have horrible traffic during most of the day. Public transport isn't the greatest, and unfortunately – very unfriendly to non-Hebrew-speaking tourists. Your best bet when it comes to means of transportation is bicycles and scooters.
Electric scooters have been steadily taking over the city for the past two years or so. Today, 4 major companies are operating in Tel Aviv. Here's everything you need to know about their prices, conditions, and scooters.
Before You Ride a Scooter
The city of Tel Aviv welcomes electric scooters, but there are a few important laws put in place to keep the city safe and orderly. You must wear a helmet at all times; when you get to a crosswalk – you need to get off the scooter and walk across; You must ride on the road and not the sidewalk (unless there's a marked bike route); You must park the scooter in the marked areas only (white rectangles on the sidewalk, the apps will help you locate the nearest one). All scooters have license plates, and you can get a ticket if you're not careful.
Bird
Bird is the prominent scooter operator in Israel. Its scooters are the most popular, well known, and available in the city. You need to sign up in the app before you locate the nearest scooter. You need to declare you're over 18 years old to use Bird.
PRICE: 5 NIS to unlock + 0.5 NIS for every riding minute.
Lime
Generally speaking, renting using Lime costs the same as using Bird (you'll need their app too). But Lime recently introduced a "dynamic tariff," determined by the time of day and how busy the service is. This means that the price per riding minute moves between 0.4 and 0.6 NIS. If you're a frequent user, consider buying a Lime Pass for 28 NIS, granting you unlimited and free scooter unlocking for a week.
Wind
This is a relatively new company, trying to make its mark on Israel. They currently only offer about 250 scooters but plan to offer about 1500 by the end of 2020. It costs 5 NIS to unlock a scooter, 0.5 NIS a minute for riding, and your first ride is completely free. Riding is available until 20:00.
Leo
This is the youngest of the operators. They are the only company that plans on allowing you to ride outside of Tel Aviv (to Ramat Gan and even Haifa and Eilat). The price is the same – 5 NIS to unlock, 0.5 NIS a minute to ride. This is the only company that operates 24\7 (other operators stop their service at 22:00 at the latest). You can "book" a scooter 15 minutes in advance to make sure it's there when you get to it and pause your ride to get a cup of coffee for no extra charge.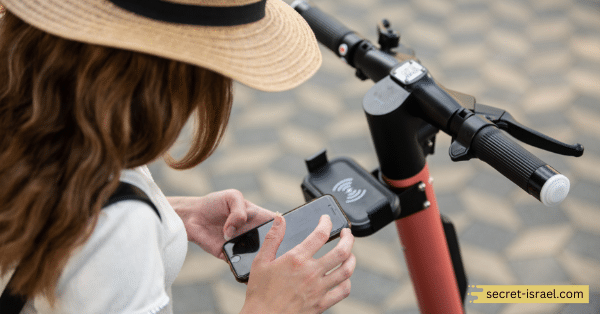 Rav-Kav The only Way to Use Buses and Trains in Israel
Since the beginning of 2019, Israel officially ditched using cash on buses and trains. Now, if you want to use public transport, the most popular way is the rechargeable card called "Rav Kav" (Multiline).