Israel's cuisine is an exciting mix of flavors. From Middle Eastern staples such as hummus and falafel, to Mediterranean favorites like tabbouleh and stuffed vine leaves, expect a feast for the senses! Don't forget about the street food either – shawarma, sabich and schnitzel are just a few of the delicious treats you can find around Israel.
This article will explore some of the best foods to try in Israel and give you tips on how to get the most out of your dining experience. So read on to find out more about the deliciousness that is Israeli cuisine!
Overview of Israeli Cuisine
Israeli cuisine is an exciting mix of ingredients, flavors and cultural influences. Drawing on its history as a melting pot of cultures and geographical elements, Israel's vibrant culinary palette contains elements from the Eastern Mediterranean, Eastern Europe, North Africa and even further afield.
Dishes often feature fresh produce such as pork bone broth or bourekas – savory pastries – filled with cheeses and plenty of spices ranging from sumac to cumin. Street food is also particularly popular in Israel today with everyone having their own favorite shawarma results make use of local delicacies such as hummus, pita breads, olives and artichokes.
Some Israeli meals also incorporate Middle Eastern standards such as falafel or baklava for desserts! Whatever you order in an Israeli diner, you are sure to receive a unique experience that will tantalize your taste buds!
Top Traditional Dishes to Try
Israel is a culturally rich country filled with delicious dishes that have been passed down through the generations. Traditional Israeli dishes vary by region, but many of them feature fresh vegetables like zucchinis, eggplants and potatoes as common ingredients.
Breakfast in Israel can include classic favorites such as shakshuka (eggs poached in a tomato sauce) or shulzeh (a savory omelette). Lunch often showcases local cheeses, hummus and salads made with crunchy falafel or grilled eggplant. Dinner options range from hearty fish stew to roasted chicken and spiced kebabs.
No matter what you're in the mood for, you are sure to find plenty of tasty traditional dishes to sample while exploring this vibrant nation!
Hummus
Hummus is a staple in Israeli cuisine, and it's no surprise why. This creamy dip is made from chickpeas mashed together with olive oil, lemon juice and garlic – the perfect combination of savory and tangy. Hummus is often eaten as part of the traditional mezze platter alongside other classic dishes like baba ganoush, tabbouleh, and stuffed vine leaves.
Pita Bread
Pita bread, a staple of Middle Eastern cooking, is an important part of the Israeli dining experience. This flatbread can be used to scoop up dips or wrapped around kebabs and salads – making it the perfect accompaniment to any meal. Enjoy pita freshly baked in traditional wood-fired ovens for maximum flavor!
Tahini
Tahini is a delicious condiment made from ground sesame seeds, garlic and lemon juice. It is often served as part of mezze platters or used as a dip for falafel or vegetables. Tahini has a unique flavor that enhances the taste of almost any dish – making it an essential ingredient in Israeli cuisine!
Falafel
Falafel is a classic Israeli dish that has spread across the globe. These flavorful deep-fried balls of mixed vegetables and herbs are an essential part of any street food experience in Israel. Enjoy them wrapped up in warm pita bread with tahini sauce for a truly delicious snack!
Kebab
Kebab is a traditional dish made with chunks of lamb, beef or chicken that is marinated in spices and grilled over an open flame. Enjoy kebab as part of a mezze platter or wrapped up in pita bread as a delicious sandwich. Whatever way you choose to enjoy it, this dish is sure to tantalize your taste buds!
Popular Street Food Options
Israel's expansive street food scene offers a smorgasbord of delicious dishes to tantalize taste buds. From sabich with its fried eggplant and hard boiled eggs to shawarma with its succulent lamb and sandwiches made of falafel stuffed into a pita, there is something for everyone.
One of the most popular snacks served on street corners is the jachnun; twisted dough that has been slow-cooked for twelve hours. Maggoty cheese bourekas are also offered, boasting a deliciously flaky pastry filled with melted cheese. These dishes might not sound enticing to some, but they capture the unique flavor of Israeli cuisine.
Sfenj (Fried Donuts)
A classic Israeli street food that has been around for centuries. These donuts are fried in oil and served with cinnamon sugar, honey or date syrup depending on preference. The sfenj is a delicious treat enjoyed any time of day!
Jachnun
Made in Israel for centuries and is now an essential part of the street food scene. This unleavened dough is slow cooked for twelve hours and served with a variety of toppings – from sugar and honey to date syrup or cheese.
Bourekas
A pasty filled with cheese, potatoes or mushrooms, this street food is enjoyed throughout Israel. The traditional bourekas are made from phyllo dough and fried in oil until golden brown – a delicious snack at any time of day!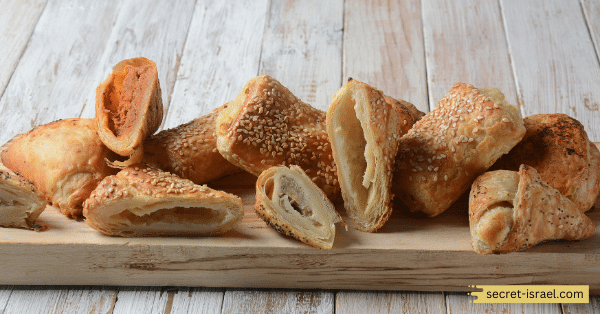 Sufganiyot (Jelly Donuts)
These deep-fried donuts are a traditional treat enjoyed during Hanukkah. Filled with jelly or custard and topped with powdered sugar, sufganiyot make for the perfect sweet snack.

Tips for Eating Out in Israel
When traveling to Israel, one of the best ways to experience the culture is through its amazing cuisine. Eating out in Israel can be a unique and wonderful experience, but there are a few tips you should keep in mind.
First, many restaurants do not accept credit cards; make sure you bring enough cash to cover your meals. Second, tipping is less common than in other places: it's usually only necessary when you receive exceptional service.
Finally, it is considered polite for customers to wait to be seated when entering a restaurant: allow your server to guide you to a table upon arrival. With these tips in mind, you'll be set for an enjoyable and memorable dining experience during your time in Israel!
Summary of Israeli Cuisine
Israeli cuisine has a unique flavor and draws from a variety of cultural backgrounds. Israel has over 200,000 immigrants from around the world, each bringing their own particular style of cooking and different traditional dishes. Jewish immigrants brought their traditional dishes cooked with olive oil, while Middle Eastern cuisine provided delicious options such as kubbe and hummus.
Due to the early influx of German Jews conducting business in the Ottoman Empire, this also influenced many baking traditions now commonly found in Israeli bakeries. From the Russian influence came piroshki, stuffed pockets of dough filled with meat or vegetables.
Italian cuisine is prevalent throughout the country in pizza, pasta and risotto restaurants, while regional specialties abound in Galilee and Tel Aviv. Locally sourced ingredients are key to delivering the freshness, healthfulness, and taste that characterizes Israeli cuisine today – truly something for everyone!
In conclusion
Israeli cuisine is a reflection of the country's rich and varied history. From traditional dishes like hummus and falafel to contemporary street food favorites like shawarma and jachnun, Israeli cooking offers something for everyone. With its plentiful fresh fruits and vegetables, savory spices and unique cultural influences, there is no doubt that Israeli cuisine will continue to delight food lovers around the world in the years to come. Bon Appetit!