The Sea of Galilee (or in Hebrew: Kinneret)  is an important landmark for both Israeli Jews and Christians alike. Besides the natural beauty of this area, it is dotted with important religious sites. The oldest Jewish settlement in this area dates back to 1878, when Rosh Pina was founded. This charming little city still holds much of its original beauty, and is not to be missed, especially in the evenings. Whether you're here for the beauty, the stories or the heritage, here are some locations you should not miss during your visit to the Sea of Galilee.
Places of interest :

Hamat Gader
A short drive from the Kinneret (about 5 miles) is this popular attraction. Hamat Gader is a naturally occurring hot spring (up to 50 degrees), said to have restorative qualities. From there you can go check out the well-known alligator and exotic birds reserve.
Switzerland Forest
While calling this forest Switzerland may be a bit of a stretch, it is extremely beautiful. The path through the forest is only accessible to cars, and will take you 400 meters above the Sea of Galilee, for a magnificent view. If you travel with a car, you should go out of your way to come here, but notice that the path is narrow – drive carefully.
Arbel National Park
If you come to Israel during the spring, Arbel National Park is not to be missed. It is only a short half-hour to hike to the top of the mountain, and the path is gorgeous. The top grants you an unbeatable view of the entire area. It's a perfect place for a picnic or a morning stroll (before it gets hot).
Tiberias
When you ask Israelis about going to the Kinneret, they immediately think about Tiberias (T'veria). If you plan to spend more than a day around the Kinneret, you may want to consider staying here for the night. For more information about Tiberias, be sure to read our in-depth article of the city.
Tiberias guide
Religious Locations:

Capernaum
Now an archaeological site, this is considered to be the very village in which Jesus lived, according to the New Testament. This is where he gave his first preaches, and gathered his very first believers. The most well preserved area of the site is the town's original synagogue, from the fourth century.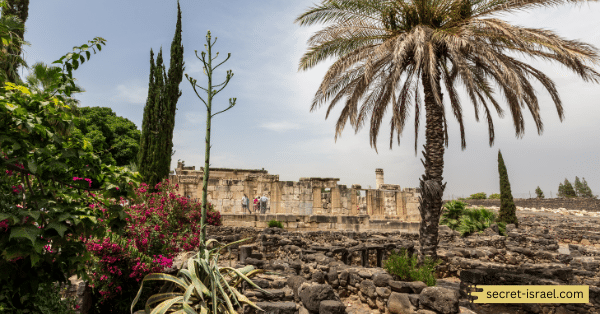 Mount of Beatitudes
Whether you visit for religious reasons or not, you must visit the Roman Catholic Church on the Mount of Beatitudes. This serene place is beautifully kept throughout the year. It is believed this was the location where Jesus gave the famous Sermon on the Mount. The church holds mass hourly (08:00-15:00), and you're welcome to join.