Traveling to Jerusalem is an experience like no other, as the city has been a spiritual center for three of the world's major religions for thousands of years. With its rich history and incredible monuments, it's no surprise that Jerusalem is home to some of the most sacred places in the world. From iconic landmarks to important pilgrimage sites, here are 10 of the most sacred places to visit in Jerusalem.
1. Western Wall/ Kotel
The Western Wall, or Kotel in Hebrew, is a substantial limestone wall that lies at the foot of the Temple Mount in Jerusalem. The wall has been a key site for Jewish prayer and pilgrimage for centuries, serving as the holiest site in Judaism since its construction in c. 19 BCE by Herod the Great.
On any given day, Jewish visitors come to pray at the Wall, leaving their written petitions – known as kvitlach – between its crevices, a traditional custom steeped in Jewish belief that God will hear these prayers and answer them favorably.
In more recent years, following 1967's Six-Day War when Israel gained control over East Jerusalem and therefore the Western Wall, it has also become an important destination for tourists from all over the world and any religious background to experience this historical landmark firsthand.
Address: Western Wall Plaza Jewish Quarter, Jerusalem 97500 Israel
Opening Hours: Open 24 hours
Phone: +972 2-627-1333
Navigate here to see the location's actual view.
2. Dome of the Rock
The Dome of the Rock is one of the oldest and most recognized structures in Jerusalem. As a major site for both Islamic and Jewish communities, it serves as an important religious landmark in this historically significant city. Built in 691 CE by Umayyad Caliph Abd al-Malik, the interior design combines elements from both Islam and Byzantine architecture while its iconic golden dome can be seen from across the city.
The inner walls of the structure house large amounts of gorgeous mosaic artworks and inscriptions that demonstrate a striking combination of words and imagery. Despite centuries of turmoil and conflict, the Dome of the Rock stands strong, reflecting its role as an enduring symbol of peace and harmony.
Address: Temple Mount (Haram al-Sharif), Jerusalem
Opening Hours: 
Temple Mount is closed to tourists on Fridays, Saturdays, and during Muslim holidays.
(Sometimes Temple Mount can close without notice.)
For non-Muslim visitors, Temple Mount can be visited Sunday through Thursday:
Summer: April through September: 8:30 am – 11:30 am and 1:30 pm – 2:30 pm
Winter: October through March: 7:30 am – 10:30 am and 12:30 pm – 1:30 pm
Entrance Fee: Admission is free
Navigate here to see the location's actual view.
3. Church of the Holy Sepulchre
The Church of the Holy Sepulchre in Jerusalem is an incredibly important site for members of Christianity around the world. Said to be where Jesus was crucified, buried, and resurrected, the church has a rich history that spans centuries. The architecture combines the elements of Eastern churches and Western basilicas creating an iconic look for this important pilgrimage destination.
Inside, there are separate places of worship for Catholics, Greek Orthodox, Syrian Orthodox, Coptic Orthodox, Ethiopians-Eritreans, Armenians and two international locations were Roman Catholic can attend mass. Built in 1048 by Constantine IX Monomachos over a location connected to Christ's passion, it continues to remain relevant in many Christian communities.
Address: Christian Quarter, Jerusalem, Israel
Opening Hours: 05:00am – 09:00pm
Phone: +972-6273314
Entrance Fee: Admission is free
Navigate here to see the location's actual view.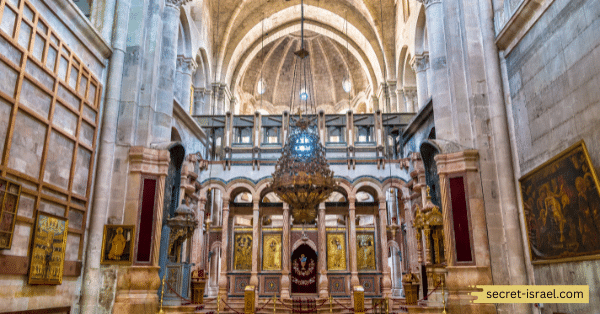 4. Jewish Quarter
Jerusalem is a fascinating city steeped in culture, with a well-preserved ancient Jewish Quarter. Located south of the Temple Mount, this area of Jerusalem was inhabited by Jewish communities from at least the 4th century BC until 1948. Following Israel's War of Independence in 1948, the neighborhood was destroyed and most of its inhabitants were forced to flee during the war. In 1967 Israel reclaimed the area after capturing East Jerusalem from Jordanian forces.
Restoration began shortly thereafter to bring new life and culture back to this now central hub for learning about Jewish history. Home to numerous places of worship and several educational institutions, the Jewish Quarter of Jerusalem provides an important window into Jewish history that is alive and vibrant today.
Address: The Jewish Quarter, Old city, Jerusalem, Israel
Opening Hours: Open 24 hours
Entrance Fee: Individual attractions will have different admission prices.
Navigate here to see the location's actual view.
5. Mount Zion
Mount Zion in Jerusalem is an area with deep religious, cultural, and historical significance. Dating back more than 3,000 years, it is believed to be the place where King David was anointed as King of Israel and where he established his palace. Today, citizens of all backgrounds and faiths can revel in the awe-inspiring beauty of this great city. In addition to its spiritual importance, Mount Zion also boasts a variety of monuments and landmarks from across the ages including the Shrine of the Book, home to some of the Dead Sea Scrolls; Dormition Abbey; and Hezekiah's Tunnel.
Various mosques and churches including King David's Tomb have become notable locations for both locals and visitors alike. Not only is Mount Zion a great reminder of Jerusalem's profound legacy, but it is also a powerful example of how different cultures can peacefully live side-by-side while cherishing their respective religious beliefs.
Address: Rehov Ma'ale HaShalom, Jerusalem 9750000 Israel
Opening Hours: 8:30 am to 4:00 pm
Navigate here to see the location's actual view.
6. Garden Tomb
The Garden Tomb in Jerusalem is a place of immense religious significance for many. It is purported to be the burial place and possible resurrection site of Jesus Christ, claiming to have been a garden dating back to 33 AD. It was not until 1883 that it was rediscovered by Sir Charles George Gordon who observed its strong resemblance to acknowledged sites from the Bible.
For over 130 years, thousands of visitors travel to the tomb each day to reflect on the life and death of Jesus and contemplate its turbulent history. As such, it has become a symbolization of hope and enduring faith for those seeking knowledge and inspiration during their pilgrimages.
Address: Conrad Schick St, Jerusalem
Opening Hours: 08:30 am – 5:30 pm ( closed on Sunday)
Phone: +972 2-539-8100
Entrance Fee: Admission is free
Navigate here to see the location's actual view.
7. Al-Aqsa Mosque
The Al-Aqsa Mosque in Jerusalem, one of the most significant Islamic holy sites, has a long history of religious and political importance. Built during the 10thcentury CE, it is considered to be the third holiest site in Islam after Mecca and Medina. Although previously restricted to Muslims, recent decades have allowed people from all backgrounds to visit this revered site located near the Western Wall.
The Al-Aqsa Mosque is not only an important religious location but also a symbol for peace for people living in Jerusalem and beyond. It serves as a powerful reminder that even if we may be different, at our core we are all connected by our shared humanity.
Address: Temple Mount (Haram al-Sharif), Jerusalem, Israel
Opening Hours: 07:30 am – 02:30 pm (Closed to non-Muslims)
Phone: +972-026283292
Navigate here to see the location's actual view.
8. City of David
The City of David in Jerusalem is an ancient city of immense spiritual, cultural and historical importance. Located south of the old city walls, the City of David was inhabited from at least the 15th century BC, becoming a flourishing hub during the time of King David in 1000 BCE. It is believed to be where King David established his palace and observed religious practices, making it a sacred place for Jews and a popular tourist destination today.
The tell (or archaeological mound) left behind in the City of David holds important artifacts such as pottery and coins that testify to its rich history, offering insight into life many centuries ago. The combination of its age-old ruins with breathtaking views makes it a truly unforgettable experience for visitors.
Address: Ma'alot Ir David St 17, Jerusalem
Opening Hours: 08:00 am – 05:00 pm (Closed on Saturday)
Phone: +972779966726
Entrance Fee: ₪ 28.03
Navigate here to see the location's actual view.
9. Temple Mount
The Temple Mount area in Jerusalem is a site of immense historical and religious significance for the three monotheistic religions: Judaism, Christianity and Islam. Located on top of an ancient mountain ridge, believed to have been the home of King Solomon's Temple during biblical times, it is a place that has commanded the attention of people from around the world for centuries.
The area has witnessed different influences throughout its history and possesses two Islamic religious shrines in addition to numerous Jewish and Christian holy sites. As such, it is one of the most geographically important regions in Jerusalem and remains a revered destination for pilgrims today.
Address: Ma'alot Ir David St 17, Jerusalem
Opening Hours: 08:00am – 05:00pm (Closed on Saturday)
Phone: +972779966726
Entrance Fee: ₪ 28.03
Navigate here to see the location's actual view.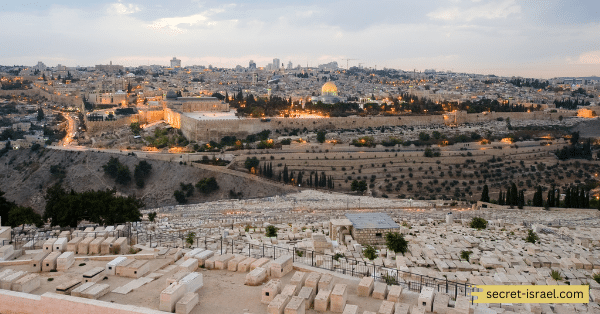 10. Yad Vashem Holocaust Memorial Museum
Located in Jerusalem, the Yad Vashem Holocaust Memorial Museum is a solemn reminder of one of the darkest times in human history. Yad Vashem hosts a permanent exhibit, including photos and personal items of Holocaust victims as well as documents, testimonies and other materials.
According to their website, the museum's mission is to "ensure that the legacy of the Shoah [Holocaust] shall serve all generations by emphasizing its universal meaning, commemorating those who perished and honoring those who rose up against it." Visitors can take guided tours or explore the site on their own.
Further, there are special workshops and activities offered for school-aged children. Ultimately, Yad Vashem serves to remind of those tragic events while inspiring future generations to stand up against bigotry, hatred and prejudice.
Address: Jerusalem, 9103401, Israel
Opening Hours: 08:30am – 05:00pm (Closed on Saturday)
Phone: +972 2-644-3400
Entrance Fee: Admission is free
Navigate here to see the location's actual view.
In conclusion
Jerusalem is a city full of historic, cultural and religious significance. From the iconic Western Wall/Kotel to the serene Garden Tomb, this city has something to offer people of all backgrounds and faiths. It is a place where ancient history lives side by side with modern life, where traditions are cherished and new ones are made.
It is a city that stands for peace and harmony, inspiring us all to live with respect and understanding in these challenging times. Ultimately, Jerusalem remains an incredible place of beauty, history, culture and spirituality for visitors from around the world. A visit to this one-of-a-kind city is sure to be an unforgettable experience!