Caesarea was built by Herod the Great in 25-13 BCE and served as the capital of the Roman province of Judea. The city is rich in history and boasts an impressive array of archaeological sites, including a theater, amphitheater, and hippodrome. 
Caesarea, an ancient Roman city in Israel, is a must-visit destination for history buffs and travelers alike. From the impressive theater to the grand Cardo Street and harbor, there's so much to explore!
In this blog post, we'll take you through the fascinating history of Caesarea and share practical tips for visiting this incredible site. Let's get started!
Caesarea: A Brief History
Caesarea was founded by Herod the Great, the king of Judea, in approximately 22 BC. It soon became both a strategic port for trade and a major political center. Under Roman rule it also became an important city.
After being conquered by the Byzantine Empire in the 4th century AD, it thrived as a Christian pilgrimage center. The city was again destroyed in 614 AD but rebuilt by the Arabs after their conquest of Palestine in the 7th century.
During the Crusader period, Caesarea was originally fortified and served as an administrative capital and trading post until its destruction at the hands of Saladin's forces in 1187 AD. Today, visitors to Caesarea can explore ruins from all periods of its history including an impressive aqueduct system dating back to Herodian times.
A magnificent amphitheater where gladiator contests were held during Roman rule, and an ancient harbor that is still used today by pleasure boats and fishermen alike.
Exploring the Roman Amphitheatre
The Roman Amphitheatre of Caesarea is one of the most interesting and impressive ruins in the city. Built by King Herod around 15 BCE, this huge structure is believed to have held up to 10,000 people, making it one of the largest amphitheatres in the Levant.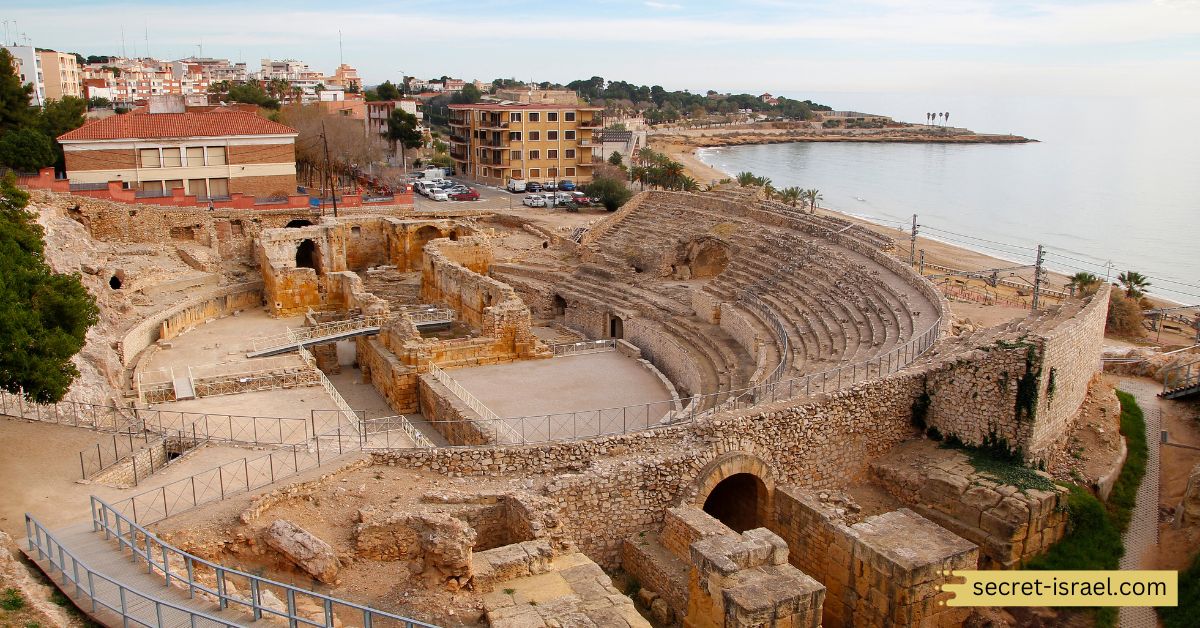 Today, visitors can explore the ruins and imagine experiencing a gladiator fight or watching plays performed by famous troupes of actors. Excavations have uncovered many artifacts from this time period including coins, pottery and marble sculptures.
Visitors can even find remnants of three tiers of seats that were used for audience seating during performances. The Roman Amphitheatre of Caesarea is a spectacular sight and a must-see for anyone exploring the historic city.
Walking Through the Grand Cardo Street
The Cardo Maximus or Grand Cardo Street is one of the most iconic landmarks in Jerusalem's Old City. This historic thoroughfare dates back to the Roman era and was the main street of ancient Jerusalem.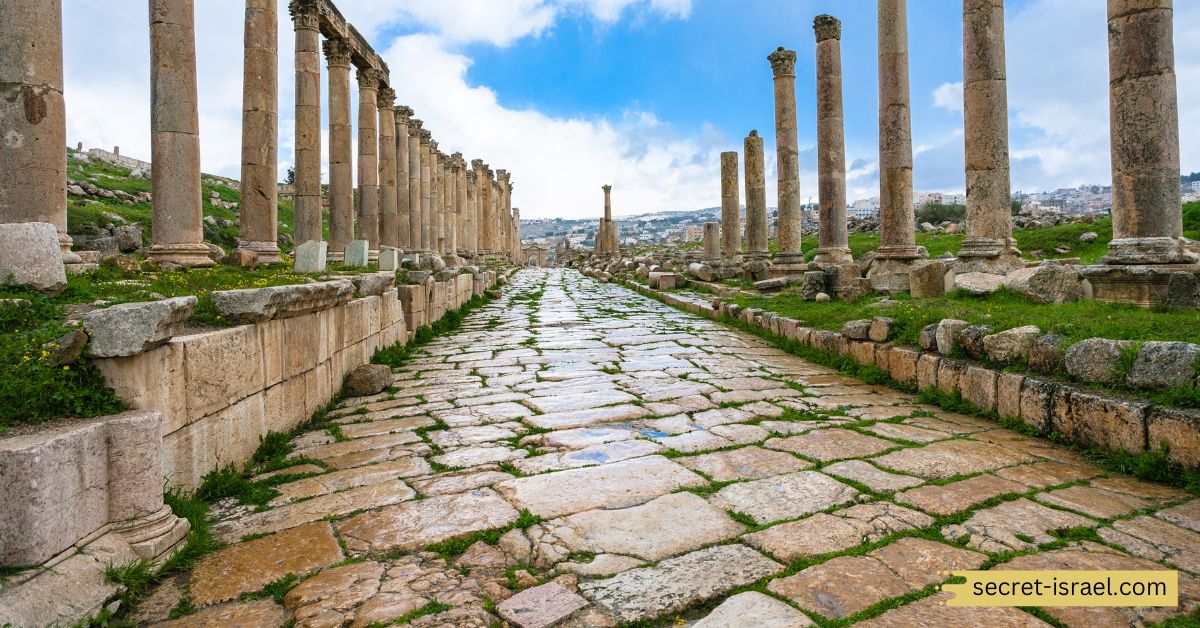 Walking through this street today, visitors can admire the remains of ancient columns and arches that line both sides of this beautifully preserved stretch of history. Along Cardo Street, one can find many interesting shops and restaurants as well as some remarkable architectural sites.
Like the Hurva synagogue, the ruins of an 18th-century Jewish quarter, and several churches. Exploring Cardo Street is essential for any visit to Jerusalem, allowing travelers to experience a tangible connection to its fascinating past.
Visiting the Ancient Harbor
The ancient harbor of Caesarea is one of the most stunning and historically significant sites in Israel. This 2,000-year-old port was first established by King Herod in the 1st century BCE and since then has been a thriving hub for trade and commerce.
Today, visitors can explore the ruins of this once bustling area, admiring remnants of breakwaters, storage rooms, and grand structures that were part of this impressive port. Excavations in this area have also revealed evidence of an aqueduct system used to supply water to the city from nearby springs.
As well as a unique network of tunnels that transported cargo from the shore to land. Visiting the ancient harbor is an amazing experience for any history enthusiast and provides a glimpse into life in ancient times.
Seeing the Acropolis and Temple Platforms
The Acropolis and its accompanying temple platforms offer a captivating look into the ancient city of Jerusalem. A UNESCO World Heritage Site since 1981, the Acropolis is situated at the highest point of the Old City, giving visitors a spectacular view of their surroundings.
Visitors can explore the three main levels of this ancient citadel – the Lower Platform, Upper Platform, and Temple Platforms – each with its own unique features such as ritual baths, stone walls, and archaeological findings.
Exploring these remarkable sites provides an insight into Jerusalem's history and offers unparalleled views of some of the most famous holy sites in Israel.
Admiring the Byzantine-era Monumental Gate
The ancient city of Caesarea is home to one of the most impressive monuments of the Byzantine era: the monumental gate. Built in the 6th century CE, it stands as a testament to a time when invaders threatened the city from all sides.
Its intricate stone carvings provide an insight into this era's architectural styles. Visitors can also explore the ruins near this magnificent gate and admire remnants of marble columns and other structures, giving them a glimpse into what life might have been like in this Roman port city.
A visit to this monument is an absolute must when exploring Israel's past and culture. With its impressive archway atop its entrance and views stretching toward the Mediterranean Sea, visitors will be captivated by its grandeur.
Tourists should make sure they allocate enough time to truly appreciate all that Caesarea has to offer – there are few other places with a such rich history. The nearby amphitheater built by King Herod is also worth visiting, as it still holds many concerts today! Don't forget to bring your own snacks and water, as there are no restaurants or shops close by.
Exploring this historic site is sure to be a memorable experience that you won't soon forget – plan your trip today!
In conclusion
The ancient city of Caesarea is a remarkable destination that provides incredible insight into the fascinating history of Israel. From the grandiose Roman Amphitheatre to the serene Byzantine-era gate, visitors can explore monuments and ruins from all periods of its history.
Whether one wishes to explore religious sites or wander among ruins, Caesarea is the ideal destination for anyone looking to step into the past. From a stroll through Cardo Street to a visit to the ancient harbor, exploring Caesarea is an experience like no other and will provide visitors with memories that last a lifetime.