Experience a dreamy elopement in Jordan, where ancient wonders meet modern romance. Exchange vows at Petra by Night, dive into the Red Sea, and ride camels in Wadi Rum. Immerse in local culture with shisha in desert caves and sample delicious Jordanian cuisine. Your love story in this enchanting land will be etched in time.
If you're looking for a once-in-a-lifetime experience for your elopement, look no further than Jordan. This Middle Eastern country is rich in history, culture, and natural beauty, making it the perfect destination for an intimate wedding celebration. In this blog post, we'll explore 12 unique ideas for your Jordan elopement that will make your special day truly unforgettable.
1. Buy Tickets to the Petra by Night Event
Start your elopement off with a magical experience at the iconic Petra by Night event. This special evening tour allows you to explore the ancient city of Petra by candlelight, creating a romantic and mystical atmosphere that is perfect for an elopement ceremony. You and your partner can exchange vows under the stars in this breathtaking setting.
2. Go Reef Diving in the Red Sea
For adventurous couples, a reef diving excursion in the Red Sea is a must-do during your Jordan elopement. The crystal-clear waters and diverse marine life make for an unforgettable underwater experience. Plus, it's a great way to bond with your partner and create some unique memories together.
3. Ride Camels in Wadi Rum
Take a journey through the desert like no other by riding camels in Wadi Rum. This stunning UNESCO World Heritage Site is known for its red sand dunes and rock formations, and there's no better way to explore it than on the back of a camel. It's also a great opportunity to incorporate some traditional Bedouin culture into your elopement.
4. Smoke Shisha in the Caves of the Desert
Experience a taste of local life by smoking shisha, or hookah, in the caves of the desert. This popular pastime is a great way to relax and unwind while immersing yourself in Jordanian culture. Imagine enjoying this unique experience with your partner while taking in the beautiful views of the desert landscape.
5. Book a 4×4 Tour
For those looking for a more adventurous elopement, consider booking a 4×4 tour through Jordan's rugged terrain. This is a great way to see some of the country's most stunning landscapes and add some excitement to your elopement day. Just make sure to hold on tight and enjoy the ride!
6. Take a Hot Air Balloon Ride
For a truly memorable experience, why not take a hot air balloon ride over the beautiful Jordanian landscape? This is a great way to see the country from a different perspective and create some incredible memories with your partner. Just imagine exchanging vows as you float above the stunning Wadi Rum desert.
7. Spend the Night in a Bedouin Camp
For a unique overnight experience, consider staying in a traditional Bedouin camp. These camps offer comfortable accommodations and give you the opportunity to immerse yourself in Bedouin culture. It's also a great way to disconnect from the outside world and focus on each other during your elopement.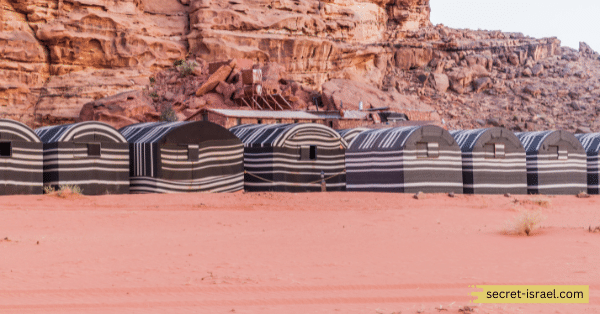 8. Sample the Local Food
No trip to Jordan is truly complete without indulging in the mouthwatering delights of its local cuisine. From the creamy and flavorful hummus to the crispy and savory falafel, every bite is a burst of authentic Middle Eastern flavors. And if you're feeling adventurous, don't miss out on experiencing the richness of mansaf, a traditional lamb and rice dish that embodies the warmth and hospitality of Jordanian culture.
For your elopement celebration, consider adding these delectable dishes to your menu. Let your guests savor the vibrant and diverse culinary heritage of Jordan, creating unforgettable memories that will be cherished for a lifetime.
9. Cycle Through Jordan
Immerse yourselves in the captivating beauty of the country as you pedal through its diverse landscapes. Feel the thrill of exploration while enjoying the benefits of exercise. Craft your route to include iconic landmarks and attractions, creating a truly extraordinary elopement experience.
Take in the breathtaking views of ancient ruins, majestic mountains, and picturesque valleys along the way. This remarkable journey will not only deepen your bond but also leave you with cherished memories to last a lifetime.
10. Float in the Dead Sea
Another must-do in Jordan is floating in the Dead Sea, one of the world's most remarkable natural wonders. With its high salt content, the buoyancy of the water is simply incredible, allowing you to effortlessly float on the surface.
Imagine the feeling of weightlessness as you soak in the mineral-rich waters, surrounded by breathtaking landscapes. It's a unique and truly relaxing experience that you and your partner can cherish before or after your elopement ceremony, creating memories that will last a lifetime.
11. Canoe/Paddle Board in Wadi al Mujib
Get your adrenaline pumping by canoeing or paddle boarding through the stunning Wadi al Mujib gorge. This adventure is perfect for thrill-seeking couples who want to add some excitement to their elopement trip. You can even plan a romantic picnic on one of the secluded beaches along the way.
12. Hike Dana Nature Reserve
Finally, don't miss out on the opportunity to hike through Dana Nature Reserve, one of Jordan's most beautiful and biodiverse areas. This nature reserve offers a variety of hiking trails for all levels, with stunning views and opportunities for wildlife spotting along the way. It's a great way to connect with nature and your partner during your elopement journey.
In conclusion
There are endless possibilities for creating a unique and unforgettable elopement experience in Jordan. Imagine exchanging vows against the backdrop of the majestic Petra, one of the New Seven Wonders of the World. Feel the thrill of adventure as you explore the desert landscapes of Wadi Rum, with its towering sandstone cliffs and vast open spaces
Immerse yourself in the rich culture of Jordan by incorporating traditional elements into your ceremony, such as a Bedouin-inspired feast under a starlit sky. After your intimate ceremony, indulge in a relaxing retreat at one of the luxury resorts along the Dead Sea coast, where you can unwind and rejuvenate together.
Your Jordan elopement will be a moment that you and your partner will cherish forever, filled with the beauty, history, and romance that this extraordinary destination has to offer.