Discover the allure of Irbid, Jordan with its top attractions. From Yarmouk University's academic prowess to the historical marvels of Ajloun Castle and Umm Qais, the city weaves a tapestry of culture and heritage. Nature thrives in Al-Ardah Wildlife Reserve, while tranquility reigns in As-Salamiyah. Immerse in Irbid's charm, a gem in Jordan's heart.
So, let's embark on this journey together and uncover the treasures hidden in Jordan's gem, Irbid.
1. Yarmouk University
Yarmouk University, an educational landmark in Irbid, is renowned for its comprehensive academic programs and research opportunities. The campus, characterized by its modern architecture, is a hub for local and international students. In addition to academic pursuits, Yarmouk University hosts a variety of cultural activities, providing students with a rich experience that extends beyond the classroom.
Address: Shafiq Irshidat st،, Irbid, Jordan
Opening Hours:
Sunday – Thursday 8:30 AM – 4:00 PM
Friday Closed
Saturday 8:30 AM – 4:00 PM
Phone: +962 2 721 1111
For pictures, booking, and more information, click here.
2. King Abdullah Mosque
King Abdullah Mosque is one of the prominent religious sites in Irbid. Known for its grandeur and architectural elegance, the mosque is a testament to Islamic art and culture. It serves as a house of worship for locals and a destination of interest for tourists.
The mosque's design is marked by its towering minaret and expansive prayer hall, offering a serene environment for reflection and prayer. Despite its religious significance, the King Abdullah Mosque also welcomes people of all faiths who wish to admire its architectural beauty and learn about Islamic traditions.
Address: GVW2+G7G, Irbid, Jordan
Hours Open: Sunday – Saturday 8:00 AM – 8:00 PM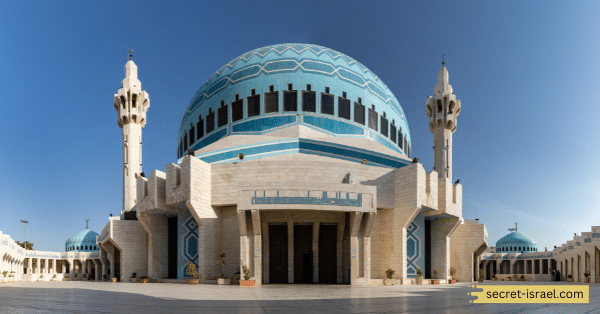 3. Ajloun Castle
Ajloun Castle, or Qala'at Ajloun as it is locally known, is an intriguing historical monument in Irbid. Established in the 12th century, the castle served as a strategic defense fort during the Crusades. It stands today as a symbol of Jordan's rich history, offering breathtaking panoramic views of the surrounding countryside from its highest towers.
The interior of this fortress is filled with a labyrinth of passages, rooms, and former living quarters, providing a glimpse into medieval life in the region. Visitors to Ajloun Castle can stroll through the complex, immersing themselves in history while enjoying the serene and captivating environment.
Address: قلعة عجلون, Ajloun, Jordan
Hours Open: Sunday – Saturday 8:00 AM – 7:00 PM
Phone: +962 2 642 0115
For pictures, booking, and more information, click here.
4. As-Salamiyah
As-Salamiyah is a quaint and tranquil village situated in the Irbid Governorate. Known for its lush green landscapes and traditional stone houses, As-Salamiyah offers a refreshing break from bustling city life. The village's scenic beauty is complemented by the locals' warm hospitality, making it a true hidden gem for those seeking to experience authentic Jordanian culture.
As-Salamiyah is the perfect spot to unwind, engage with the community, and get a taste of rural life in Jordan. Beyond its natural and cultural allure, As-Salamiyah is rich in archaeological sites waiting to be explored.
5. Irbid Archaeological Museum
The Irbid Archaeological Museum is a must-visit for history enthusiasts venturing into Irbid. This museum houses a vast collection of artifacts dating back to the Stone Age, providing a comprehensive overview of the region's rich historical tapestry.
Exhibits showcase tools, pottery, coins, and jewelry uncovered from local archaeological sites, each piece telling its own story of the civilizations that once thrived in this region. The Irbid Archaeological Museum is an educational trove of knowledge, serving to remind visitors of the continuous human story that has unfolded in this part of Jordan.
With its well-preserved collections and informative displays, the museum provides a fascinating journey through time.
6. Beit Ras
Beit Ras is an enchanting archaeological site located in the northern part of Irbid. Renowned for the ancient Roman city of Capitolias, which is part of the Decapolis—the league of ten Roman cities, Beit Ras captivates visitors with its well-preserved ruins, including city walls, temples, and an amphitheater.
Its underground catacombs adorned with vivid frescoes provide a glimpse into the Roman-era burial rituals. The site's unique blend of architectural styles reflects the rich cultural diversity of the ancient Near East. Exploring Beit Ras is like stepping back in time, providing a captivating and educational experience for all who visit.
7. Al-Ardah Wildlife Reserve
Al-Ardah Wildlife Reserve is an oasis of natural beauty and biodiversity located within Irbid. This reserve serves as a sanctuary for a variety of local flora and fauna, providing them with a safe and nurturing environment. Visitors to Al-Ardah can indulge in bird-watching, spot diverse species of animals in their natural habitats, or take a leisurely stroll through the well-preserved trails.
The reserve's commitment to conservation and its scenic beauty makes it a must-visit for nature lovers, photographers, and anyone wanting to escape the city's hustle and bustle. The tranquil environment of Al-Ardah Wildlife Reserve offers a refreshing and revitalizing experience, connecting visitors with nature in its purest form.
8. Umm Qais
Umm Qais, historically known as Gadara, is a captivating archaeological site located in the north of Irbid. The city was part of the Decapolis, a league of ten Roman cities, and its ruins offer a fascinating insight into the civilizations that once thrived there.
Visitors can explore the remnants of Roman, Byzantine, and Ottoman architecture, including ancient theatres, a basilica, and a colonnaded street. The on-site museum houses a collection of artifacts discovered during excavations, further enriching the historical narrative of Umm Qais.
In addition to its historical significance, Umm Qais offers stunning panoramic views of the Sea of Galilee and the Golan Heights, making it a popular spot for photography enthusiasts.
9. Mar Elias Church
The Mar Elias Church, located in Ajloun, near Irbid, is a significant historical and religious site. Named after Prophet Elijah, known as Mar Elias in Arabic, the church is believed to be located on the site where the prophet was born.
The church's modest structure houses intriguing religious iconography and frescoes, reflecting the spiritual history of the region. Frequent archaeological excavations at the site continue to provide insights into the region's Byzantine era.
Every year, the church attracts numerous pilgrims and tourists who come to pay their respects and enjoy the serene ambiance of this sacred site. Mar Elias Church is not just a place of worship, but a beacon of cultural and historical richness which shines a light on the region's past.
10. Tell Mar Elias Archaeological Park
Tell Mar Elias Archaeological Park, situated close to the Mar Elias Church, is a site of significant historical importance in Irbid. Believed to be the place where Prophet Elijah was born, the park is home to numerous archaeological finds that date back to the Bronze Age.
Visitors can explore remnants of ancient settlement layers, burial sites, and artifact-rich areas that offer a glimpse into the region's past. The park also boasts a stunning landscape, offering panoramic views that perfectly blend history with natural beauty.
Educational and engaging, a visit to Tell Mar Elias Archaeological Park not only enriches one's understanding of Jordan's archaeological heritage but also provides a tranquil space for reflection amidst its stunning vistas.
In conclusion
Irbid's rich history, cultural diversity, and natural beauty make it an attractive destination for all types of travelers. Whether you're a history enthusiast, an admirer of architectural grandeur, a nature lover, or someone seeking to experience authentic Jordanian culture, Irbid offers an array of attractions to satisfy your interests.
From the academic excellence of Yarmouk University to the serene environment of Al-Ardah Wildlife Reserve, from the historical significance of Ajloun Castle to the tranquility of As-Salamiyah village, every corner of Irbid promises a unique and enriching experience.
Explore this captivating region and immerse yourself in the charm and heritage of Irbid, a city that is truly a gem in the heart of Jordan.