Herzliya, Israel, offers thrilling water sports like surfing, kite surfing, and windsurfing, as well as serene adventures like sea kayaking and stand-up paddling. With picturesque landscapes for hiking and biking, vibrant nightlife, and rich cultural heritage, Herzliya is an unforgettable destination for adventure and relaxation.
In this blog post, we'll be highlighting the top 12 activities that you can enjoy while visiting Herzliya. Whether you're looking for a day of adventure or just want to take in the sights, you'll find something here that will suit your needs. So get ready to soak up the sun and enjoy all that Herzliya has to offer!
1. Sea Kayaking
This unique and engaging adventure offers a chance to get up close and personal with the breathtaking natural landscapes of the region, as well as the fascinating marine life that inhabits its surrounding waters.
Whether you're a seasoned kayaker or a first-time adventurer, there are few experiences more satisfying than paddling your way along the shimmering shoreline of Herzliya and discovering the many hidden treasures that await you there.
2. Stand Up Paddling
This water sport is not only a fun way to explore the city's serene coastline, but it also provides a full-body workout that will leave you feeling both energized and refreshed. Stand-up paddling is accessible to everyone.
Regardless of their fitness level, making it a great way to enjoy the water and take in the stunning views of Herzliya. Whether you're a seasoned paddler or a newcomer, Herzliya's clear waters and beautiful beaches are the perfect place to enjoy this exciting activity.
3. Surfing
An activity that is gaining popularity among locals and tourists alike. Israel's coastal geography, coupled with ideal weather conditions, creates prime surfing conditions for those looking to catch a wave.
With a variety of beaches to choose from, surfers of all skill levels can find a break suited to their needs. Surf schools and rental shops abound, making it easy for beginners to get started or for seasoned surfers to try something new.
The surfing community in Herzliya is thriving, with surfing events and competitions held throughout the year.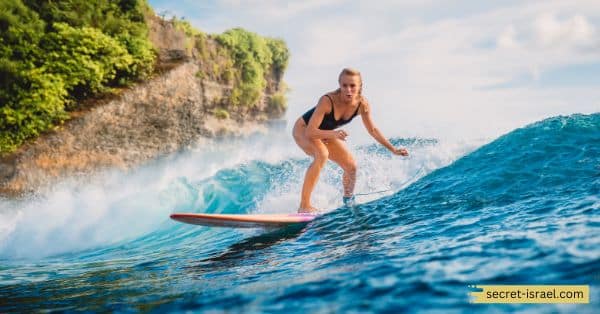 4. Beach Volleyball
This energetic sport has become increasingly popular over the years, drawing beachgoers of all ages from around the world to partake in the fun. With the warm Mediterranean climate, sandy shores, and unbeatable views.
It's easy to see why beach volleyball has become a must-try activity in Herzliya. The sport requires quick reflexes, strategic thinking, and teamwork and can be enjoyed with friends or as part of a tournament. With the sound of the crashing waves in the background, playing beach volleyball is truly a memorable experience in Herzliya.
5. Hiking
For those who wish to immerse themselves in nature and explore stunning landscapes, hiking is an excellent way to do so. With a plethora of trails ranging from easy to challenging, hikers can experience the spectacular views of the Mediterranean and the unique habitats that Israel has to offer.
The Herzliya area boasts beautiful natural reserves, including Apollonia, Ramat Hasharon, and the Herzliya Shore Reserve. With mild temperatures year-round, hiking in Herzliya provides an opportunity for visitors to exercise, enjoy the beautiful scenery, and connect with nature. Whether you're a seasoned trekker or a casual stroller, hiking in Herzliya is an experience that should not be missed.
6. Biking
The city boasts a variety of bike-friendly trails, including the Herzliya Marina, Herzliya Park, and the Herzliya Beach Promenade. These routes offer a mix of breathtaking coastal views, lush greenery, and a glimpse into the city's history.
Cyclists can also take advantage of the city's bike rental services and guided tours to make their biking experience even more memorable.
7. Horseback Riding
When it comes to exploring the beauty of Herzliya, Israel, horseback riding is a must-do activity. With miles of stunning coastline to traverse and lush green landscapes to explore, horseback riding offers a unique perspective on the natural beauty of the area.
Whether you are an experienced equestrian or a novice rider, Herzliya has options to suit all levels of skill and experience. From leisurely beach rides to exhilarating trail rides through the countryside.
Horseback riding in Herzliya promises to be an unforgettable experience no matter which path you choose. So saddle up and get ready to discover the breathtaking sights and sounds of Herzliya on horseback.
8. Zip-lining
Zip-lining is a thrilling activity that guarantees an adrenaline rush. In the picturesque city of Herzliya, Israel, there are plenty of places to experience the rush of zip-lining. It's an activity that requires a bit of bravery, but in return, it offers stunning views of the city, as well as a unique perspective from high above.
There's nothing quite like the feeling of flying through the air at high speeds, suspended by a harness and a sturdy cable. It's an experience that's not to be missed, especially for adventure-seekers looking to add a bit of excitement to their trip to Herzliya.
9. Paintballing
One of the most thrilling activities is paintballing. From beginners to advanced players, Herzliya has various arenas that cater to everyone's skill level. Participants can enjoy the thrill of tactical gameplay, teamwork, and strategy while feeling like they are in a real-life action movie. The arenas are equipped with modern gear, and the staff ensures strict safety measures are in place.
10. Kite Surfing
This thrilling water sport combines surfing and paragliding, making it a unique and exciting experience like no other. If you're up for a challenge and an adrenaline rush, then kite surfing is definitely for you.
Herzliya offers kite surfing lessons for beginners, as well as advanced courses for more experienced surfers. With knowledgeable and experienced instructors, you'll be sure to learn and improve your skills in a safe and fun environment.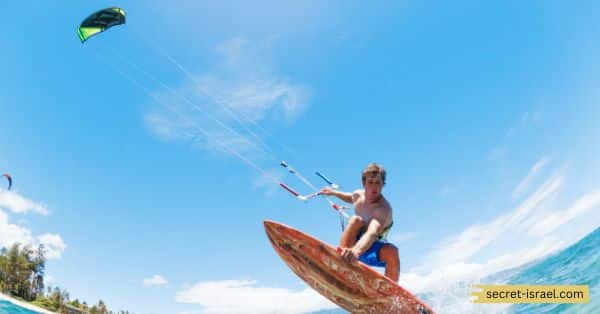 11. Paragliding
Paragliding is an exhilarating activity that offers an experience like no other. With Herzliya in Israel being a favorite destination for tourists, it is no surprise that this stunning location offers a remarkable paragliding experience.
Herzliya has a range of paragliding options, including tandem flights with professional pilots who will guide you over the stunning coastline. Imagine soaring through the sky while taking in the picturesque views of the Mediterranean Sea and the Herzliya beaches.
Paragliding is an unforgettable experience that provides an ultimate adrenaline rush while experiencing the beauty of nature from a unique perspective. It is a must-try activity for adventure enthusiasts who seek a thrilling and memorable experience.
12. Windsurfing
Herzliya, Israel has become a popular destination for windsurfing enthusiasts from around the world. With ideal wind conditions and warm waters, it's no surprise that windsurfing is one of the favorite activities here.
With a variety of spots to choose from, ranging from beginner to expert levels, there's something for everyone. Adventurers can test their skills in Maagan Michaels, the perfect combination of a calm, deep water lagoon, and strong winds.
Alternatively, those looking for a more relaxed experience can enjoy the gentle waves at the Herzliya Marina, taking in the stunning coastline views while windsurfing. With so many options available, it's no wonder that Herzliya is considered a windsurfing paradise.
In conclusion
Herzliya, Israel offers visitors an array of exciting activities to explore and enjoy. Whether it is relaxing on the beautiful beaches, indulging in exotic cuisine, or exploring the city's rich cultural heritage, Herzliya has something for everyone.
The city's vibrant nightlife scene and numerous recreational activities, such as surfing and kayaking, are sure to provide visitors with an unforgettable experience during their stay. Herzliya is a city that truly has it all and there is no doubt that it will leave a lasting impression on those who choose to visit.