Looking for an unforgettable water adventure? Yamit 2000 Park in Holon is the place to be! From exhilarating water slides like the Kamikaze Plunge and Turbo Twister to relaxing wave pools and a lazy river, there's fun for all ages. Don't miss out on the ultimate water park experience in Israel!
So, grab your swimsuit, and let's get ready to dive into a world of aquatic adventure.
Introduction to Yamit 2000 Park, Holon: A Water Wonderland for All Ages
Get ready for a refreshing escape to Yamit 2000 Park in Holon, where fun meets water. This park is a water wonderland that caters to all ages and offers a full range of aquatic activities for everyone.
From thrilling water slides to relaxing wave pools, Yamit 2000 is a must-visit destination for those looking for a fun day out. The park also features various water attractions, including a lazy river, Jacuzzis, and waterfalls.
Whether you're a speed-loving adrenaline junkie or a family with young children, Yamit 2000 Park has something for everyone. Don't miss out on the splash-tastic fun and head over to Yamit 2000 for a day to remember!
Thrilling Water Slides: Experience the Adrenaline Rush
If you are looking for heart-pumping thrills and entertainment, look no further than Yamit 2000 Park in Holon, Israel. A visit to this water park promises a unique and unforgettable adventure as you brave the steep water slides that are sure to send your adrenaline into overdrive.
The Kamikaze Plunge
The Kamikaze Plunge is a jaw-dropping water slide that will leave you breathless. Standing at an impressive height, this slide offers an adrenaline-fueled free fall experience. As you step onto the platform and prepare for the plunge, anticipation builds.
Once the slide is clear, you'll find yourself hurtling down at incredible speeds, experiencing a thrilling rush as you zip through twists, turns, and exhilarating drops. The Kamikaze Plunge is a must-try for thrill-seekers who crave an intense and unforgettable water slide adventure.
The Turbo Twister
The Turbo Twister is a high-speed, heart-pounding water slide that takes excitement to new heights. As you climb to the top, you'll notice the towering structure that sets the stage for the twisting adventure ahead.
The slide's unique design, complete with thrilling spirals and unexpected turns, will have you twisting and turning through a thrilling journey. Feel the rush of wind against your face as you accelerate through the curves, creating a sensation of weightlessness. The Turbo Twister guarantees an exhilarating ride that will leave you craving more.
Relaxation and Fun: Exploring the Wave Pool and Lazy River
When it comes to water fun, Yamit 2000 Park in Holon has got you covered. With its array of attractions, including the wave pool and lazy river, you'll have an unforgettable time.
Wave Pool
Step into the pool, and you'll instantly feel like you're floating in the open sea. As the waves roll in, you can enjoy swimming, bobbing up and down, or simply lounging on a float. It's a great spot to cool off, soak up the sun, and have fun with family and friends. The Wave Pool is a perfect choice for those seeking a relaxing yet enjoyable water experience.
Lazy River
Hop onto an inflatable tube and embark on a serene journey along a winding river. As you float along, you'll be gently carried by the current, passing through lush landscapes, beautiful water features, and soothing waterfalls. It's an opportunity to unwind, let go of any stress, and enjoy the calming ambiance of the surroundings.
Splish, Splash, and Play: Interactive Water Features for Kids
Yamit 2000 Park in Holon offers a one-of-a-kind water experience for kids through their Splish, Splash, and Play interactive water features. Young ones can frolic around the water area, which is equipped with a variety of water attractions that are sure to please.
Wading Pool
This shallow pool provides a safe environment for kids to splash and play. With its gentle depth, children can wade in the water, sit down, and enjoy the refreshing sensation.
The wading pool often includes interactive elements such as spraying fountains, water toys, and even miniature slides. It's an excellent spot for kids to cool off, socialize with their peers, and engage in imaginative water play.
Water Tunnels
These tunnels are typically designed with various water features, such as cascading waterfalls, sprays, and mist.
Children can navigate through the tunnels, feeling the thrill of water rushing around them. The tunnels may have transparent sections, allowing kids to observe the water flow and enjoy a sense of discovery.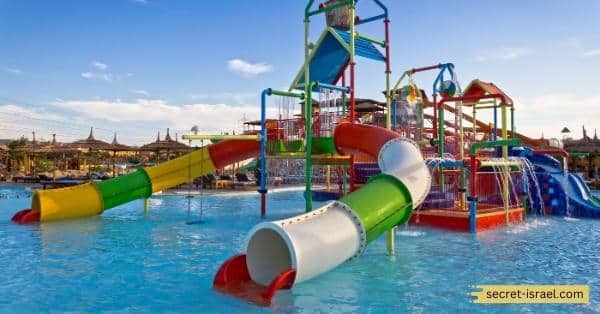 Slides
Kids can climb up the steps, reach the top, and then enjoy the exhilarating ride down as they slide through twists, turns, and gentle slopes. Water slides provide a mix of adrenaline and joy, allowing children to experience the excitement of water play in a controlled and safe environment.
Safety Tips and Practical Information for a Memorable Visit
When it comes to water parks, safety is always of utmost importance. At Yamit 2000 Park in Holon, there are several practical tips to keep in mind to ensure a fun and memorable visit without any accidents.
First and foremost, make sure to always read the safety signs and follow the instructions of the lifeguards. When entering pools or attractions, keep in mind your own swimming ability and those of others around you
It's also important to wear appropriate swimwear and avoid any loose clothing or jewelry that could get caught in equipment.
Finally, always stay hydrated and take breaks as needed to avoid getting too tired or dehydrated. With these tips in mind, you can have a safe and enjoyable time at Yamit 2000 Park.
In conclusion
Yamit 2000 Park in Holon is the ultimate destination for water fun enthusiasts. The park offers a diverse range of attractions to cater to all visitors, whether kids or adults. From heart-pumping water slides and a wave pool to the relaxing lazy river and kiddie pools, there's something for everyone.
The park's facilities are top-notch, with ample seating, changing rooms, and lockers for a hassle-free experience. The park's adherence to strict safety protocols ensures that every visitor enjoys a secure and thrilling experience.
With its commitment to providing an excellent water park experience, Yamit 2000 Park is undoubtedly worth a visit, making it a must-visit destination for anyone who loves water activities.