Discover Aqaba's hidden treasures, from the historic Aqaba Castle to vibrant souks and the mesmerizing Marine Park. Dive into the past at the Archaeology Museum and find tranquility at the Sharif Hussein Bin Ali Mosque. Explore the Aqaba Corniche, step back in time at the Ruins of Ayla, and unwind at Al-Hafayer Beach. Birdwatch at the Bird Observatory, venture into the surreal Wadi Rum and experience rejuvenation at a Turkish Bath. Aqaba offers a diverse range of experiences for all travelers, making it a must-visit destination in Jordan.
Here are the 11 best things to do in Aqaba:
1. Aqaba Castle
Aqaba Castle, also known as Mamluk Castle or Aqaba Fort, presents a rich historical experience. Built in the 14th century by the Mamluks, the fortress showcases unique Islamic architecture with its stone walls and arched doorways.
It's famous as the site where, in 1916, Sharif Hussein bin Ali successfully revolted against the Ottoman Empire during the Great Arab Revolt. Inside, you'll find a small museum displaying artifacts from the Islamic and Bronze Ages, offering a deeper insight into Jordan's captivating history.
Address: G2C2+MRM, Aqaba, Jordan
2. Souks in Aqaba
Immerse yourself in the vibrant atmosphere of Aqaba's souks, traditional markets teeming with a variety of goods. Walk down narrow, bustling alleys lined with shops selling everything from aromatic spices, local handicrafts, and colorful textiles, to exquisite jewelry.
The souks are not just places for trade but are also social hubs where locals gather to chat and sip tea. Shopping here is an experience in itself – practice your bargaining skills and soak in the local culture. Don't forget to try some of the street food delicacies, offering a taste of authentic Jordanian cuisine.
3. Marine Park
Dive into the mesmerizing world of Aqaba's Marine Park, a protected area spanning over seven kilometers of prime coastline. The park, renowned for its pristine coral reefs, harbors an extraordinary variety of marine life, making it a paradise for snorkeling and diving enthusiasts.
Its underwater landscapes feature fascinating coral formations and host a myriad of colorful fish, sea turtles, and other marine creatures. For those preferring to remain dry, glass-bottom boat tours offer an equally stunning view of the vibrant underwater ecosystem.
A must-visit for nature lovers – the Marine Park is a testament to the bio-diversity and natural beauty of the Red Sea.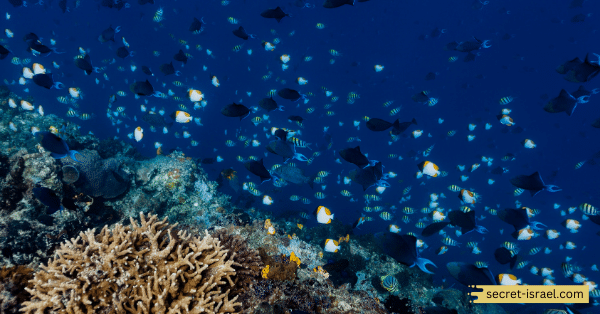 4. Archaeology Museum
Venture into the past at Aqaba's Archaeology Museum. Housed within the ancient structure of the former palace of Sharif Hussein bin Ali, the museum exhibits a fascinating collection of artifacts from the region dating from as far back as 4000 BC.
The displays cover various periods, including the Bronze Age, the Iron Age, and the Islamic era, providing a comprehensive understanding of Aqaba's historical timeline. Highlights include delicate pottery, metal tools, jewelry, and a collection of coins.
The museum is a must-visit for archaeology and history enthusiasts keen on delving into Jordan's rich past.
5. Sharif Hussein Bin Ali Mosque
The Sharif Hussein Bin Ali Mosque holds a significant place among Aqaba's architectural gems. Built-in honor of Hussein Bin Ali, the Great Arab Revolt leader, its magnificent white facade and towering minarets command a striking presence in the city's skyline.
The intricate Islamic calligraphy and geometric patterns adorning the exterior and interior of the mosque are a visual delight. The mosque not only serves as a place of worship but also as a symbol of Aqaba's rich heritage and culture.
Visitors are always welcome but do remember to dress modestly out of respect for local customs. Discover the tranquility within the ornate walls of this mosque and bask in its serene, spiritual atmosphere.
Address: G2G2+XXW، مسجد الشريف حسين بن علي شارع الملك حسين، Al Malik Husayn, Aqaba, Jordan
Hours Open: 24 hours
Phone: +962 7 8571 1784
6. Aqaba Corniche
The Aqaba Corniche, a bustling seaside promenade, offers a lively and energetic atmosphere. Lined with various cafes, restaurants, and shops, the Corniche is an ideal place to soak in the local culture while enjoying scenic views of the Red Sea.
It's a perfect spot for leisurely strolls, especially during sunset when the area comes to life with locals and tourists alike. Here, you can indulge in a flavorful Jordanian meal while watching the sun dip below the horizon, casting a golden hue over the tranquil waters.
Offering a blend of relaxation, excitement, and natural beauty, the Aqaba Corniche is a popular spot worth exploring.
Address: FXVQ+J85, Aqaba, Jordan
7. Ruins of Ayla
Step back in time and uncover the past at the Ruins of Ayla, the ancient Islamic city that was once located in modern Aqaba. These ruins represent the first Islamic city outside the Arabian Peninsula and are believed to have been established around the 7th century.
As you explore the site, you'll encounter the remains of walls, gates, a mosque, and streets that bear testament to the city's past grandeur. The ruins offer a glimpse into Aqaba's ancient history and provide a perspective on Islamic urban design and architecture.
Although the site is relatively small, its historical significance makes it a must-visit attraction for history buffs.
Address: K. Hussein St. 26, Aqaba, Jordan
Opening Hours:
Sunday – Monday 8:00 AM – 8:00 PM
Tuesday 1:00 PM – 8:00 PM
Wednesday – Saturday 8:00 AM – 8:00 PM
8. Al-Hafayer Beach
Bask in the golden sands of Al-Hafayer Beach, one of Aqaba's most tranquil spots. This beach offers visitors a chance to unwind amidst azure waters and stunning landscapes. Its calm waters are perfect for swimming, snorkeling, or simply soaking in the serene atmosphere.
Sunbeds and parasols are available for those who prefer to relax by the shore, while nearby eateries offer a selection of local and international cuisines. Whether you're seeking a peaceful beach day or a fun-filled water adventure, Al-Hafayer Beach promises a memorable experience.
9. Bird Observatory
For nature enthusiasts and bird lovers, Aqaba's Bird Observatory is an absolute treat. This sanctuary is a crucial stopover for migratory birds traveling between Europe and Africa, making it a hotspot for birdwatching.
Visitors can witness a diverse range of bird species, from vibrant flamingos to majestic eagles, in their natural habitats. The observatory also plays a vital role in conservation efforts, carrying out research and monitoring the bird populations.
Whether you're an avid birdwatcher, a photographer, or simply a nature lover, the Bird Observatory promises a unique and educational experience.
Address: HXGP+57H, Aqaba, Jordan
Opening Hours:
Sunday – Saturday 8:00 AM – 3:00 PM
Friday Closed
Phone: +962 3 205 8825
Email: [email protected]
For pictures, booking, and more information, click here.
10. Wadi Rum
Embark on an otherworldly journey at Wadi Rum, also known as the Valley of the Moon. This expansive desert landscape, characterized by towering sandstone mountains, narrow canyons, and vast sand dunes, offers a truly unique experience.
Explore the land in a 4×4, go on a guided camel trek, or for the more adventurous, try sandboarding down the dunes. At night, the desert transforms into a stargazer's paradise, with countless stars illuminating the clear sky.
Wadi Rum also holds historical significance with its ancient rock inscriptions and carvings dating back thousands of years. Its unparalleled natural beauty and cultural richness earned it a place on the UNESCO World Heritage list. A visit to Wadi Rum is a surreal experience, making it an absolute must-see when in Aqaba.
11. Turkish Bath or Hammam
Experience authentic Middle Eastern wellness culture at a traditional Turkish Bath, or Hammam, in Aqaba. Hammams are a timeless part of Middle Eastern culture, offering a unique combination of social gathering and personal hygiene.
These communal bathhouses are designed for relaxation and cleansing, featuring heated marble surfaces and steam-filled rooms for the ultimate detoxification experience. Visitors often start with a soothing steam bath, followed by a body scrub to exfoliate the skin and finish with a relaxing massage.
Visiting a Hammam is not just about cleanliness; it's a ritualistic experience that brings about holistic relaxation and rejuvenation. For a complete Aqaba experience, a visit to a traditional Hammam is a must.
In conclusion
Aqaba, Jordan's port city, is a destination full of captivating sights and activities that will suit the interests of all types of travelers. No matter what type of experience you are looking for, Aqaba has something to offer with its rich history, vibrant culture, and scenic nature.
From exploring ancient ruins to indulging in traditional wellness experiences, these 11 best things to do in Aqaba guarantee you will have the time of your life. So, what are you waiting for? Get ready to explore this enchanting city!