A trip to Israel can be anything you want it to be – an adventure, a pilgrimage, or a meaningful opportunity to explore the rich culture and history of the Middle East. Whether you're looking for stunning landscapes, rich culture, and heritage, religious significance or the chance to experience something entirely new and different, planning a trip to Israel could be just what you need.
With this comprehensive guide on planning a trip to Israel at your side, you can create an unforgettable journey filled with captivating sites and activities that will leave a lasting impression well beyond your return home. So grab your pack and follow us on an exploration of the Holy Land!
Reasons and When to Visit Israel
Situated at the crossroads of Europe, Asia, and Africa, Israel is an experience unlike any other. Vibrant culture, exquisite Mediterranean cuisine, and a distinct sense of spirituality await visitors from around the globe. While Israel's tourism industry has experienced a few turbulent years, it has seen an influx of determined and adventurous travelers since 2017.
There is no bad time to visit Israel; all year round the climate is warm and sunny with few weather interruptions. Spring and fall are optimal for travelers who don't mind a bit of heat – temperatures can reach into the upper 90s but environments remain relatively dry. Winter months tend to have mild days but bear in mind that coastal areas will offer cooler air than urban or desert locations.
For those looking to bask in the glorious Mediterranean Sun, June through August offer great opportunities for beach trips as well as cultural exploration: museums close late into the evening so you don't miss out on any ancient history!
Planning Your Trip
Planning a trip to Israel might seem daunting at first, but with the right mindset and some preparation, it's an unforgettable adventure. Start by researching your destination:
Where to Stay
Israel offers many accommodation options, so whether you're looking for a budget stay or a luxurious hotel, there is something to suit every traveler's needs. For an immersive experience, consider staying at one of the kibbutzim (collective settlements) located throughout Israel.
Kibbutzim offer a unique insight into the country's culture and many of them are located in picturesque settings, close to interesting landmarks. If you're in search of a more urban experience, there are plenty of great hotels and hostels across the country.
Cities to Visit
Israel is home to an array of exciting cities, each with its distinctive character. Popular destinations include Jerusalem – a city that year after year continues to amaze and astound visitors with its fascinating blend of religious and cultural heritage – Tel Aviv – the dynamic and cosmopolitan capital of Israel, and Haifa – a vibrant port city located on the slopes of the Carmel Mountains.
Other noteworthy cities include Tiberias – home to some of the oldest archeological sites in Israel, and Nazareth – the place where Jesus began his ministry.
What to Eat
If there is one thing that Israel does well, it's food. Whether you're in the mood for classic Israeli street food like falafel and hummus, or would rather indulge in some of the country's delicious Mediterranean dishes such as shakshuka, there are plenty of delicious options to choose from. The Holy Land also offers a wide selection of kosher foods, so be sure to check out the many restaurants that specialize in this type of cuisine.
Traditional Israeli Cuisine
Traditional Israeli cuisine is a unique blend of Mediterranean, Middle Eastern, and European flavors. This type of cooking relies heavily on fresh ingredients like vegetables, grains, and legumes. Popular dishes include hummus (a spread made from chickpeas), falafel (deep-fried balls made from ground chickpeas or fava beans), and shakshuka (a dish of eggs, tomatoes, and spices).
No trip to the Holy Land is complete without sampling some of the country's delicious traditional cuisine. So take time between touring religious sites and exploring hidden gems to sit down and enjoy a plateful of Israel's finest!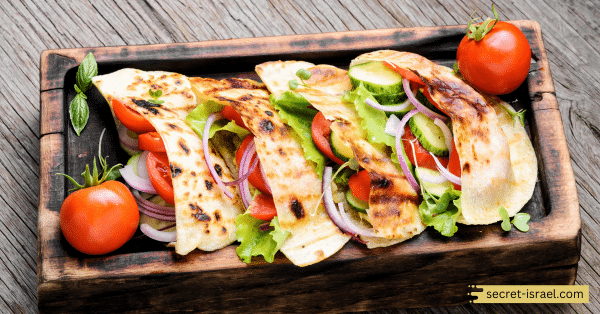 Dining Experiences
No visit to Israel is complete without experiencing the country's vibrant and diverse dining scene. Whether you're in search of traditional Israeli cuisine, local street food, or international fare, there are plenty of great restaurants offering delicious food at a variety of price points. For an authentic experience, consider one of the many hummus bars located across the country. If you're feeling adventurous, try one of the many Middle Eastern delicacies such as kubbeh (dumplings filled with meat and herbs) or lahmajoun (a ground beef-based flatbread topped with tomato sauce).
Must-See Attractions
The land of Israel is filled with interesting attractions, from ancient ruins to modern-day cities. If you're looking for a religious experience, be sure to visit the Western Wall (or Kotel) in Jerusalem – the holiest site in Judaism. Other important sites include the Church of the Holy Sepulchre, the Dome of the Rock, and the Sea of Galilee. For a day trip away from the hustle and bustle of the city, explore the nearby natural wonders such as the Dead Sea or Masada National Park.
Israel also boasts some impressive museums including Tel Aviv's renowned Museum of Art and Jerusalem's Israel Museum – home to the Dead Sea Scrolls.
Historical Sites
Home to some of the world's oldest cities, Israel is a great destination for those interested in exploring ancient ruins and historic sites. Popular attractions include the remains of Caesarea – one of the most important coastal cities during Roman times – Masada – a fortress built by King Herod, and Megiddo – an archeological site believed to be the site of the battle described in the Bible's Book of Revelations.
Natural Beauty
Explore the diverse landscapes of Israel and take in some breathtaking views. From the Red Sea coastline to the Golan Heights, there is no shortage of natural beauty here. Explore nature reserves such as Ein Gedi – home to a variety of plants and animals – or roam through forests and caves on your way to Mount Hermon – the highest peak in the country. Other popular natural attractions include the Banias Nature Reserve and Lake Kinneret (Sea of Galilee).
Final Steps to a Successful Trip
Before you embark on your journey to Israel, be sure to take the necessary steps to ensure a successful trip. Research all of the possible activities and attractions you want to explore in advance so that you can plan a realistic itinerary.
Obtaining a Visa
You will need to obtain a valid visa before entering the country. Depending on your nationality, this may require an application process and additional documents such as proof of medical insurance.
Money Matters
The currency in Israel is the New Israeli Shekel (NIS). You can exchange cash at banks and money changers, or use your debit card to withdraw money from an ATM.
The current exchange rates for the NIS can vary from day to day, so be sure to check before you go. You can also use a currency converter to get an approximate conversion rate.
Credit cards are widely accepted in most major cities, however, in smaller towns and rural areas, it's best to pay with cash. It's always a good idea to carry some backup money on you in case you need it.
Transportation Tips
Israel is fairly easy to navigate with its well-developed public transportation systems. Buses shared taxis, and trains are all available throughout the country. For more remote locations, you may need to rent a car – make sure to check your driver's license requirements before doing so! For longer journeys, consider taking an overnight train or bus.
Safety tips Israel is generally a safe country to travel in; however, it's always important to be aware of your surroundings and take necessary safety precautions. Be sure to keep your valuables secure and avoid walking alone at night. If you feel unsafe or uncomfortable in any situation, never hesitate to call for help.
With this comprehensive guide on planning a trip to Israel at your side, you can create an unforgettable journey filled with captivating sites and activities that will leave a lasting impression well beyond your return home.
In conclusion
The excitement of visiting Israel is undeniable. From the historic landmarks and monuments to the mesmerizing scenery, there's much beauty to explore and discuss. When planning a trip to Israel, it's important to plan for the best experience possible. With careful planning, you can make sure you see all the top sights and attractions and be sure to take advantage of all the incredible meals available throughout this wonderful country.