Discover the beauty of the Arava desert in Israel on a thrilling Jeep tour. From rugged terrains to historical sites and rare species, this adventure offers a unique experience for nature enthusiasts and adventurers alike. Explore the Arava's rich biodiversity and immerse yourself in its cultural treasures. Unleash your adventurous spirit and create unforgettable memories in this desert paradise.
Read on to learn about what you can expect when you embark on your own exploration of this amazing desert paradise!
Exploring the Unique Beauty of the Region
Exploring the unique beauty of a region can be a transformative experience, especially when done on a Jeep tour through the Arava. The Arava is a region stretching through Israel, Jordan, and Egypt, and it is known for its stunning landscapes and diverse ecosystems.
On a Jeep tour, visitors can venture off the beaten path and explore the region's hidden treasures. From the towering cliffs of the Ramon Crater to the vibrant coral reefs of the Red Sea, the Arava offers an abundance of natural wonders to discover.
A Jeep tour is an opportunity to see the region from a unique perspective and gain a deeper appreciation of its beauty and complexity. With knowledgeable guides and top-of-the-line vehicles, a Jeep tour in the Arava is an unforgettable adventure.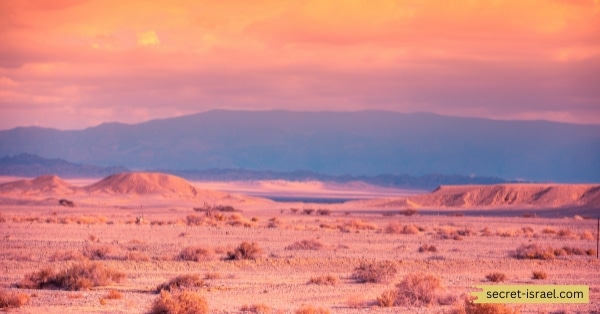 Navigating the Arava's Challenging Terrain in a Jeep
Navigating through the Arava's challenging terrain in a jeep can be an exhilarating and unforgettable experience. With rocky mountains, deep canyons, and sandy deserts, the Arava offers a unique adventure that will leave you in awe.
Rocky Mountains
The Arava region is adorned with imposing rocky mountains that provide a formidable challenge for Jeep enthusiasts. These majestic formations require skilled navigation and careful maneuvering. Traversing the rocky terrain offers a unique sense of accomplishment and provides breathtaking panoramic views of the desert.
Deep Canyons
The Arava is punctuated by deep canyons, carved over millennia by powerful forces of nature. Jeep tours in the Arava often include navigating through these narrow and winding canyons, presenting an exciting and awe-inspiring experience. With their steep walls and dramatic rock formations, these canyons provide a thrilling setting for an off-road adventure.
Sandy Expanse
The Arava is also known for its vast sandy expanses, offering a different kind of challenge for Jeep tours. Driving through the soft sands requires special skills and techniques, as the vehicle must navigate through shifting dunes and maintain traction. The open desert offers a sense of freedom and a chance to truly connect with the natural beauty of the Arava.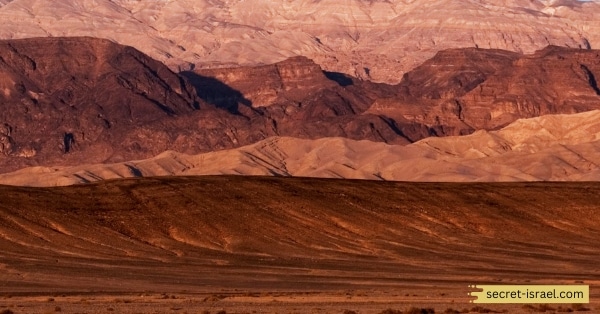 As you make your way through the different landscapes, keep an eye out for the diverse flora and fauna inhabiting the Arava. With an experienced guide and top-notch equipment, navigating the Arava's challenging terrain in a jeep is an adventure you won't want to miss.
Visit Historical Sites and Cultural Treasures on a Jeep Tour
The Arava is a region of great historical and cultural significance, and going on a Jeep tour is a fantastic way to explore it. From ancient ruins and archaeological sites to vibrant modern communities, this area has so much to offer.
Timna Park
Timna Park, located in southern Arava, is a captivating archaeological site that dates back thousands of years. This unique park is home to impressive rock formations, ancient copper mines, and remnants of civilizations that once thrived in the area.
As you explore the park in a Jeep, you'll encounter fascinating rock carvings, including the famous "Solomon's Pillars." Additionally, you can visit the reconstructed Tabernacle, offering a glimpse into ancient religious practices.
Address: 90 דרום, Eilat, 8820000, Israel
Hours Open: Sunday – Saturday 8:00 AM – 4:00 PM
Phone: +972 8-631-6756
Email: [email protected]
Admission Fee: ₪ 49.02
For pictures, booking, and more information, click here.
Avdat National Park
Avdat National Park showcases the remains of a once-flourishing Nabatean city along the Incense Route. This UNESCO World Heritage Site offers a fascinating insight into the trading routes and cultural exchange that took place in the region centuries ago.
While on a Jeep tour, you can explore the well-preserved ruins of houses, churches, and the impressive ancient water system. The park also provides breathtaking views of the surrounding desert landscape.
Address: עין עבדת, Israel
Opening Hours:
Sunday – Thursday 8:00 AM – 5:00 PM
Friday 8:00 AM – 4:00 PM
Saturday 8:00 AM – 5:00 PM
For pictures, booking, and more information, click here.
Petra, Jordan
Although located just beyond the Arava region, a Jeep tour can take you to the magnificent ancient city of Petra in Jordan. This UNESCO World Heritage Site and one of the New Seven Wonders of the World.
Features elaborate rock-cut architecture and tombs carved into the sandstone cliffs. Riding in a Jeep through the rugged terrain and narrow passages of Petra allows you to fully appreciate the grandeur and historical significance of this iconic site.
Address: 28 Wadi Mousa – Jordan
Phone: +962 3 215 6044
Email: [email protected]
Admission Fee: ₪ 260.54
For pictures, booking, and more information, click here.
With experienced guides and top-of-the-line vehicles, you can rest assured that you'll have a safe, comfortable, and informative experience. So why not take a break from the hustle and bustle of daily life and embark on an unforgettable adventure through the Arava?
Spotting Rare Species and Experiencing the Arava's Rich Biodiversity
Embark on a thrilling adventure with a Jeep tour through the Arava and experience the vast biodiversity of the region. One of the highlights of this tour is the opportunity to spot rare species found only in this part of the world. As you traverse the rugged terrain, the knowledgeable guide will provide insights into the unique plants and animals that call the Arava home.
Arava Fan-Footed Gecko (Ptyodactylus guttatus)
The Arava Fan-Footed Gecko is a rare and endangered reptile species that is endemic to the Arava region. It has a distinct appearance, characterized by its unique fan-like feet, which help it navigate the sandy terrain.
This gecko is known for its vibrant coloration, with a mottled pattern of red, orange, and black. Due to habitat loss and fragmentation, as well as illegal collection for the pet trade, the Arava Fan-Footed Gecko faces significant conservation challenges.
Nubian Ibex (Capra nubiana)
The Nubian Ibex is a rare species of desert-dwelling goat that can be found in the mountainous areas of the Arava region. It is well-adapted to rocky terrains and extreme temperatures. With its impressive curved horns and agile climbing abilities.
The Nubian Ibex is a symbol of strength and resilience in the desert. However, like many other wild goat species, the Nubian Ibex faces threats such as habitat degradation, poaching, and competition with livestock for resources.
Arava Acacia (Acacia pachyceras)
The Arava Acacia is a rare and unique tree species that grows in the Arava desert. It is well-suited to the harsh desert environment, with its long, thorny branches and ability to withstand drought conditions.
The Arava Acacia plays a crucial role in providing shade and habitat for various desert species. However, due to the arid climate and human activities, including land development and grazing, the Arava Acacia faces challenges to its survival and growth.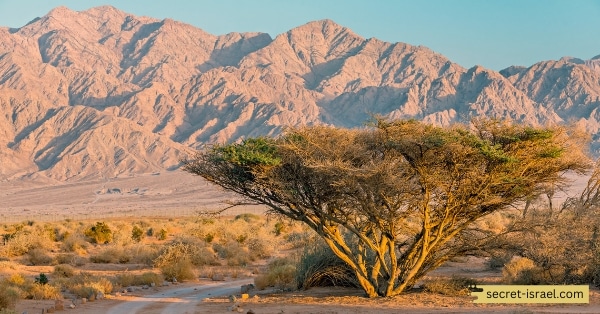 There's no doubt that this expedition will be an unforgettable experience, providing a rare opportunity to connect with the natural world and learn about its conservation.
Unleash Your Adventurous Spirit on an Exciting Jeep Tour in the Arava
Embark on a thrilling Jeep tour in the Arava and unleash your adventurous spirit. As you navigate the rugged terrain, you'll be surrounded by breathtaking views and sensational scenery.
Expert tour guides will lead you on an unforgettable journey, offering insight into the region's history and geology. With each turn and dip, you'll feel the exhilaration of exploration, whether you're taking in the vast expanse of the desert or navigating through narrow canyons.
It's the perfect opportunity to step outside of your comfort zone and discover a new side to the great outdoors. So get ready to rev up your engine and experience a once-in-a-lifetime adventure on a Jeep tour in the Arava.
In conclusion
Going on a Jeep tour in Arava is an unforgettable experience that is not to be missed. With its stunning desert landscapes and unique flora and fauna, the Arava offers a one-of-a-kind adventure for those seeking a truly memorable vacation.
Whether you are an outdoor enthusiast or simply looking to get away from the hustle and bustle of everyday life, a Jeep tour in the Arava will not disappoint. With knowledgeable tour guides and top-notch off-road vehicles.
You can rest assured that you will have a safe and enjoyable experience exploring this remarkable part of the world. So if you are looking for a new adventure, make sure to add a Jeep tour in the Arava to your travel itinerary.