The port city of Ashdod is the gateway to exploring Israel's many historic and spiritual sites. From a shore excursion in Jerusalem to a trip to Bethlehem or the Dead Sea coast, cruise passengers can experience the holy land in one day. Discover the cultural heritage of this region and explore its ancient wonders with an incredible selection of day trips from Ashdod!
This guide provides all the information you need to make your trip one to remember. So, book your cruise today and get ready to explore Israel's Holy Land!
Ashdod: A Seaport City in Southern Israel
Ashdod is a fascinating seaport city located in southern Israel. Its strategic location has made it a hub for trade and commerce in the region. This bustling city is home to a diverse population, including Jews, Arabs, and Christians, each with their unique customs and traditions.
The city is known for its beautiful coastline, with pristine beaches and crystal-clear waters perfect for swimming and sunbathing. Visitors can also explore the many historical sites dotted around the city, like the Ashdod Yam archeological park.
Despite its fast-paced growth and development, Ashdod still manages to retain its old-world charm and authenticity. Whether you are a history buff or simply looking for a relaxing vacation, Ashdod has something to offer everyone.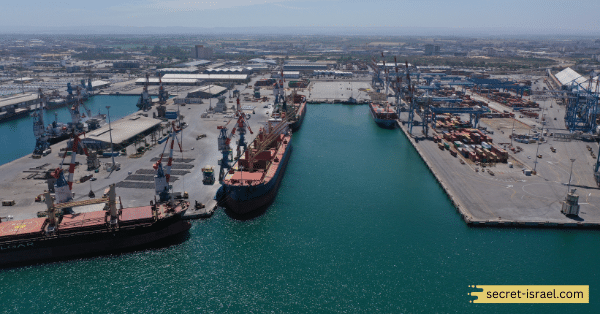 Exploring the Port of Ashdod on Shore Excursions
If you're looking for an unforgettable experience, the port of Ashdod is the perfect place to explore. Cruise ship passengers can benefit from shore excursions through this historic port city. You can visit some of Israel's most iconic sites and learn about its ancient history while discovering modern-day Ashdod.
On a shore excursion from Ashdod, you can explore the city's many archaeological sites. From the ancient ruins of:
Tel Ashdod
An ancient site located in the city of Ashdod. This archaeological mound dates back to the Canaanite period, where it served as a fortress for the Philistines. It was also mentioned in the Bible and provides visitors with a fascinating glimpse into history's past. The hill offers incredible views of Israel's coastline and surrounding landscape, making it an ideal spot for sightseeing.
Tzora Castle
An ancient Crusader fortress situated in the hills of Ashdod. It was built in the 12th century by King Baldwin IV of Jerusalem and later used as a royal residence by the Mamluk Sultan Baybars I. Today, visitors can explore its ruins and take in breathtaking views of the surrounding countryside.
You'll also find a wealth of religious history here, with iconic sites like:
Jerusalem's Old City
The old city of Jerusalem is home to some of the most important religious sites in human history. It's comprised of four quarters: Jewish, Christian, Muslim, and Armenian, making it an incredible journey through faith and culture.
Church of Nativity
The Church of the Nativity in Bethlehem is one of the oldest, continually operating Christian churches in the world. Built over a cave that is believed to be the birthplace of Jesus, this iconic pilgrimage site has attracted believers from around the world for centuries. Visitors can visit various sections of the church including its grotto, Manger Square, and ancient mosaics.
Al-Aqsa Mosque in Jerusalem
One of the most revered holy sites in the Islamic faith. Located on the Temple Mount in Jerusalem, it stands as a symbol of peace and unity among Muslims around the world. The mosque is not only a place of worship but also an important cultural landmark, with its elegant architecture and beautiful decorations, reflecting the many centuries of Islamic culture that have passed through its doors.
Of course, no trip to Ashdod is complete without experiencing its stunning coastline. Whether you are looking for a relaxing beach day or an exciting water adventure, Ashdod has it all. Explore the crystal-clear waters of the Mediterranean Sea by boat or take a dip in one of the many swimming pools in the city.
Visiting Jerusalem: A Divine Day Trip from Ashdod
The most popular day trip destination from Ashdod is Jerusalem, 44 miles (71 kilometers) east, which is about a 1-hour drive. Shore excursions typically take in the highlights of the holy city, including the Temple Mount, Western Wall (Wailing Wall), the Church of the Holy Sepulchre, and Al-Aqsa Mosque.
Many tours also combine a tour of Jerusalem with nearby Bethlehem, where sacred sites include the Church of the Nativity, the Milk Grotto, and Manger Square; or a visit to the Dead Sea coast to float in the mineral-rich waters.
Whatever you choose, Ashdod is an ideal gateway to explore some of Israel's most divine destinations. Let your cruise ship be the means to discover the wonders of the Holy Land.
Combining Jerusalem with Nearby Bethlehem for a Sacred Tour
Bethlehem is a city located just 6 miles (10 kilometers) south of Jerusalem. It has a long and storied history, including being the birthplace of Jesus Christ. The city holds many sacred sites that are important to three major religions: Christianity, Judaism, and Islam.
On a shore excursion from Ashdod, you can visit some of Bethlehem's most important religious sites, such as the Church of the Nativity. This basilica was built over a cave that is believed to be the birthplace of Jesus and contains many precious artifacts, paintings, and mosaics. You can also visit Manger Square, where you can find shops selling traditional crafts and souvenirs from around the region.
Your tour will also take you to the Milk Grotto, believed to be where Mary and Joseph hid during the Massacre of the Innocents. This site is believed to have healing powers and visitors often come here in the hope of finding a cure for their ailments.
It's easy to see why Bethlehem is an essential stop on any tour of Israel's religious sites. From the Church of Nativity to the Milk Grotto, you'll be sure to leave feeling spiritually connected and refreshed.
Discovering the Dead Sea Coast from Ashdod
No trip to Israel is complete without exploring the Dead Sea Coast. On a shore excursion from Ashdod, you can visit this iconic place and float in its mineral-rich waters. Located at the lowest point on Earth, the Dead Sea has been a popular destination since ancient times for its healing powers.
The area around the sea offers many attractions, including beaches, spas, and resorts. You can also explore the nearby Ein Gedi Nature Reserve, a stunning park full of hiking trails and wildlife.
The perfect way to round off your shore excursion is by visiting the newly opened Dead Sea Museum. This interactive museum showcases the history of the area with multimedia exhibits and hands-on activities that are sure to captivate all ages.
From Ashdod, the Dead Sea Coast is easily accessible and a must-see when visiting Israel. Soak up its natural beauty, explore its many attractions, and experience an unforgettable journey of discovery.
Tips for Planning a Cruise to Ashdod
Planning a cruise to Ashdod in Israel can be an exhilarating experience filled with excitement and anticipation. As you plan your trip, there are a few important factors to consider in order to ensure that your journey is as smooth and enjoyable as possible.
By following these tips, you can be sure to have an unforgettable cruise experience in Ashdod.
In conclusion
Exploring Ashdod has been an unforgettable journey through the gateway of the Holy Land via cruise. From the moment you step off the ship, the vibrant energy of this modern Israeli city is palpable.
With its beautiful beaches, bustling markets, and historical landmarks, Ashdod offers an extraordinary blend of ancient and modern culture. Whether you choose to explore the stunning architecture of the Ashdod fortifications or simply take a leisurely walk along the shore, the warmth, and hospitality of the locals will envelop you in an unforgettable experience.
This city truly offers a gateway to Israel's rich history and culture, and the memories made here are certain to last a lifetime.