Ashdod, a city on the Mediterranean coast of Israel often overlooked when it comes to tourism, is an unexpected paradise. From ancient ruins and pristine beaches to mouthwatering cuisine and vibrant culture, this article unveils the allure of Ashdod. Unearth the city's rich history, embrace the scenic landscapes, savor coastal flavors, and immerse yourself in art and festivals. A truly unforgettable experience awaits in Ashdod.
In this blog, we'll uncover the hidden gems of Ashdod and provide an insider's guide to exploring its many attractions. So pack your bags and join us as we explore Israel's coastal paradise!
Reasons to Visit Ashdod
Ashdod, located along the Mediterranean coast of Israel, is a hidden gem that offers distinctive experiences for visitors. From its beautiful sandy beaches to its rich cultural heritage, it is the perfect destination for those seeking an unexplored paradise.
The city boasts a vibrant art scene, delicious cuisine, and a plethora of exciting activities that appeal to a diverse range of travelers. Visitors can explore the ancient ruins of Tel Ashdod, immerse themselves in the local culture at the Museum Monart, or simply relax on the scenic shores of Ashdod's beaches.
If you are looking for a unique and unforgettable vacation, Ashdod is undoubtedly the place to be. Come and discover all that this breathtaking coastal city has to offer.
Uncovering the Past in Israel's Coastal Gem
Nestled between Tel Aviv and Ashkelon, the city of Ashdod has long been overlooked as a hidden coastal gem where ancient history and modern life converge. Along the coastline, remarkable archaeological finds like the Western Wall tunnel and Roman/Mamluk shipwrecks unveil stories of the past.
A 7000-year-old wall serves as a testament to rising sea levels and showcases the ingenuity of our ancestors. Beyond the historical marvels, Ashdod offers a vibrant cultural scene, thriving arts, and delectable cuisine.
While the nearby Dead Sea presents a healing sanctuary amidst its breathtaking beauty. Discover Ashdod's captivating blend of history, culture, and natural wonders for an unforgettable experience.
Exploring the Pristine Beaches and Scenic Landscapes
The city boasts a plethora of pristine beaches and scenic landscapes that are just waiting to be explored.
Bar Kochba Beach
A stunning stretch of white sand beaches is located in Ashdod. This picturesque beach offers breathtaking views of the Mediterranean Sea, as well as plenty of opportunities for swimming, sunbathing, and exploring the surrounding cliffs and caves.
Visitors can also enjoy a variety of water sports such as kayaking, windsurfing, and kite surfing. The beach also features a variety of restaurants and cafes, making it the perfect spot for a relaxing day in the sun.
Lachish River
Known for its stunning beauty and abundance of wildlife. Here visitors can take a leisurely stroll along the banks as they admire the lush greenery and diverse species that inhabit the area. The river is also popular among fishermen looking to catch a variety of freshwater fish such as carp and tilapia.
In addition, the nearby park and recreation area offers a wide range of outdoor activities such as biking, hiking, kayaking, and swimming. Whether you're looking to explore nature or simply relax by the river's edge, the Lachish River is sure to provide an unforgettable experience.
Judean Mountains at the Adulam-France Park
Offers a breathtaking view of the Mediterranean Sea and Israel's stunning landscape. Located atop a mountain range stretching along the coastline, this park is home to lush vegetation and wildlife that will captivate visitors.
A variety of activities are available here such as biking, hiking, and bird watching, allowing you to explore nature in all its beauty. The park also features a beautiful lake which is perfect for swimming or simply taking in the panoramic views.
Nitzanim-Interdune Park
Located just south of Ashdod, a stunning natural reserve that offers visitors a chance to explore the diverse ecology of the area. Here you can find a wide variety of unique flora and fauna in addition to breathtaking landscapes set against the Mediterranean Sea.
Visitors can take part in activities such as bird watching, hiking, picnicking, and swimming. The park also serves as an excellent spot for education, with its numerous trails and interpretive centers that offer insight into the region's unique ecology.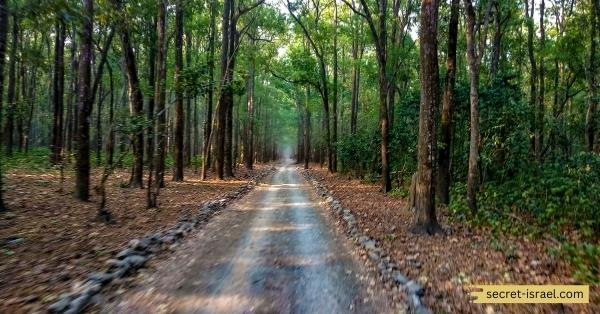 Savoring the Unique Flavors of Israeli Coastal Cuisine
With its long coastline stretching along the sparkling Mediterranean Sea, Israel has a rich culinary heritage that celebrates the intense flavors of its locally-sourced ingredients. In the city of Ashdod, located on Israel's coastal plain, visitors can uncover a treasure trove of unique coastal flavors that are slowly taking the food world by storm.
The cuisine boasts a seamless blend of Arabic and Israeli influences, showcasing fresh seafood, roasted meats, and locally-grown produce. As the waves crash onto the shore, visitors can savor the flavors of hearty shakshuka, zesty hummus, and fragrant tabbouleh, all made with the freshest ingredients found in the region.
The unique blend of spices and flavors will leave diners feeling rejuvenated and satiated, with a newfound appreciation for the vibrant coastal culture of Israel.
Immersing Yourself in Art, Music, and Festivals
One of the best ways to experience the vibrant culture of Ashdod, Israel, is to immerse yourself in the local art, music, and festivals.
Ashdod Arts Festival
This annual festival showcases the best of contemporary art, music, theatre, and performance from across Israel. It is one of the largest festivals in the country which draws crowds from all over the world to appreciate and celebrate local talents. The festival features open-air performances along with galleries showcasing the works of renowned Israeli artists.
Farmer's Market
The Ashdod Farmer's Market is a vibrant weekly event held every Sunday in the city center. It is the perfect spot for visitors to explore local culture and sample delicious Israeli street food. The market features stalls selling fresh fruits, vegetables, spices, bread, cheeses, and other artisanal products from the region.
There is also live music and entertainment that adds to the festive atmosphere. This is a great opportunity for visitors to get an authentic taste of Ashdod and its unique coastal cuisine.
Museum of Philistine Culture
The museum is home to an extensive collection of artifacts from the period, including pottery, figurines, jewelry, weapons, and tools. Visitors can explore a variety of interactive exhibits that showcase the lifestyle and artistry of the Philistines.
In addition, the museum also features a range of educational activities designed to engage and inspire children. From its fascinating displays to its engaging programs, the Museum of Philistine Culture is sure to provide an unforgettable experience for all who visit.
Address: Ha-Shayatim St 16, Ashdod, Israel
Opening Hours:
Sunday – Tuesday 9:00 AM – 4:00 PM
Wednesday – Thursday 9:00 AM – 8:00 PM
Friday – Saturday 10:30 AM – 1:30 PM
Phone: +972 8-622-4799
For pictures, booking, and more information, click here.
In conclusion
Discovering Ashdod is an exploration of Israel's coastal gem that has largely gone unnoticed by vacationers. The book showcases the stunning beaches, vibrant culture, and rich history of this port city.
Throughout the chapters, readers are taken on a journey through Ashdod's development from a small fishing village to a bustling industrial center. The author's attention to detail and insightful commentary provides readers with a deep understanding and appreciation for Ashdod's unique character.
This is a must-read for anyone planning a trip to Israel, or for those looking to experience a new destination off the beaten path. Discovering Ashdod is a testament to the beauty and richness of Israel's diverse landscape.