Explore the rich history and culture of Israel with a trip to one of its unique attractions. From interactive maps to miniature villages and replicas. Visitors are sure to find something that captures the essence of what makes Israel so special. Take a journey through time with a unique experience at these amazing attractions!
Do you want to explore Israel without leaving your home? A great way to experience the beauty of the Holy Land is by touring Israel in miniature. From a 3D map of Jerusalem and a model train village to mini-museums of Jewish culture.
There are many unique and fascinating places to visit in this country. Here are 8 ways you can tour Israel in miniature and get a taste of what this incredible country has to offer!
1. Visit the Mini-Israel Park near Latrun
Take a step into the miniature world of Israel and visit the Mini-Israel Park near Latrun. Nestled in the hills of the Israeli countryside. This unique park brings visitors up close with a tiny replica of Israel as it is today. From pastoral scenes to ancient ruins and bustling cities, every corner of this model nation is represented in intricate detail.
Take a stroll on one of its many nature trails, get lost in the miniature village, and explore recreations of historic sites such as Masada and Tel Megiddo. Or marvel at replicas of some of the country's most iconic modern buildings. The models range from 1:25 to 1:50 scale and were created using over seven hundred thousand pieces from Lego bricks representing each region's landscape in vibrant colors.
In addition to its model villages, Mini-Israel also features an educational center equipped with interactive multimedia displays about Israel's history, geography, culture, and other topics related to life in this amazing country. Visitors can learn about all there is to know about Israel through videos, audio exhibitions, and interactive maps – all seen from their tiny perspective!
Mini-Israel combines miniature artistry with cutting-edge technology and offers a unique window into modern-day Israel that no visitor should miss.
2. Join a Giant 3D Map of Jerusalem Tour
Take a journey through time with a unique experience at the giant 3D map of Jerusalem. Located in Jaffa, this incredible exhibit offers truly spectacular views of the old city, allowing visitors to explore each landmark and street as it appeared during ancient and medieval times.
Created by master craftsman Mordechai Hakohen, the model spans over 1,000 square feet and is composed of more than 60 layers representing various periods in history dating back to before 3000 BCE.
Accurate details have been included down to the smallest detail, including topography and garden sculptures. As you tour the map, its interactive multimedia displays will guide you along an educational journey that showcases Jerusalem's important religious sites and events throughout its long history.
The map also features intricate animations that bring to life some of Jerusalem's most famous stories. Such as King David's conquest of the city and Jesus' entry into Jerusalem during Holy Week.
Travelers can also take guided tours with researchers from Bar Ilan University for a deeper dive into particular historical periods or specific topics that interest them.
Whether you're looking for an immersive educational activity or simply want to marvel at this extraordinary model. Join a giant 3D map of Jerusalem tour for an unforgettable experience!
3. Take a Biblical Journey Through the Mini-Museum of Judaism and Kabbalah in Tel Aviv
Located in a historic building in the heart of the city, this unique museum offers visitors a look at over 4,000 years of Jewish culture and history.
The museum is composed of several different exhibits that chronicle the long journey of Jewish tradition from its inception to the modern day. With interactive displays, videos, artifacts, and interactive activities for children, there is something for everyone to explore.
Visitors can take a guided tour through subjects such as Biblical stories and Torah study, or delve into topics such as civil rights, Zionism, and women's rights. The museum also features an extensive collection of artworks from renowned Israeli painters including Yaacov Agam, Mordechai Ardon, and Lucian Freud.
In addition to rotating exhibitions by some of today's leading artists, visitors can also find galleries dedicated to rare manuscripts and books which tell the story of Jewish life over many generations.
4. Explore the Model Train Village in Ashdod
Discover a unique experience at the Model Train Village in Ashdod! This mini village offers a nostalgic look back at old-time Israeli charm with miniature replicas of some of the country's most iconic sights and attractions.
The village was created in 1975 by local artist Eliyahu Hanavi and has become an Ashdod staple over the years. It is composed of dozens of model replicas of some of Israel's most recognizable sites. Such as the Western Wall, Baha'i Temple, Jerusalem's Yemin Moshe neighborhood, the Tower of David, and many more.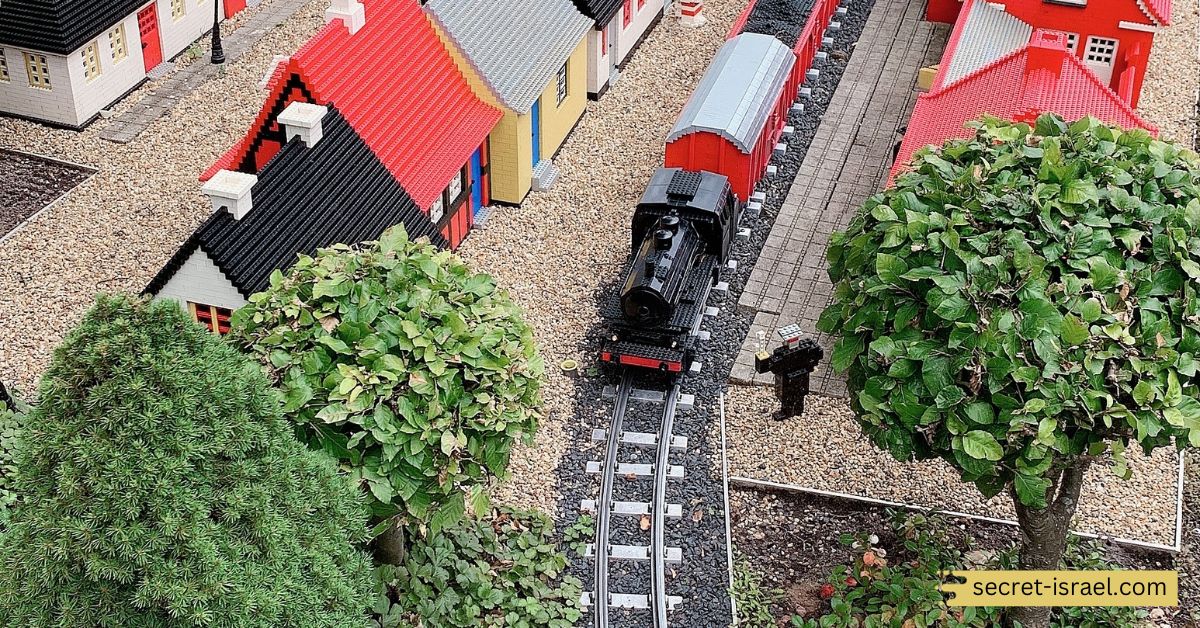 The trains also travel through various locations such as Haifa, Tel Aviv, Eilat, and other cities throughout the country. Visitors can also explore several galleries featuring vintage artifacts from early 20th-century Israel such as old photographs and traditional clothing.
Kids will have a blast walking around the village while adults will be fascinated to learn about Israel's past. Guided tours are available for those interested in getting an even deeper look into the history behind this unique attraction.
5. Check Out the Miniature Village of Megiddo in the Jezreel Valley
Located between Nazareth and Tiberias, this unique attraction offers visitors a peek into life during ancient times. The village contains miniature replicas of buildings that were constructed during biblical times up through the Middle Ages with artifacts and implements used every day by local inhabitants.
As you explore the village, take note of numerous replicas such as houses, churches, and synagogues that provide a snapshot of life during these eras. You can also find memorials dedicated to important moments in history like King Solomon's Palace and Mount Gilboa where King Saul fell in battle.
Kids will love exploring this tiny village and parents can use it as an opportunity to teach their kids about Bible stories and Israeli history. Guided tours are also available for those interested in learning more about each replica's significance or who want to hear some fascinating facts about this area's historical sites.
If you're looking for an educational experience with a side of nostalgia, make sure to check out the Miniature Village of Megiddo in the Jezreel Valley!
6. Visit Mini-Jerusalem's Tower of David Museum
This interactive museum offers a window into Israel's past with a 3D model of Jerusalem as it was in 1948 complete with streets, shops, and other landmarks.
The museum also provides an educational experience with several visuals depicting the timeline of Jerusalem from ancient times to the modern day. Kids will enjoy exploring the miniature replicas of the city while adults can learn more about its history through multimedia displays and interactive exhibits.
Guided tours are available for those interested in getting an even deeper glimpse into life during these periods. The museum also has an extensive library containing books on Israeli culture as well as stories about famous figures who have impacted the country's history.
For an immersive journey that takes you back in time, make sure to visit the Tower of David Museum at Mini-Jerusalem!
7. Visit the 'Holy Land' Exhibit at Eretz Israel Museum, Tel Aviv
Take a trip to the 'Holy Land' at the Eretz Israel Museum in Tel Aviv. This interactive exhibit allows visitors to explore various aspects of the region throughout history with a range of artifacts and interactive displays.
The exhibit offers an inside look at life during biblical times with replicas of pottery, jewelry, religious objects, and more on display. Themes like sacred architecture, mosaics, and archaeology are also explored in detail through exhibitions that feature historical material and multimedia content.
Kids will love exploring this exhibit while adults can pick up fascinating facts about each artifact and how it has impacted the culture over time. Guided tours are also available for those wanting to learn more about historic sites or for more information about specific pieces in the collection.
8. Take a Look at Jerusalem Through Time at Jerusalem's Great Synagogue
This expansive exhibit offers visitors an insight into life in the city from ancient times right up to the present day, providing an intimate glimpse into its evolution over time.
The synagogue's collection includes archaeological artifacts, religious objects, paintings, and more that showcase the city's past. Visitors are invited to explore interactive displays and multimedia presentations featuring 3D reconstructions and detailed accounts of major events throughout Jerusalem's timeline.
Guided tours are available to gain further knowledge on specific topics while kids can enjoy playing dress-up in costumes inspired by biblical figures from various periods. The synagogue also houses a library filled with books about Israeli culture, as well as stories about people who have left their mark on Jerusalem's history.
In conclusion
The nation of Israel is full of incredible attractions that combine artistry and technology to pay tribute to its long history. From miniature villages and 3D maps to interactive exhibits and replicas of iconic sites, there is something for everyone to explore. Next time you're in Israel, make sure you take the time to visit one of these unique attractions and embark on a journey through time!