Looking for luxury and comfort in Rishon Lezion? Check out these top hotels, including Rephael House Boutique Hotel and Lisa's Farm Place, offering unique experiences. From elegant accommodations to personalized service, these establishments ensure a memorable stay. Discover the best of Rishon Lezion's hospitality and indulge in ultimate comfort.
In this blog, we'll introduce 8 top luxury and comfort hotels located in Rishon Lezion, so you can choose the perfect one that fits your preferences and budget. So, let's explore!
1. Rephael House Boutique Hotel
A cozy and elegant destination for those seeking a peaceful retreat. The hotel features uniquely designed rooms that cater to the needs of its guests. The ambiance of the hotel is particularly inviting, with its warm interiors and intimate setting.
The hotel is located in the heart of the city, which makes it the perfect place to stay if you're looking for comfort and luxury. Whether you're traveling for business or leisure, this hotel offers the perfect blend of sophistication and comfort. The staff is friendly and accommodating, always ready to make your stay as memorable as possible.
Address: Rothschild St 24, Rishon LeTsiyon, Israel
Phone: +972 3-779-4500
Email: [email protected]
For pictures, booking, and more information, click here.
2. Lisa's Farm Place
Offers guests a unique and charming experience in the heart of Rishon Lezion. This family-run farm stay provides a peaceful retreat where visitors can disconnect from the hustle and bustle of city life and reconnect with nature.
Guests can enjoy the fresh air, take a stroll through the farm's lush gardens, or even participate in farm activities such as milk processing or sheep herding. With comfortable accommodations and friendly hosts, Lisa's Farm Place is the perfect choice for travelers seeking a peaceful and authentic Israeli experience.
Address: Herzl St 86, Rishon LeTsiyon, Israel
Hours Open: 24hrs
Phone: +972 52-256-6647
3. Hotel House
A type of lodging facility that provides guests with a comfortable and convenient place to stay while traveling. Typically, these establishments offer a range of amenities and services designed to make a guest's stay as pleasant as possible.
Rooms are typically decorated in a modern, elegant style, and feature all the necessary comforts and conveniences, including air conditioning, television, and complimentary toiletries. Other features may include an on-site restaurant, a fitness center, and a spa.
Whether you're traveling for business or pleasure, a Hotel House can provide everything you need to have a great stay.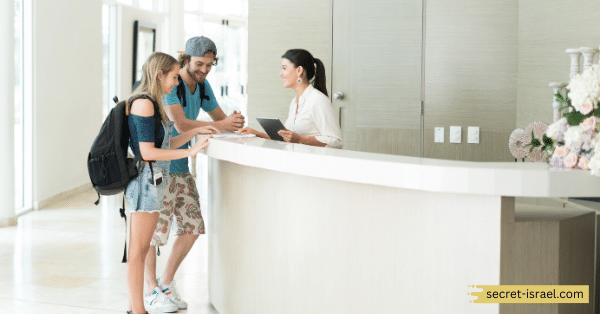 4. Royal (boutique) Hotel
The Royal Hotel is a boutique establishment that prides itself on its modern conveniences and personalized service. Centrally located, it welcomes guests with well-appointed rooms equipped with amenities such as free Wi-Fi, flat-screen TV, and mini-fridge.
Its exemplary customer service starts from its front desk staff, who are always ready to assist guests in any way they can. At the Royal Hotel, guests can expect a relaxing and comfortable stay and a unique experience that they won't forget.
Address: Derech HaMaccabim 42, Rishon LeTsiyon, 7535982, Israel
Phone: +972 76-530-3020
5. Luz Mansion
A beautiful property that boasts elegance and style in each of its rooms and suites. This hotel is perfect for individuals who desire a unique and tranquil experience, nestled in a beautiful neighborhood away from the noise of the city.
Each room in Luz Mansion is tastefully designed and crafted in a way that gives guests a home-away-from-home feeling. Everything in the hotel, from the furnishings to the decorations, exudes elegance and sophistication. The Luz Mansion is indeed an excellent destination for those after a peaceful and luxurious retreat.
Address: 7 Luz Street A, Rishon LeẔiyyon, Israel
6. Roy Vacation Home
With spacious and beautifully designed rooms, guests can expect a comfortable stay while enjoying the hotel's amenities such as a swimming pool, hot tub, and garden. The hotel's location also offers easy access to various attractions within the area. If you are looking to experience a luxurious stay in Rishon Lezion, the Roy Vacation Home is definitely worth considering.
Address: Heil HaTothanim Street 18th floor, Rishon LeẔiyyon, 7870207, Israel
7. Liraz Suits
Located in the heart of Rishon Lezion, Liraz Suits offers unparalleled luxury and comfort for travelers looking to indulge in a lavish stay. With top-notch amenities and a prime location, guests can explore the vibrant city and return to their spacious and elegantly designed suite.
Liraz Suits is one of the top luxury hotels in Rishon Lezion, and its exceptional service, attention to detail, and premium facilities make it a must-visit for those seeking comfort and sophistication during their travels.
Address: Emile Zola St 16, Rishon LeTsiyon, Israel
8. Charming Unit with Pool and Great Amenities
This hotel offers a serene retreat from the hustle and bustle of the city, with comfortable accommodations and a variety of amenities to ensure a pleasant stay. Whether you're here for business or pleasure, you'll find everything you need to relax and recharge in style.
From the pool to the fitness center to the on-site restaurant, this hotel has it all. So why wait? Book your stay today and discover the ultimate in luxury and comfort at Rishon Lezion's top hotels.
Address: Meir Ya'ari St 29, Rishon LeTsiyon, 7546715, Israel
Phone: +972 54-561-0800
In conclusion
Rishon Lezion boasts some of the top luxury and comfort hotels, creating an unforgettable experience for visitors. The city's hospitality industry offers a variety of options for discerning travelers, each providing a unique blend of comfort, elegance, and convenience
Whether you are looking for a luxurious getaway or simply a place to relax and unwind, these top hotels will exceed your expectations. With excellent service, high-end amenities, and exquisite dining options, Rishon Lezion's hotels create an atmosphere of sophistication and elegance.
Each of the hotels on this list offers something special, making them an excellent choice for travelers looking to indulge in the best accommodations in the city.