It's unclear when it happened, but the last few years have been amazing for any burger lover in Israel. Burger joints have been opening up just about everywhere, slowly and steadily raising the bar for the rest. If you're in Tel-Aviv, you can't miss restaurants calling themselves "Gourmet Burger Joints." Well, they're not wrong. Here are our recommendations. They're not ordered from best to bestest – visit them all!
The Vitrina (Vitrine) is a respected burger institution recommended for true burger fans. It has just the right amount of parmesan in the meat, just the right seasoning, just the right beet ketchup (because that's a thing). You can also swing by just for the mixed potato-yam thin fries.
This one's a country-wide chain, yet it keeps coming on top in the taste tests. There are many options to fit your financial state, and while it's not a secret-hip-underground place where you have to order and eat in a phone booth, it's a perfect midnight munch.
This is exactly the secret-hip-underground place I was referring to. It's certainly not cheap, all of the many specialized burgers are almost twice the price of a normal burger in Israel, but it's hands down the best I've had. The brioche buns help, but the true secret is the amazing meat. Maybe it's a horse; I don't know. It's perfect.
Straight to the point – you choose one of 15 types of burgers (half of them without cheese, and are less recommended). It hits the spot.
This is actually a meat place, not just a burger place. It has some of the best steaks around, especially if you like it dry-aged. But go for the home burger for an unexpected treat. It's simple in presentation but exquisite in taste.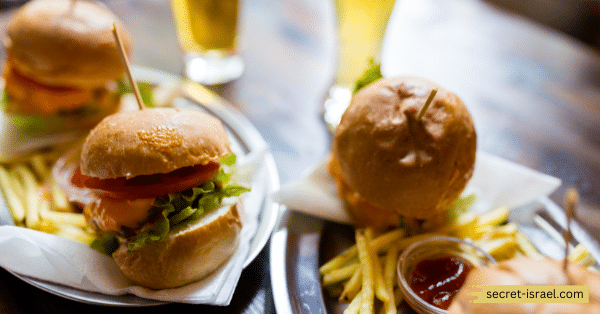 This place is less "fine dining" and more "fone diner." It's the best at what it does – burgers, international feel, fast, simple, cheap, and absolutely delicious.
Port 19 – Shlomo Hamelekh 2 \\ Map
This place has many good options, but if you're in the know, you take the swiss burger – a thick coat of Emmental cheese, fried bacon chips, and lamb bacon on top – it's incredible.
Little Burger Shop – Dizengoff 125 \\ Map
It's easy to accidentally miss this tiny stall in the middle of Dizengoff street – but don't! You'll probably get here after a few drinks in the nearby bars, so you'll be that much more grateful for the 3 free toppings.
This place is as popular as it is successful – and for a good reason. It has great sliders and even better double cheeseburgers. The meat is known for its stellar quality, and we recommend not to take too many toppings that will shadow it.
Memphis – Calebach 20 \\ Map
One of the few Kosher options in Tel-Aviv, the taste doesn't take a hit for not breaking the rules of God. It's a simple burger in a great, toasted bun. It falls apart easily, almost like a sloppy joe, but without the need to kill yours.