Experience the thrill of water activities at Jaffa Port, Holon. From kayaking and jet skiing to parasailing and scuba diving, there's something for everyone. Explore the stunning coastline, witness breathtaking views, and immerse yourself in the beauty of the Mediterranean Sea. Jaffa Port is a must-visit destination for water enthusiasts seeking unforgettable adventures.
Here are 10 thrilling water activities you can find at Jaffa Port.
1. Kayaking
Kayaking is one of the most thrilling water activities to experience at Jaffa Port, Holon. Whether you are a beginner or an expert, kayaking provides a unique opportunity to explore the beautiful waters of the Mediterranean Sea.
As you paddle through the waves, you can take in the breathtaking views of the port and the surrounding areas. This activity is perfect for those who love to challenge themselves and push their limits.
As well as those who simply want to relax while enjoying the natural beauty of their surroundings. With experienced instructors on hand to guide you through the process, kayaking at Jaffa Port, Holon promises to be an unforgettable experience.
2. Boating
Boating has always been a popular and thrilling pastime, and it's no different at Jaffa Port. With calm waters and sunny weather throughout the year, boating enthusiasts can experience a unique and unforgettable adventure here.
The location offers an array of exciting water activities, including sailing, kayaking, and paddleboarding, to name but a few. Boating at Jaffa Port is a fantastic opportunity to enjoy an exhilarating aquatic adventure while being surrounded by stunning backdrops of landscapes and ocean life.
It's an ideal location for family activities, solo travelers, or groups of friends looking for a thrilling and unforgettable experience. Whether you're looking for a relaxing sail or a more adventurous boating experience, Jaffa Port will certainly not disappoint.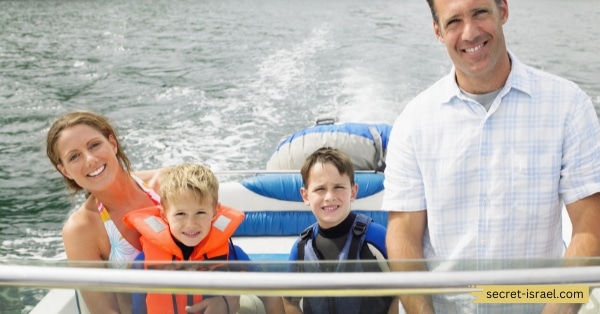 3. Water Skiing
Water skiing is a thrilling water sport that requires both skill and courage. From the speed and balance required to glide across the water, to the adrenaline rush of catching air, water skiing is an activity that is sure to get your heart racing.
At Jaffa Port in Holon, water skiing is just one of the ten exciting water activities on offer. Whether you're looking to challenge yourself as a seasoned pro or take your first steps on the water, there's something for everyone at this bustling watersports hub.
So why not dive in and experience the excitement of water skiing for yourself? You won't be disappointed.
4. Jet Skiing
Jet skiing is a popular water activity that offers an exhilarating experience on the waves. It is a fun and exciting way to explore the coastline and enjoy the sunshine. With its speed and agility, Jet skiing provides an adrenaline rush that enthusiasts can't get enough of.
The thrill of the ride coupled with the beautiful views of Jaffa Port and Holon makes jet skiing a must-try activity for water lovers. Whether you're a seasoned pro or a first-time rider, jet skiing is an activity that everyone can enjoy.
So come and experience the power of the waves for yourself and create unforgettable memories on the water.
5. Para-sailing
Para-sailing is a thrilling water activity that is sure to get your adrenaline pumping. It involves being towed behind a boat while attached to a parachute, allowing you to soar high above the water and take in breathtaking views of your surroundings.
If you're looking for a fun and exciting way to experience the ocean, para-sailing is definitely worth considering. Just make sure to choose a reputable company with experienced instructors and top-of-the-line equipment to ensure your safety and enjoyment.
With its unique combination of speed, height, and stunning scenery, para-sailing is an adventure you won't soon forget.
6. Wake Boarding
Wakeboarding is a fast-paced water sport that is sure to get your adrenaline pumping. As you stand on a board that is attached to a speedboat, you'll carve across the water, cutting through waves and launching yourself into the air for exhilarating jumps and tricks.
Wakeboarding requires a combination of strength, balance, and fearlessness, making it a challenging and rewarding activity. Experienced riders can even take on obstacles like ramps and rails to push their skills to the limit.
If you're looking for a thrilling water sport to try at Jaffa Port, Holon, wakeboarding should definitely be at the top of your list.
7. Fishing Trips
Fishing trips are thrilling water activities that can be enjoyed by anglers of all skill levels. Jaffa Port in Holon offers a plethora of opportunities to embark on an exciting fishing expedition. The port is home to an abundance of fish species, ranging from mackerel and perch to sea bass and red mullet.
With the help of experienced guides and top-quality equipment, visitors can reel in their catch of the day from the waters of the Mediterranean Sea. Fishing trips are not only a great way to spend a day out on the water, but they also provide a unique insight into local coastal culture and traditions.
Whether you are a seasoned angler or new to the sport, Jaffa Port is the perfect destination for an unforgettable fishing adventure.
8. Boat Tours
Boat tours offer an exciting and memorable way to experience the stunning scenic beauty of places like Jaffa Port and Holon, all while indulging in a bit of adventure and fun. Whether you're seeking a leisurely tour of the coastline or a heart-pumping adrenalin rush.
There are plenty of tour options available to suit your individual preferences. From sunset cruises to dolphin-watching excursions, a boat tour is the perfect choice for anyone looking to enjoy an unforgettable day out on the water.
9. Snorkeling
Snorkeling is one of the most exciting water activities that you can experience during your time at Jaffa Port in Holon. You can immerse yourself in the crystal clear waters of the Mediterranean and discover the beautiful marine life that lives below the surface.
Whether you are a seasoned snorkeler or a beginner, you will be captivated by the stunning underwater scenery, with colorful corals, schools of tropical fish, and other fascinating creatures.
You can rent snorkeling equipment and join a guided tour, which will take you to the best snorkeling spots around the Jaffa coast. Get ready to explore the marine world from a whole new perspective!
10. Scuba Diving
Scuba diving is a breathtakingly beautiful and thrilling water activity that has fascinated adventurers for many years. As you plunge into the depths of the ocean, you are transported to a whole new world filled with vibrant colors, amazing marine life, and unique underwater landscapes.
The experience is both exhilarating and peaceful, as you become one with the water and its inhabitants. Scuba diving requires proper training and equipment, but once you've mastered the essentials.
You can explore the depths of the ocean and discover a whole new world that few have seen. It's a truly unforgettable experience that every water enthusiast should try at least once in their lifetime. So, strap on your gear and explore the depths of the ocean with scuba diving!
In conclusion
Jaffa Port and Holon offer an array of exciting water activities that are suitable for adrenaline junkies and casual adventurers alike. From windsurfing to kayaking, visitors are spoilt for choice.
The breathtaking panoramic views of the Mediterranean Sea make each activity all the more enjoyable. Thrill-seekers can choose to ride the waves while surfing or try their hand at stand-up paddleboarding.
Alternatively, those who want a calmer experience can go on a relaxing yacht ride or take a dip in the refreshing waters. With so much to offer, Jaffa Port and Holon should definitely be at the top of any traveler's bucket list.