Are you looking for something fun and meaningful to do on Shabbat in Israel? This ancient holy day is a time of rest, reflection, and celebration.
Discover the best activities for a meaningful Shabbat in Israel. From exploring Jerusalem's vibrant atmosphere to immersing in nature, discovering cultural sites, and engaging in Shabbat-friendly workshops and markets, there's something for everyone. Experience the rich traditions and peaceful ambiance of Shabbat in the Land of Israel.
In this blog post, we'll explore some of the best activities and experiences to have on Shabbat in the Land of Israel. So, let's get started!
Shabbat in Israel: A Day of Rest and Reflection
Shabbat, observed every week in Israel, is a day of rest and reflection for Jewish people. During this day, work and other forms of labor are prohibited. Individuals are encouraged to spend time with their families, engage in prayer and reflection, and enjoy the peaceful atmosphere.
For visitors to Israel, there are several ways to participate in the traditions of Shabbat. Such as attending a service at a local synagogue, joining a Shabbat meal with a host family, or taking a stroll through the quiet streets of Jerusalem.
It is a unique experience to witness the atmosphere of this holy day, and an opportunity to gain a deeper understanding of the culture and traditions of Israel.
Exploring the Vibrant Shabbat Atmosphere in Jerusalem
When visiting Jerusalem on Shabbat, there's no shortage of things to do to experience the vibrant atmosphere that can only be found in this holy city. It's a time when locals and visitors come together to reflect, relax, and celebrate.
Visiting the Western Wall (Kotel)
The Western Wall is one of the holiest sites in Judaism, and it holds great significance for Jews worldwide. On Shabbat, the Western Wall becomes a focal point of prayer and spiritual devotion. Joining the worshippers at the Western Wall during Shabbat can be a moving and profound experience.
Address: Ha'Omer 2 Jerusalem, Israel 97500
Opening Hours: 24 hours
Phone: +972 2-627-1333
For pictures, booking, and more information, click here.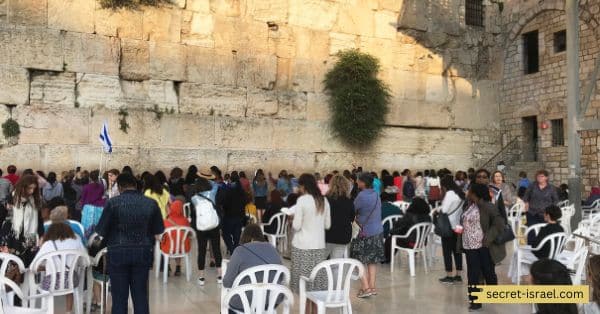 Exploring the Old City
Jerusalem's Old City is divided into four quarters:
The Jewish Quarter
The Christian Quarter
The Muslim Quarter
The Armenian Quarter
On Shabbat, the city takes on a tranquil ambiance as the bustling markets and shops close, and the streets become quieter.
It's an ideal time to wander through the ancient alleyways, absorbs the historical surroundings, and visit significant religious sites such as the Church of the Holy Sepulchre and the Al-Aqsa Mosque.
Attending Shabbat Services
Jerusalem offers numerous synagogues where visitors can participate in Shabbat services. Whether you are Jewish or simply interested in observing the customs and traditions. Attend a synagogue service in Jerusalem.
Can provide a glimpse into the religious practices and rituals that are central to Jewish life. The Great Synagogue, Hurva Synagogue, and the Tzemach Tzedek Synagogue are some notable places to experience Shabbat prayers.
Enjoying Nature and Outdoor Activities on Shabbat in Israel
Israel is blessed with diverse landscapes, from stunning coastlines to lush forests and majestic mountains. While Shabbat is traditionally a day of rest, there are still plenty of opportunities to connect with nature and enjoy outdoor activities in Israel.
Walking Along the Beach in Tel Aviv or Jaffa
A leisurely stroll along the beaches of Tel Aviv or Jaffa on Shabbat offers a refreshing and energizing experience. With stunning views of the Mediterranean Sea. Sandy shores for sunbathing, and a vibrant atmosphere.
A perfect way to relax and connect with the natural beauty of the area. Exploring the beaches allows you to soak in the unique culture and history of Tel Aviv and Jaffa, making it a beloved activity for both locals and tourists.
Exploring the National Parks of Israel
Israel's national parks provide a remarkable opportunity to immerse oneself in the country's natural beauty. Despite restrictions on many activities during Shabbat, exploring these parks is permitted.
Allowing visitors to connect with nature and experience breathtaking landscapes. Whether hiking mountain trails or swimming in pristine streams. These parks offer a chance to revel in the splendor of the outdoors and appreciate the wonders of creation.
Going for a Hike in the Golan Heights or Galilee Region
The Golan Heights and Galilee Region in Israel offer a picturesque setting for outdoor activities, especially hiking, during the weekend. These regions provide a peaceful and beautiful environment, allowing visitors to connect with nature and find fulfillment in Shabbat.
With breathtaking landscapes and serene surroundings, hiking in the Golan Heights and Galilee Region offers an opportunity to rejuvenate and refresh one's spirit in the Holy Land.
Discovering Cultural and Historical Sites Open on Shabbat
While Shabbat is a day of rest and religious observance in Israel, there are still cultural and historical sites that remain open, offering visitors the chance to delve into the rich heritage of the country.
The Israel Museum (Jerusalem)
The Israel Museum is the largest cultural institution in Israel, housing a vast collection of art, archaeology, and Jewish cultural artifacts. It is renowned for its iconic Shrine of the Book, which displays the Dead Sea Scrolls, and the outdoor Billy Rose Art Garden.
On Shabbat, the museum remains open, allowing visitors to wander through its halls and galleries, appreciating the world-class art and historical exhibits. From ancient artifacts to modern art masterpieces, the Israel Museum provides a fascinating journey through Israel's cultural and artistic heritage.
Address: Derech Ruppin 11, Jerusalem, Israel
Opening Hours:
Sunday – Monday 10:00 AM – 5:00 PM
Tuesday 4:00 PM – 9:00 PM
Wednesday – Thursday 10:00 AM – 5:00 PM
Friday 10:00 AM – 2:00 PM
Saturday 10:00 AM – 5:00 PM
Phone: +972 2-670-8811
For pictures, booking, and more information, click here.
Yad Vashem (Jerusalem)
Yad Vashem is Israel's official memorial to the victims of the Holocaust. It serves as a powerful tribute to the six million Jews who perished during World War II. The museum's exhibits recount the history of the Holocaust through personal stories, photographs, and artifacts.
Yad Vashem remains open on Shabbat, enabling visitors to pay their respects and gain a deeper understanding of this tragic period in history. Exploring the memorial grounds, visiting the Holocaust History Museum, and walking through the poignant Children's Memorial can be a moving and educational experience.
Address: Jerusalem, 9103401, Israel
Opening Hours:
Sunday – Friday 8:30 AM – 5:00 PM
Saturday Closed
Phone: +972 2-644-3400
Email: [email protected]
For pictures, booking, and more information, click here.
Old City of Akko (Acre)
Located on the northern coast of Israel, the Old City of Akko (also known as Acre) is a UNESCO World Heritage Site and a captivating historical treasure. The city's rich history dates back thousands of years and is reflected in its ancient architecture, Crusader fortifications, and Ottoman-era buildings.
On Shabbat, you can wander through the narrow alleyways of the Old City, visit the Crusader Fortress, explore the bustling markets, and immerse yourself in the vibrant cultural tapestry of Akko. Discover the echoes of the past while experiencing the unique atmosphere of this historical gem.
Engaging in Shabbat-Friendly Activities: Workshops, Markets, and more
Shabbat, the Jewish day of rest, is a special time in Israel when certain activities are restricted due to religious observance. However, there are still plenty of enjoyable and Shabbat-friendly activities that you can engage in during your visit to Israel. From workshops to markets, here are some options to consider:
Art and Crafts Workshops
Israel is known for its vibrant arts and crafts scene. Many cities and towns offer workshops where you can unleash your creativity and learn traditional Israeli crafts.
From pottery and ceramics to jewelry making and painting, these hands-on activities provide a chance to explore your artistic side while respecting the customs of Shabbat. Join a workshop, connect with local artisans, and create your own unique souvenir to take home.
Shabbat Markets and Bazaars
In many cities and towns across Israel, traditional Shabbat markets and bazaars come alive, offering a unique shopping and culinary experience. These markets typically feature a variety of fresh produce, baked goods, arts and crafts, and local delicacies.
Stroll through the bustling stalls, sample delicious Israeli cuisine, and engage with vendors who are eager to share their stories and products. It's a fantastic way to immerse yourself in the local culture and enjoy the vibrant atmosphere of a Shabbat market.
Guided City Tours
Exploring the cities of Israel on foot can be an enriching experience on Shabbat. Many cities offer guided walking tours that highlight the historical, cultural, and architectural aspects of their neighborhoods.
From the ancient streets of Jerusalem to the vibrant streets of Tel Aviv or the enchanting alleys of Jaffa, a guided city tour can provide fascinating insights into the local culture, heritage, and landmarks while respecting the observance of Shabbat.
In conclusion
Shabbat in Israel offers a unique opportunity for visitors to experience the country's rich religious and cultural traditions. While many businesses and attractions are closed on this day of rest. There are still plenty of enjoyable activities to partake in.
From wandering the streets of Jerusalem's Old City to exploring the natural beauty of the Israeli countryside. Additionally, visitors can attend services at a local synagogue or join a Shabbat dinner with a host family for a truly immersive cultural experience.
While observing Shabbat in Israel requires some planning and foresight. The rewards of experiencing this sacred day in the Holy Land are well worth the effort.