Discover the allure of Eilat, a dynamic port city nestled at the crossroads of global trade. With its strategic location, free trade zone status, and thriving technology centers, Eilat is a hub for free trade and commerce. Explore its stunning beaches and marine wonders while experiencing a booming business environment.
In this blog post, we'll explore why Eilat is a great place for business opportunities and what makes it unique. We'll also look at some of the education and recreation facilities that Eilat has to offer – perfect for those looking to relocate or invest in the city.
Why Eilat is an Ideal Hub for Free Trade and Commerce
Nestled in the southern tip of Israel is the city of Eilat – a port city that has thrived on the bustling trade and commerce that takes place within its borders. Eilat has long been recognized as a hub for free trade and a gateway to international markets, thanks to its strategic location at the intersection of major trade routes.
The city's seaport is a key entry point for goods coming in and out of Israel, and its proximity to key trade partners in the Middle East and Asia makes it an ideal location for business investment and expansion.
With its dynamic commercial landscape, world-class infrastructure, and access to a highly skilled workforce, Eilat is poised to play an even larger role in shaping the future of global commerce.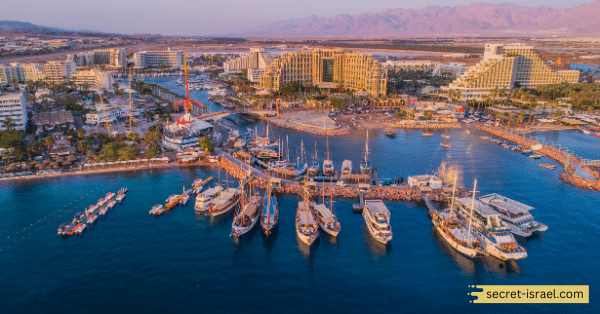 Education in Eilat: The City's Outstanding School System and Educational Institutes
When it comes to education, Eilat is second to none. In 2011, the city was awarded the prestigious Municipal Education Prize from the Ministry of Education in recognition of its outstanding educational system.
The city is home to a number of colleges and research institutes that offer students an array of academic opportunities. Additionally, it's Marine Education and Sports Center trains champions in a variety of sports, and its music conservatory and music center are renowned for their excellence. With its sports parks, green gardens, magical beaches, and breathtaking bay, Eilat is an ideal environment for students to learn and grow.
Free Trade Zone Status and VAT Exemption: How It Benefits Investors and Residents Alike
Eilat was designated as a free trade zone in 1985, and its residents are entitled to VAT exemption and tax benefits of 10%. This makes it an attractive destination for business investments, enabling investors to benefit from the city's many advantages.
With a strategic location adjacent to the Red Sea and a border crossing with Jordan, Eilat offers unrivaled access to global markets and a network of shipping lanes connecting the East and West. Remarkably, the city's Free Trade Zone Status means investors can import, export, and re-export without customs duties, providing significant cost savings that spur economic growth.
Likewise, residents of Eilat benefit from VAT exemption, making spending and living in the city more affordable and attractive. And with a range of modern infrastructure, including a port, airport, and transportation links to the rest of the country, it's no wonder why Eilat's reputation as a free trade and commerce mecca continues to grow.
A Thriving Hub of Business and Commerce: Technology Centers, Research Institutes, and More
Eilat has a number of technology centers and research institutes that attract entrepreneurs and startups from around the world. The city is well known for its free trade and commerce, making Eilat the ideal destination for global companies to establish their business operations.
Eilat Tech Center
A vibrant hub of technological innovation and entrepreneurship. It offers an array of services, including incubators, accelerators, venture capital funds, and more. In addition to providing startups with the resources, they need to succeed.
The center also serves as a meeting ground for local entrepreneurs and international investors. By providing access to mentors, workshops, and networking events, the Eilat Tech Center helps foster a thriving business atmosphere.
Address: HaBalan St 3, Eilat, Israel
Opening Hours:
Sunday – Thursday 8:30 AM – 4:30 PM
Friday – Saturday Closed
Phone: +972 8-916-2143
By-Technologies
A global technology platform that provides innovative services and solutions to businesses in the areas of e-commerce, hospitality, logistics, and more. Located within Eilat's Free Trade Zone, By-Technologies utilizes cutting-edge technologies.
And offers superior customer service to its clients. With its one-of-a-kind integrated business model, By-Technologies is at the forefront of innovation in Eilat, helping to make it a hub for free trade and commerce.
Address: Eilot St 31, Eilat, Israel
Opening Hours:
Sunday – Thursday 9:00 AM – 9:00 PM
Friday 9:00 AM – 5:00 PM
Saturday Closed
Phone: +972 53-475-4235
Science and Technology Center for Children
A unique educational facility located in Eilat. It offers interactive exhibits, workshops, and activities designed to inspire children of all ages to explore the sciences. The center's instructors provide opportunities for hands-on learning experiences.
That helps nurture students' natural curiosity while teaching them about technology and engineering. Additionally, the center hosts special events and competitions that give students the chance to demonstrate their skills and work together to solve real-world problems.
Address: Eilat, Israel
A Marine Wonderland: Enjoy the Scenic Beaches, Sports Parks, and Stunning Bay
Eilat is a thriving port city in Israel and a hub for free trade and commerce. But there's much more to this city than just business. Eilat is also home to a breathtaking marine wonderland that attracts visitors from all over the world.
Dolphin Reef
A unique paradise located in Eilat that enables visitors to experience the wonder of marine life up close. This natural lagoon is home to a resident pod of dolphins, giving visitors the chance to swim with them and watch as they play and interact with each other.
In addition, Dolphin Reef also offers an array of activities such as kayaking, snorkeling, and diving that provide an adrenaline-pumping adventure.
Migdalor Beach
An idyllic spot in Eilat, featuring a stunning white-sand beach and crystal-clear waters. Located right next to the city's Marina, it provides visitors with a peaceful escape from the hustle and bustle of everyday life.
Visitors can relax on the beach, swim in its calm waters, or take part in a variety of watersports. The beach is also home to a range of restaurants and cafes, making it the perfect spot for lunch or dinner with friends and family.
Coral Beach
The perfect spot for those looking for a more adventurous experience. Located on the edge of Eilat's Bay, it offers visitors an opportunity to explore the Red Sea's vibrant coral reefs and marine life.
Snorkelers and divers can marvel at the incredible array of colorful fish, sea turtles, and corals that inhabit this underwater world. With its stunning views, tranquil turquoise waters, and abundance of aquatic life, Coral Beach is an unforgettable destination.
While visiting these beaches, it's important to remember to practice responsible tourism and conservation efforts. Help keep these beaches beautiful for years to come by picking up after yourself and not disturbing the local wildlife. Enjoy your time in Eilat!
In conclusion
The Port City of Eilat is, without a doubt, a thriving hub for free trade and commerce. Its strategic location on the Red Sea and its status as a duty-free zone has made it an attractive destination for investors and traders alike.
The city's economy has continued to grow, offering a wide range of business opportunities and employment prospects for locals and visitors alike. From tech startups to established multinational corporations, the city has become a preferred destination for businesses to trade in the region.
Moreover, Eilat's vibrant culture, stunning beaches, and rich history make it an excellent place to live, work, and play. All in all, Eilat has become a beacon of economic development and innovation for the entire Middle East and beyond.