Embark on an exciting academic adventure in Israel, the hub of innovation and cultural diversity! Our guide provides international students with essential details on navigating Israel's education system, including information on obtaining student visas. Unlock the richness of knowledge and vibrant campus life that Israel offers!
This guide has been crafted specifically for you, to navigate you through the process and get you one step closer to your academic adventure in Israel. Let's dive in!
Obtaining a Student Visa
To study in Israel as an international student, first and foremost, you will need to secure a student visa, known as an A/2 visa. The process is straightforward but requires careful attention to detail. Here are the steps to follow:
Acceptance Letter: You must first be accepted into an Israeli higher education institution. Once accepted, your institution will send you an official acceptance letter, which is crucial for the visa application process.
Application Submission: After you have your acceptance letter, you can proceed to apply for the student visa at the nearest Israeli embassy or consulate. You will need to fill out the visa application form and submit it along with your acceptance letter, a valid passport, recent passport-sized photos, proof of financial sustainability, and evidence of medical insurance.
Interview: Once your application is reviewed, you will be invited for an interview with a consulate officer. The officer will ask you a series of questions to verify your intent to study in Israel.
Approval: If your application is successful, your passport will be stamped with your student visa.
Remember, the visa process can take a few weeks or even months, so it's advisable to start the process well in advance of your course start date. The Israeli government is keen to promote global education.
Thus, they strive to make the visa-obtaining process as smooth as possible for international students. Embrace the process as part of your exciting journey towards studying in a country rich in culture, innovation, and academic excellence!
Education Levels in Israel
Once you have secured your student visa, the next step is to familiarize yourself with the different levels of education available in Israel. Here are the three most common levels in which international students pursue higher education:
Bachelor's Degree (BA)
A bachelor's degree typically requires 4-5 years of full-time study and consists of a minimum of 120 credits. Upon successful completion, graduates receive a BA diploma.
Master's Degree (MA)
This degree usually takes 1-2 years to complete and consists of 50-75 credits or more, depending on the field of study. To obtain an MA degree, students must often write and defend a thesis during their studies as well as take relevant exams.
Doctoral Program (Ph.D.)
A Ph.D. is usually achieved over a period of 3-4 years and consists of at least 90 credits. To earn this degree, students must conduct research in their chosen field, write and defend a dissertation, and meet other program requirements.
Costs of Studying in Israel
Studying in Israel is an investment in your future that comes with its own set of financial considerations. However, international students often find that the cost of higher education in Israel is quite reasonable compared to other countries.
Tuition Fees
Tuition fees for a bachelor's degree in Israel range from $3,000 to $15,000 per year, depending on the course and the university.
For a master's degree, you can expect to pay between $4,000 and $20,000 per year. Doctoral programs, meanwhile, can cost anywhere from $5,000 to $30,000 annually.
Living Costs
The cost of living in Israel as a student varies depending on the city where you reside and your personal lifestyle. However, on average, you can expect to pay between $700 and $1,200 per month. This includes accommodation, meals, transportation, textbooks, and personal expenses.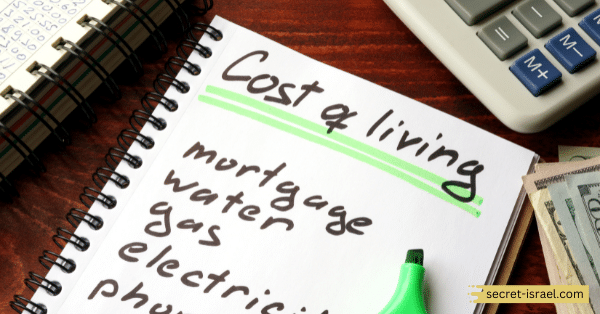 Remember, these are just estimates and actual costs can vary. It's important to plan your finances carefully and consider potential scholarships, grants, and work-study options to help cover these expenses.
Tips for International Students
Studying abroad can be overwhelming, but it doesn't have to be. Here are a few tips to help make your transition to the Israeli educational system as smooth and successful as possible:
Start learning Hebrew before you arrive in Israel. This will help immensely with the language barrier and ease your integration into the culture.
Familiarize yourself with the culture, traditions, and customs of Israel. Being aware of cultural nuances will help you understand the local social and educational environment better.
Get to know other international students in your higher education institution. This can make the transition to a foreign culture much easier, and it's also a great way to find friends and support.
Research and apply for any potential scholarships or grants you may qualify for. Many universities offer these options specifically for international students, so take advantage of them!
Don't be afraid to take on a part-time job or internship. This will help supplement your income and build your professional experience.
Finally, don't forget to take time for yourself. Make sure you explore the country and enjoy every bit of your academic journey!
In conclusion
Studying in Israel is an amazing opportunity to experience a culture and educational system unlike any other. With the proper preparation, you can ensure that your academic journey will be successful and fulfilling.
We hope this guide has helped equip you with the information and knowledge needed to embark on your Israeli education adventure! By taking the time to understand the visa process.
Familiarize yourself with the education system, and plan your finances accordingly, you can make sure that all of your dreams of studying abroad in Israel become a reality. So what are you waiting for? Get started today, and begin paving your path to success!