Welcome to Tel Aviv, the vibrant city that offers a tantalizing array of delicious cuisines. From classic dishes like Shakshuka to modern Israeli-style fusion cuisine, Tel Aviv has something for everyone.
To help you plan your culinary adventure, we've compiled a list of 13 must-try restaurants in the city. Whether you're a foodie looking for a unique experience or just someone looking for a great dinner spot, this list has something for you. Read on to learn more about the best restaurants in Tel Aviv and start planning your next meal today!
1. Michel's Street Kitchen Tel Aviv-Jaffa
Michel's Street Kitchen in Tel Aviv-Jaffa, Israel is one of the best spots for street food. Food from all around the world comes together here with classic Israeli flavors, offering a unique experience of culinary fusion.
The menu features items like shawarma-wrapped falafel and house made donuts, making Michel's a tasty appetite adventure. Plus, an idyllic urban patio setting provides an ideal spot to enjoy the eclectic delicacies in a relaxed yet vibrant atmosphere.
If you ever find yourself in Tel Aviv-Jaffa, be sure to visit Michel's Street Kitchen!
Address: Ben Teradion St 2, Tel Aviv-Yafo, Israel
For pictures, booking, and more information, click here.
2. The Gallery Café
The Gallery Café in Tel Aviv is a unique place that has something for everyone. One of the city's most popular hotspots, it is known for its unique selection of Mediterranean-inspired dishes as well as its relaxed atmosphere with friendly staff. It features an indoor and outdoor dining seating area, so guests can enjoy their meals inside or out. The menu changes seasonally which keeps things fresh and interesting throughout the year.
The cafe also holds various events including art exhibitions and live music performances, making sure there is always something new to check out here. If you're looking for variety, great food, and a lively atmosphere, the Gallery Café in Tel Aviv is definitely worth a visit!
Address: Wolfson St 35, Tel Aviv-Yafo, Israel
For pictures, booking, and more information, click here.
3. Dr Shakshuka
Tel Aviv's own Dr Shakshuka is a hotspot favorite, loved by locals and tourists alike. This tiny hole in the wall serves up the most delicious shakshuka in town. A flavorful tomato base infused with fragrant spices is topped with 4 poached eggs for an extra hearty kick.
Situated near the beach, there's no better way to get refueled after a morning of exploring the city, or to start your day off right before hitting the waves. Dr Shakshuka promises every meal to be packed full of flavor and goodness, it's no wonder why it's so popular.
Address: Beit Eshel St 3, Tel Aviv-Yafo, 6802503, Israel
For pictures, booking, and more information, click here.
4. Nachmani Kitchen
Established in 2014, the Nachmani Kitchen in Tel Aviv is a culinary experience that cannot be missed. The brainchild of Chef Etty, this bistro features an eclectic menu of modern-style Middle Eastern dishes that are made with fresh, locally sourced ingredients for an authentically Israeli flavour.
From slow-cooked lamb and hummus to imaginative salads and innovative desserts, there's something to tantalize every palate at the Nachmani Kitchen. Moreover, its dynamic atmosphere adds to the dining experience with personalized service and a warm ambience that makes it easy for guests to relax and enjoy a good meal. Whether it's just a quick bite or an indulgent evening out, Nachmani Kitchen is sure to satisfy any foodie's cravings.
5. Bellini
Bellini in Tel Aviv is one of the hottest spots in the city for Italian cuisine. Located in a vibrant area near the bustling nightlife and central beaches, it's easy to find something special here whether you're looking for an intimate dinner or a casual lunch.
The menu features classic Neapolitan dishes like home-made pasta, pizza cooked with fresh ingredients, and seafood platters sure to delight even the most discerning of palettes. With an extensive bar selection and organic wines, any meal can be turned into an unforgettable experience. Bellini in Tel Aviv represents everything that makes Italian cooking exceptional with an Israeli flare; it's truly an amazing spot!
Address: Yehieli St 6, Tel Aviv-Yafo, Israel
6. Bistro 16
Bistro 16 in Tel Aviv offers a unique combination of old-world charm and modern conveniences. Housed in one of Israel's iconic 20th century buildings, the bistro is the ideal destination for anyone looking for an unforgettable dining experience.
The menu features items from across the Mediterranean, all made with locally sourced ingredients. Two high-ceilinged rooms featuring exposed brick add ambiance to the venue, not to mention spectacular views over Old Jaffa and out towards the Mediterranean Sea. So if you're visiting Tel Aviv and want to truly experience local culture and cuisine, Bistro 16 should be your go-to venue!
Address: Herzl St 16, Tel Aviv-Yafo, Israel
For pictures, booking, and more information, click here.
7. Dallal Restaurant
Dallal Restaurant in Tel Aviv has been a mainstay in Israeli cuisine since the late 19th century, rooted in traditional Jewish-Lebanese cooking. The warm, inviting atmosphere, with handcrafted furnishings and decorations, is inviting to all diners who come in search of authentic flavors prepared to perfection.
The menu consists of flavorful dishes such as beef kebabs and kofta filled with mushrooms and ground fresh spices served alongside freshly baked breads and smooth hummus topped with olives. Whether eating at one of their cozy indoor tables or al fresco on their beautiful terrace, you'll no doubt leave Dallal feeling satisfied and filled with appreciation for this timeless restaurant's delicious food and warm hospitality.
Address: Rehov Shabazi 10 Neve Tzedek, Tel Aviv Israel
For pictures, booking, and more information, click here.
8. Catit Tel Aviv Restaurant & Bar
Catit Tel Aviv Restaurant & Bar is a perfect destination for foodies and cocktail enthusiasts alike. The menu features traditional Israeli Meze dishes, such as Hummus and Baba Ganoush, combined with modern signature flavors inspired by the fusion of Mediterranean cuisine and international influences.
Patrons can also enjoy flavorful drinks crafted by award-winning barman Nassim Khoury. The atmosphere is welcoming and inviting, with cozy indoor seating as well as outdoor seating on a terrace overlooking the Jaffa port. Whether you are looking to celebrate a special occasion or just want to relax over tapas and cocktails, this one-of-a-kind establishment is sure to have something for you.
9. La Botiga Tapas Bar & Restaurant
La Botiga Tapas Bar & Restaurant in Tel Aviv is a popular spot for visitors and locals alike. Guests are able to experience some of the delicious flavors from traditional Spanish cuisine in a vibrant, relaxed atmosphere.
The restaurant is particularly known for its amazing small plate selection—from jamón ibérico to queso manchego and beyond—offering something for every type of palate. La Botiga also boasts an extensive wine menu, suited to compliment any meal; plus specialty cocktails, like the signature mojito, with fresh juices and herbs. Whether you're looking for a casual bite or an evening out, be sure to visit La Botiga Tapas Bar & Restaurant in Tel Aviv when you're in town.
10. Yochanan Restaurant
Located in the heart of Tel Aviv, Yochanan Restaurant has been a go-to spot for locals and tourists alike since it opened its doors. At this family-owned restaurant, you can enjoy classic Israeli dishes made from fresh ingredients sourced from local markets.
Dishes like Sabich and Shashouka never fail to win over customers! But Yochanan isn't just for sit-down dinners — their takeout menu is filling and adaptable to dietary restrictions. Whether you're looking for an intimate dinner or to get food on the go, Yochanan Restaurant has got you covered!
11. Yotvata HaKosem
Yotvata Hakosem is a popular cultural hub located in the city of Tel Aviv. It's a combination of a farmers' market, bar, restaurant, and music venue that caters to all ages and backgrounds. The market itself is filled with fresh produce from local vendors, as well as handmade gifts such as jewelry and arts and crafts.
After day-long shopping sprees, visitors can enjoy one of the many restaurants or bars located inside Yotvata Hakosem. After dark, the area turns into an epic music venue where both local and international artists come together to share their work. However the main feature that keeps people coming back is its vibrant atmosphere full of diverse culture and friendly locals – Yotvata Hakosem truly offers something for everyone!
Address: Shlomo HaMelekh St 1, Tel Aviv-Yafo, Israel
For pictures, booking, and more information, click here.
12. Bina Tel Aviv
Located in the heart of Tel Aviv, Bina Tel Aviv is a thriving cultural and entertainment center. An iconic landmark of the city, it encompasses multiple centers operating within one complex such as the Performing Arts Center and Cinematheque.
It hosts diverse art performances ranging from theatre to music, along with regular film screenings, lectures, exhibitions and other cultural events. A unique outdoor amphitheater stands as an everlasting symbol of social gatherings, providing space for hundreds of visitors to enjoy traditional Israeli folk dance performances as well as concerts by famous local artists and singers.
With its constantly updated calendar of events, Bina Tel Aviv has something for everyone; all ages can revel in different forms of art from renowned or up-and-coming creators while spending quality time with loved ones.
Address: 143 Hertzl street 6810117, Tel Aviv, Israel
13. Elio by the Sea
Elio by the Sea in Tel Aviv is a unique and unforgettable experience. This iconic Latin American-style beach club and restaurant offers exceptional culinary creations, exotic cocktails, and live music performances set to the backdrop of the Mediterranean sea.
From sunset dinners with views of the city skyline to indulging in refreshing spa treatments at their luxurious wellness center, Elio by the Sea truly provides something for everyone. With every special occasion and event catered for, whether it's a romantic wedding reception or a birthday party, Elio by the Sea is sure to provide memories that will last a lifetime.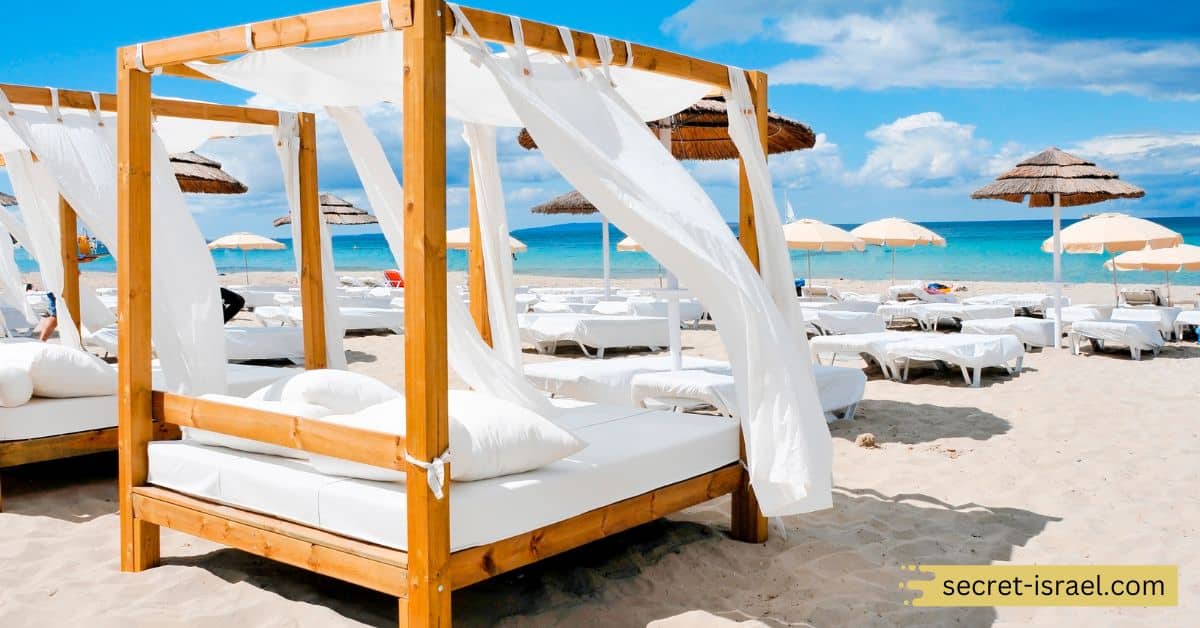 In conclusion
Visiting Tel Aviv, Israel is a truly unique experience that combines classic Israeli flavors with modern international cuisine. With so many incredible dining destinations in the city, it can be difficult to choose where to go for an unforgettable meal. But one thing's for sure – you won't be disappointed! From traditional Jewish-Lebanese dishes to Mediterranean-inspired creations, Tel Aviv will make every foodie feel right at home.
Whether you're looking for a quick bite or an evening out with friends and family, there is something for everyone in this vibrant city. So the next time you're in Tel Aviv, be sure to explore all these amazing restaurants – you won't regret it! Bon Appétit!