Visit the holy city of Jerusalem and experience a journey through time. From ancient sites to modern marvels, this remarkable city has something for everyone! Stroll the cobblestone streets of the old city and explore its many religious shrines. Witness one of world's longest-running conflicts at the Western Wall and gain insight into the powerful emotions that have been felt in this iconic location for centuries.
Take a break from sightseeing and indulge in the city's fantastic culinary offerings, with dishes ranging from classic Middle Eastern cuisine to modern Israeli-style fusion fare. Whether you come seeking adventure or relaxation, Jerusalem is sure to amaze!
Israel is an amazing and diverse country, rich with culture and sightseeing opportunities. With so much to explore, it can be difficult to narrow down the most popular attractions. From glistening seashores of the Mediterranean Coast to the unforgettable history unfolding through the archaeological monuments along the Jordan River Valley – Israel has something for every traveler.
Not to mention, delicious food and friendly locals are around every corner. No matter which area you visit, you will be surrounded by some of the world's best heritage sites, outdoor activities, nightlife experiences and more!
1. Jerusalem
As one of the oldest cities in the world, Jerusalem holds a unique place in the region and around the world. This cultural epicenter is located in Israel and has been a source of fascination for travelers for centuries.
It serves as an important pilgrimage site for Jews, Christians, and Muslims, with holy sites including the Western Wall, Dome of the Rock, and Church of the Holy Sepulchre all located within its walls.
Whether it's exploring its markets or captivating historic sites, there are plenty of opportunities to delve into Jerusalem's multifaceted culture. Its long-standing history continues to draw crowds from near and far – giving visitors an insightful look into what makes this vibrant city so special.
2. Tel Aviv
Tel Aviv, often called 'the City that Never Stops,' is the most populous and cosmopolitan city in Israel. This vibrant coastal city offers something for everyone, from the trendiest boutiques and galleries near Jaffa to show stopping restaurants throughout the lively Airport City.
Tel Aviv is also well-known for its large number of beaches along the Mediterranean, offering visitors stunning views and unbeatable opportunities for play and relaxation. Whether you're here to explore its many historic sites or shop till you drop, Tel Aviv will not disappoint. There's truly no other place quite like it.
3. Haifa
Haifa, located on the Mediterranean coast of Israel, is a bustling port city with great cultural and historical significance. It's home to three different faiths – Christianity, Islam, and Judaism – and has been mentioned in multiple religious texts as well. The breathtaking views of Bahai Gardens make it an enchantingly beautiful destination to visit.
It is also known for its many museums and galleries, offering a unique mix of culture and history. The 20th century German Colony is an area full of history and beauty known for its iconic architecture that still stands strong today. Beyond these attractions, Haifa is also renowned for its delicious cuisine earned due to its diverse population.
Whether visiting one of the many beaches or taking a stroll through the ancient cobbled streets – Haifa offers plenty of activities to suit any traveler!
4. Galilee
Galilee, situated in northern Israel, is a unique area known for its landscapes and culture. It serves as the most populous and diverse region of the country, home to a variety of religious communities. Tourists visiting Galilee might be surprised by the variety of attractions here – from incredible hikes through canyons and natural parks to historic sites with great religious significance.
Many people enjoy experiencing the cuisine of Galilee, which offers flavors ranging from Mediterranean-style sea food to Arabic bakery dishes that represent cultural influences from within the region. The culture of Galilee is one of its greatest drawcards, though modern urbanization has changed the face of this once mostly rural landscape – a reminder that some places exist both in history and today.
5. Golan Heights
The Golan Heights are a region of land located in the northeastern part of Israel that lies along the borders of Syria and Jordan. This strategic piece of land has been at the center of international focus since the Six-Day War in 1967, when Israel captured it from Syria and subsequently annexed it in 1981.
While this move was widely contested by the international community, in 2019 the United States recognized Israel's sovereignty over it, signifying a shift in their relationship. Currently, there are various Israeli settlements on the Golan Heights, which are generally inhabited by people belonging to religious groups such as Druze or Circassian minority communities.
By recognizing claims to its ownership, Israel is hoping to ensure its continued access to this resource-rich area that serves an invaluable role for both self-defense and trading with neighboring countries.
6. Negev Desert
The Negev Desert is the largest geographic region of Israel and is located in the south of the country. It covers approximately 60% of Israel's total land area, providing an incredible variety of landscapes from arid deserts to canyons and gorges.
One of its most striking features is its diversity of wildlife – from ibex goats to leopards and numerous avian species – alongside its flora, including several species of cacti that have adapted to such dry conditions. While best known for its striking vistas, it also serves as a major cultural hub within the region;
The Bedouin have called the Negev their home for centuries, preserving ancient traditions and art forms with nomadic performances and poetry readings. All in all, it's easy to see why the Negev Desert continues to captivate visitors from around the world.
7. Dead Sea
The Dead Sea is a truly unique body of water located in the Jordan Rift Valley, stretching along Israel's eastern border and bordering Jordan. It is more than 400 meters below sea level, making it the earth's lowest land elevation on dry land.
Not only is it known for its intriguing geography, but also for its remarkable density and high concentration of minerals, providing many benefits to those that dip in and receive a unique shoreline spa experience. Its chemistry composition makes it almost 10 times saltier than seawater, thus allowing anyone to float due to an increased buoyancy of up to 33%.
The Dead Sea has become a very popular tourist spot for visitors from all over the world who seek healing from skin conditions or to simply relax and enjoy the additional factors within this area such as the warm weather and beautiful scenery.
8. Masada
Masada, located in Israel, is an incredible archaeological site that served as a refuge for Jews during the first century CE. It was built by King Herod on a rocky mountain and has since become one of Israel's most popular tourist attractions. The fortress contains elaborate terraces cut from the natural rock, remnants of luxurious palaces, baths, storehouses and a synagogue.
According to historical accounts, 960 Jewish rebels chose death rather than Roman subjugation when Masada was besieged in 71 CE. Today, visitors can take the path up the Snake Path to reach the summit and explore this unique ancient fortress – complete with its own museum – to gain insight into one of history's most inspiring stories.
9. Akko
The ancient city of Akko, located in northern Israel, is an impressive destination you won't want to miss. From the moments you step foot inside the Old City walls, there are a variety of historical sites amidst a timeless atmosphere to immerse yourself in.
Whether visiting attractions such as Hospitaller Fortress and the Market Street or roaming along the Corniche promenade that overlooks the Mediterranean Sea, there is something for everyone in Akko.
Enjoy strolling around taking pictures and visiting local stores or take part in some of the tours provided to get an insight into its incredible history and architectural wonders. With all this to explore accompanied with breathtaking views, don't forget your camera when planning your next visit!
10. Nazareth
Nazareth, located in northern Israel about 19 miles from the Mediterranean Sea and just east of Haifa, is an important religious site for three major faiths. This is because the city is connected to the life of Jesus Christ due to its mention in two significant Gospel passages. It was also a thriving center during Roman rule and its name appears several times in rabbinic literature referring to its importance as a place of learning.
The Church of the Nativity or Basilica of the Annunciation can be found here, along with other churches and sites associated with Jesus' life. Moreover, numerous medieval monuments remain standing as reminders of Nazareth's heritage. This special location has held strategic significance since Antiquity and continues to draw visitors from both near and far who are looking for spiritual enrichment.
11. Eilat
Nestled along the Red Sea, Eilat is an Israeli city boasting stunning views and a vibrant beachfront. The city is known for its crystal-clear waters which are incredibly appealing to snorkelers, swimmers, and sunbathers alike.
As well as outdoor activities, many tourists visit Eilat for the diverse nightlife with its numerous nightclubs and bars. Nature lovers will also appreciate its location near the Negev Desert, home to a variety of rare wildlife. With something for everyone, it's no wonder that Eilat is such a popular destination!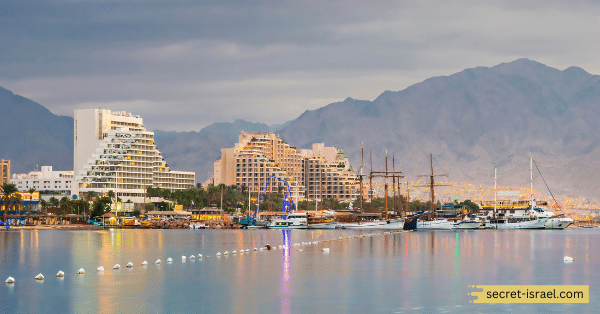 12. Herodion National Park
Nestled in the northern regions of Israel, Herodion National Park boasts a unique collection of archaeological sites from the Second Temple Period. Visitors get to walk through the ruins of a grand palace, administrative buildings, and Roman fortification walls painstakingly built over 2,000 years ago by King Herod himself.
Combining its fascinating history with beautiful Mediterranean landscapes and wildlife, Herodion National Park is an unforgettable experience for every traveler. On your tour of the park you can learn about ancient temples as well as see friendly gazelles or admire breathtaking views of the Judean Desert.
So if you're looking to explore stunning landscapes while having an educational and meaningful experience, then don't miss out on what this legendary national park has to offer!
In conclusion
The incredible regions of Israel have something to offer for every traveler. From the hustle and bustle of Tel Aviv to the ancient ruins in Herodian National Park, this country has it all! Take a journey through its unique culture and history by visiting sacred sites such as Jerusalem's Western Wall or find yourself mesmerized by the breathtaking views of the Golan Heights.
Experience the vibrant nightlife of Eilat, explore the ancient canyons of Galilee or wander through Haifa's iconic German colony. Each region has something special to offer and will provide you with a truly remarkable experience that you won't forget! There is no doubt that Israel is full of incredible sights, culture, and history – so why not take the time to explore it for yourself and discover its hidden gems?