Ramon International Airport, also known as Eilat Airport, is located in the southern Israeli city of Eilat, near the border with Egypt and Jordan. The airport serves as a hub for domestic and international flights, with a focus on tourism to the nearby Red Sea resorts.
In this blog post, we will look at all there is to know about this airport including its location, services & amenities, and airport activities. So, buckle up and come join us for a journey through the magical world of Ramon International Airport.
Overview of Ramon International Airport Eilat
Ramon International Airport Eilat is the main international airport in Israel serving the City of Eilat and its surrounding area. It is situated at an elevation of 466 feet (142 meters) above sea level and has two runways: a 13,123 foot (4000 meters) runway for commercial aircraft and a second 8,858 foot (2700 meter) runway for military and general aviation aircraft.
Ramon International Airport Eilat is the home base of Arkia Israel Airlines, which provides scheduled domestic and international flights to major cities in Israel, Europe, and North America. The airport also serves as a transit point for passengers traveling between Egypt and Jordan.
It also serves as an important hub for commerce and trade in the region and is home to numerous cargo companies that provide air freight transport services to Israel and other locations around the world.
Address: Be'er Ora, Israel
Phone: +972 8-955-3888
Navigate here to see the location's actual view.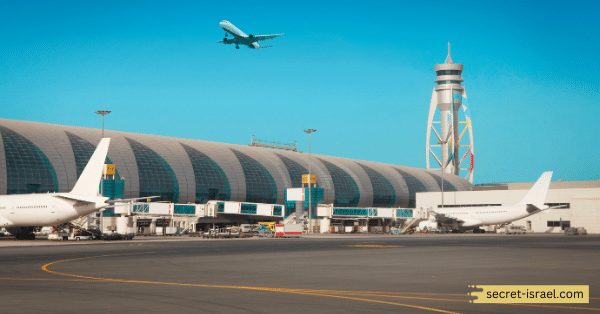 Services & Amenities
Ramon International Airport Eilat offers a range of services and amenities to make passengers' flying experiences more convenient and enjoyable. At the airport, travelers can find shops selling duty-free items, currency exchange booths, ATMs, car rental facilities, and restaurants. The airport also has an observation deck with a panoramic view of the surrounding desert landscape.
In addition, the airport provides comfortable waiting rooms equipped with free Wi-Fi and TVs showing news and sports channels to make the waiting time more pleasant. The staff at Ramon International Airport Eilat is friendly and helpful and is always ready to assist passengers with their needs. All these services and amenities make the airport a great destination for travelers.
Duty-Free Shopping
Ramon International Airport Eilat provides travelers with a convenient gateway to accessing duty-free shopping. Whether looking for exciting new souvenirs to remember their vacation by, interesting curios, or the best deals on expensive items otherwise not available in a given country, the airport offers an excellent variety of shops where visitors can find gifts and treats for themselves or others.
The prices are especially reasonable and appealing because there is no added tax on any of the purchases made. Security is also top-notch, so customers can shop without feeling worried about their luggage or belongings when venturing away from their seats or check-in counters. With many different stores and a wide selection of products from multiple countries, it's no wonder that Ramon International Airport Eilat remains one of the premier destination spots for duty-free shopping across the region.
Dufry
Offers a range of duty-free items, from electronics and cosmetics to spirits and tobacco. Features include attractive discounts on luxury brands, sales promotions, and special offers for travelers.
World Duty Free
World Duty Free features a wide array of duty-free products from leading international brands. Offers include reductions up to 50% off the original price across a variety of products, including fashion accessories and cosmetics. Other features include complimentary gift-wrapping services and a selection of fine wines, spirits, and fragrances.
Car Rental Facilities
Ramon International Airport Eilat has car rental facilities that offer an immense variety of vehicles. From luxury sedan cars perfect for long-distance trips to spacious vans suitable for family holidays, they have a car to fit everyone's needs.
The rates are competitively priced and the staff is friendly and welcoming, so you can rest assured that your car rental experience at Ramon International Airport Eilat will be hassle-free. It's the perfect solution for a seamless journey into the stunning city of Eilat without ever having to worry about directions or transportation difficulties.
Hertz
Offers a wide range of vehicles, from compact and economy cars to luxury sedans, SUVs, and vans. Features include unlimited mileage and free additional driver charges.
Sixt
Provides a variety of affordable car rental services with competitive pricing and special offers on long-term rentals such as extra miles and discounts on select vehicles. Features include 24-hour roadside assistance, flexible pick-up and drop-off times, and child seats available at no extra charge.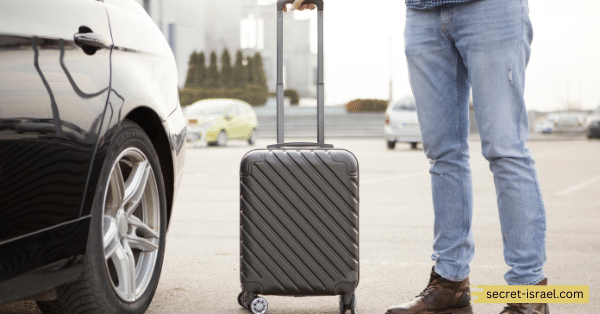 ATMs
The Ramon International Airport Eilat is well-equipped to support the banking needs of its passengers. At the airport, travelers can easily access an ATM and quickly withdraw cash in their preferred currency. ATMs at the airport are available 24/7, allowing passengers to withdraw their money whenever they need it, regardless of their flight times or the current time of day. Even amid a busy day, travelers can be sure that they will not be left short on cash while passing through the Ramon International Airport Eilat!
Currency Exchange Booths
Ramon International Airport Eilat has an expansive range of currency exchange booths available for arriving and departing passengers. Visitors will find it easy to make secure foreign currency exchanges at very competitive rates compared to banks and other financial institutions in the area.
Exchange booth staff members are knowledgeable and experienced in providing travelers with reliable information on the local currency, making them a valuable source of information before hitting the road. The booths are open seven days per week, ensuring that regardless of when you travel in and out of Eilat, you'll never be left high and dry without access to foreign funds.
Restaurants
There are plenty of restaurants in Ramon International Airport Eilat to keep even the most discerning traveler happy. From fast food to fine dining, there's something for everyone. For those who want a quick bite before their flight, there are plenty of fast food options. For those who want to sit down and enjoy a meal, several restaurants offer table service. And for those who want to get a little bit of everything, there are food courts with a variety of options. No matter what your taste or budget, you'll be able to find a restaurant in Ramon International Airport Eilat that suits your needs.
Burger King
Offering a wide selection of fast-food favorites such as burgers, chicken nuggets, wraps, salads, and more.
Caffeine Coffee & Bakery
Serving freshly brewed coffee and a variety of delicious baked goods including cakes, pastries, and other delectable treats.
Rimon Cafe
A full-service restaurant providing a variety of Israeli dishes and international cuisine in a comfortable atmosphere. Features include a large selection of wines, beers, and spirits available to accompany meals.
Observation Deck with Panoramic Views of Surrounding Desert Landscapes
The Observation Deck found in Ramon International Airport Eilat provides wide-open views of the beautiful and ever-changing desert landscapes in the region. An oasis of tranquility away from the hustle of airport activity, it is an ideal spot to take a break and enjoy the serenity while marveling at the majestic beauty of nature cuddled up against breathtaking sunsets.
As one watches from within the comfort of its confines, different terrains come alive – rocky cliffs, vibrant canyons, and monotonous dunes give way to cascading banks of shrubs and trees – blooming under the watchful gaze of a generous sun. This bird's eye view deck is truly a gateway for visitors to explore nature's bounty!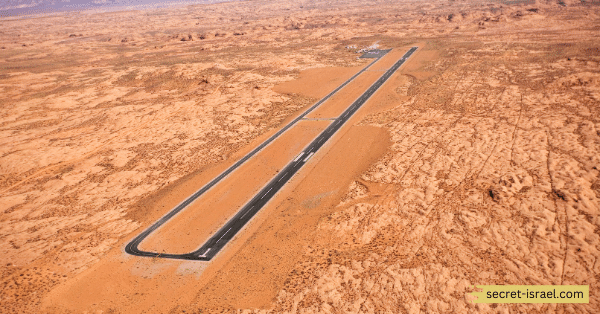 Helpful Staff to Assist Passengers With Their Needs
Ramón International Airport Eilat is committed to delivering top-tier service, and nothing is more important to that goal than having helpful staff on site. The airport is proud to offer an array of qualified and friendly staff members who are ready and willing to assist passengers with whatever their needs may be.
Whether it's a question about a store or restaurant at the airport, help with navigating the various terminals, or even something as simple as requesting directions to the nearest restroom, Ramón International Airport Eilat's personnel members will be there every step of the way for travelers.
Furthermore, their extensive training enables them to assist in many different languages ensuring that all passengers receive the help they need so they can move through the airport quickly and efficiently.
Airport Activities
Ramon International Airport Eilat offers an array of activities perfect for killing time while waiting for a connecting flight, ensuring that travelers have an enjoyable and memorable experience. From shopping to dining, entertainment to relaxation, the airport has something for everyone. Whether you're looking to pick up some souvenirs from the duty-free stores or grab a bite to eat, Ramon International Airport Eilat has it all.
There are also several entertainment options available for those looking for something to do while waiting for their flight including live music and games. For those looking to relax, the airport boasts many comfortable seating areas around its facility perfect for unwinding before a long trip. With so much to offer, Ramon International Airport Eilat is the perfect destination for travelers looking to make their way through the airport in style!
Shopping and Dining Options
Duty-Free Stores: Ramon International Airport Eilat offers a wide range of duty-free stores where travelers can find a variety of souvenirs, jewelry, and other items at excellent prices.
Restaurants: The airport has plenty of restaurants offering different cuisines from around the world. From fast-food joints to more upscale dining options, Ramon International Airport Eilat has something for everyone.
Cafes: For a quick bite or an energizing cup of coffee, travelers can visit one of the many cafes located throughout the airport.
Bars and Lounges: Those looking for a place to relax and unwind can visit one of the airport's many bars and lounges. Here, passengers can enjoy a drink or two while waiting for their flight.
Overall, Ramon International Airport Eilat offers an unparalleled level of services and amenities to make sure travelers have a pleasant experience while passing through the airport. From duty-free stores to restaurants, and car rental facilities to ATMs – the airport provides everything you need for a successful and enjoyable trip.
Entertainment Options
Live Music: Ramon International Airport Eilat offers travelers the chance to enjoy live music performances in the main terminal while waiting for their flights.
Gaming Area: For those looking for something fun and interactive, there is a gaming area located within the airport offering different video games and arcades.
Movie Theater: The airport also has an onsite movie theater where travelers have the opportunity to watch the latest films from around the world.
This makes it easy for passengers to enjoy a little bit of entertainment while they wait for their flight.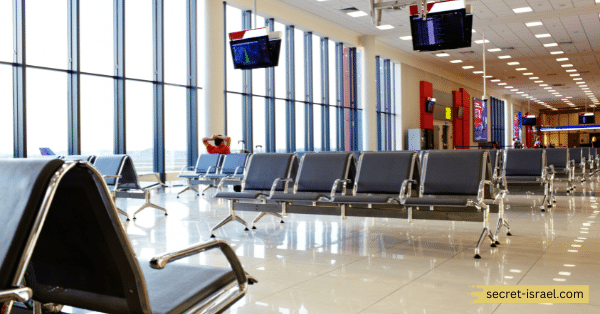 Security Regulations
Ramon International Airport Eilat takes security very seriously and has several regulations in place to ensure the safety and well-being of its passengers. All airport personnel, including staff members and travelers, must pass through security checkpoints before entering any restricted areas.
1. Weapons: Items such as guns, knives, and other weapons are strictly prohibited at the airport and may not be brought into restricted areas.
2. Flammable Materials: All flammable liquids, gasses, or combustible products are also forbidden in the airport.
3. Liquids/Toiletries: Liquids, aerosols, and gels in containers larger than 100 ml are not allowed to be brought through security.
4. Alcohol: Drinking alcohol is strictly prohibited within the airport premises and all passengers must refrain from consuming any beverages while at the terminal.
These regulations ensure that all travelers have a safe and secure experience while passing through the airport.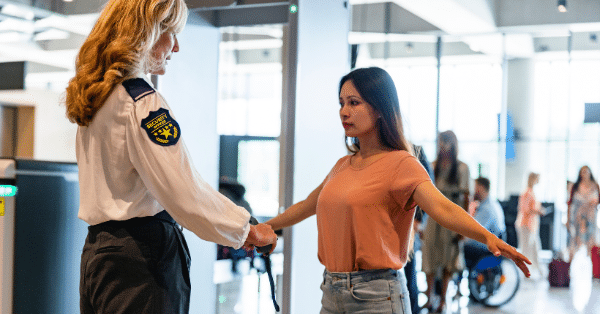 In conclusion
Ramon International Airport Eilat is a world-class airport that provides travelers with an array of services, amenities, and entertainment options to ensure their experience is both enjoyable and convenient. With duty-free shopping, car rental facilities, ATMs, restaurants, bars and lounges, currency exchange booths, and much more – the airport makes sure that no passenger is ever left wanting.
In addition, the airport has strict security regulations in place to ensure the safety and well-being of its visitors. With so much to offer, it's easy to see why Ramon International Airport Eilat has become a popular destination for travelers from around the world!