From the stunning beaches of Tel Aviv to the ancient ruins at Masada, Israel is an incredible destination packed with religious and cultural sites that are waiting to be explored. Whether you're looking for a spiritual journey or a fun-filled vacation, this one week itinerary offers something for everyone. From exploring the old city of Jerusalem to taking a dip in the Dead Sea, this trip will be one you'll never forget! So come join us on this amazing journey and experience Israel like never before.
Day 1: Arrive in Tel Aviv and Explore the City
Tel Aviv is a unique city, with something to offer everyone. From endless white-sand beaches to historical sites rich in Middle Eastern culture, travel and exploration in Tel Aviv can be a truly eye-opening experience. Be sure to visit the Old City of Jaffa for its iconic mix of cobblestone roads and colorful marketplaces, or take a stroll along the beachfront promenade for breathtaking views of the Mediterranean Sea.
If nightlife is more your speed, Tel Aviv offers plenty of opportunities to explore the city's bustling bar and restaurant scene. Whether it's people-watching from one of Tel Aviv's many outdoor cafes, or trying local seafood dishes from some of the finest restaurants in the world, you'll find no shortage of adventures when you arrive in Tel Aviv.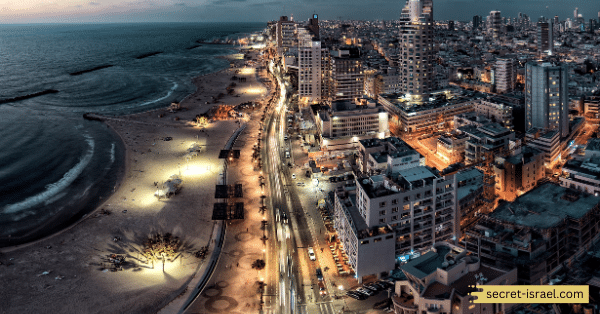 Day 2: Explore the old city of Jerusalem
A stroll through the ancient city of Jerusalem is a unique experience and one that should not be missed. From the resplendent views to remarkable architecture, visitors will be awestruck by the beauty of this timeless city. Every step taken deepens your understanding of its rich religious history and diverse culture.
Of particular note are important sites such as The Western Wall, which symbolizes Jewish faith; The Dome of the Rock, which commemorates Islamic faith; and The Church of the Holy Sepulcher, an iconic site for Christian tradition. While in Jerusalem, immersing yourself in these sacred places is essential to acquiring an appreciation for their significance to numerous traditions and communities around the world.
Day 3: Stroll through the incredible Baha'i Gardens and Shrine of the Bab
The Baha'i Gardens and Shrine of the Bab is a popular tourist attraction located in Haifa, Israel. This breathtaking site gives visitors a chance to experience the beauty of nature alongside the spiritual significance of a historical figure. The 21 terraced gardens offer spectacular views overlooking the Mediterranean Sea and stunning scenes of colorful flowers and cascading waterfalls.
Visitors can explore the grounds on their own or take advantage of guided tours that share unique facts about the history of this location. For those looking to take part in an educational journey with spiritual roots, a stroll through these incredible Baha'i Gardens is sure to be a rewarding experience.
Day 4: Take a dip in the Dead Sea
Soak up the salty experience of taking a dip in one of Israel's most famed attractions the Dead Sea. Not only is the dense, mineral-filled water known for its many therapeutic and health benefits, it's also the lowest point on earth at over 1,400 feet below sea level. With 8 times more salt content than any other body of water in the world, the incredible buoyancy makes it nearly impossible to sink.
You'll be able to effortlessly float in the briny depths and wash away any worries or stress you may have by indulging in this unique spa-like experience. Visiting the legendary Dead Sea is sure to provide an unforgettable experience that you won't regret.
Day 5: Take a day trip to Akko and Nazareth, Israel's most important religious sites
Spend a day exploring two of Israel's most significant religious sites: the ancient city of Akko and the holy city of Nazareth. Akko boasts spectacular Crusader-era architecture, as well as centuries-old souks, mosques, and churches – all set against a picturesque Mediterranean backdrop. Then, head to Nazareth and experience its timeless old city quarter and bustling marketplaces – both located right in the middle of the Galilee Mountains.
As you explore each site, be sure to take time to appreciate the unique spiritual energy they exude which gives the impression that they have been preserved in time. This combination of history, culture and spirituality creates a truly special day trip experience that will stay with you long after your visit is over.
Day 6: Take a jeep tour and see Mount Hermon, Lake Hula and other breathtaking sites
Embark on an unforgettable jeep tour around the picturesque area and take pleasure in the glory of nature. Admire Mount Hermon, the highest peak in Israel, as it offers beauty and challenge with its skiable slopes and many hiking routes.
Spend a relaxing afternoon at Lake Hula, an enchanting swamp lake surrounded by misty forests inhabited by fascintating wildlife. With each stop along your journey, you'll be captivated by one scenic site after another, providing plenty of photo opportunities to capture this delightful region's magic for years to come.
Day 7: Take a stroll along the beach front and enjoy one last sunset in Israel before flying home
Taking the time to stroll along Israel's picturesque beachfront, especially right at sunset, should not be missed. With faraway horizons filled with vibrant orange, pink and yellow hues, and skies cast upon deep blues and purples as you wait in anticipation for the sun to slip quietly away into the night sky, you won't regret taking that one last calming walk before flying home. The sights, smells and sounds will make lasting memories that are impossible to forget.
In conclusion
A vacation to Israel can be an incredibly unique and enriching experience. With the opportunity to explore sites both old and new, discover vast natural wonders, and connect with spiritual energy that transcends time, Israel offers something for every type of traveler.
Whether it's relaxation on the beach or a pilgrimage of faith, a trip to Israel is sure to leave you with memories that will last a lifetime. So grab your passport and make the journey today – you won't regret it!