Are you looking for the best things to do when visiting Israel? Look no further! From ancient ruins and religious sites, to shopping and nightlife, Israel has something for everyone. In this blog post, we've rounded up 22 of the best activities for visitors to enjoy during their stay in this exciting country. Whether you're looking for adventure or a relaxing escape, Israel has plenty to offer! Read on for the ultimate bucket list of things to do in this amazing land.
1. Visit Jerusalem
Visiting Jerusalem is an experience like no other. Located in the Judean Hills, this ancient city has a rich history with plenty of culture and stunning sites to explore. From the iconic Western Wall and Dome of the Rock, to historical gardens and religious monuments, you'll find something new around every corner. The sights, smells and tastes of Jerusalem create an unforgettable atmosphere where you can feel the ages pass by and be connected to the Holy Land in ways that cannot be replicated elsewhere. Take a step back in time and visit Jerusalem today for a truly incredible journey!
2. Pray at the Western Wall
The Western Wall, otherwise known as the Wailing Wall or the Kotel, is a remaining part of the Jewish temple that held great symbolic importance for centuries. It is believed to be the closest physical site to God as it protects and connects Jews to their holy mountain, Mount Moriah. It has become a central point for prayer services and pilgrimages – both by native Israelis and visitors from abroad – who come here seeking divinity and peace in prayers offered up to Heaven at the wall.
People often place cards with written wishes between its cracks hoping they will be answered by God. From sunrise to sunset, priests can be seen chanting ancient Hebrew verses of psalms known by heart and handing strips of paper with personal petitions directly over to God.
3. Admire the Ruins of Masada
Masada is a remarkable archaeological site located in the Judean Desert of Israel. The ruins stand atop an uninhabited desert mountain, providing visitors an astonishing view of the surrounding area. Masada's location and defenses have made it an attractive target, occupied by many different power-hungry leaders throughout history. Today it stands as an awe-inspiring reminder of what life was like for those who lived in one of the most hostile environments on earth centuries ago.
Some experts believe that Masada has become a symbol for the modern state of Israel, representing strength and survival in the face of overwhelming odds – a truly admirable feat regardless of context. Visitors to Masada will be taken away by its impressive fortifications, historic significance, and impressive views; making it well worth a visit if you ever find yourself in the Middle East.
4. Explore Tel Aviv
Tel Aviv, lovingly referred to as "the city that never stops," is a bustling urban center of culture, excellence, and leisure. Enjoy all aspects of the Mediterranean town's vibrant atmosphere with incredible architecture, delicious cuisine and exclusive art galleries.
There is something here for everyone; explore buzzing markets full of fresh produce & handmade goods, stroll along wide golden beaches within view of centuries-old mosques or wander through expansive parks with excellent outdoor activities. And if you still want more from your visit – day trips to nearby cities like Jerusalem are always an option! Visit Tel Aviv and discover why it has been one of the premier holiday destinations for so many years.
5. Tour the Old City of Acre
Visiting the Old City of Acre is an experience like no other. Located on the coast of Israel, the walled city has been a hub for commerce and culture since the time of Phoenicians in the 2nd century BC. In the old part of town, one can find traces of its rich history as home to various cultures, including Roman, crusaders and Ottoman Empires.
A tour of Acre allows visitors to explore iconic landmarks such as the old harbor and market. There are also some incredible archaeological sites to visit including catacombs, gallows and an underground prison which has now been repurposed into an aquarium. Overall, tourists can learn about Acre's history throughout the ages if they choose to take a tour.
6. Climb Mount Sinai
For those seeking a spiritual adventure, nothing compares to climbing Mount Sinai in Egypt. This mountain is considered one of the most sacred places in history, as its believed by many to be the place where God revealed Himself to Moses and other prophets of various religions.
Mount Sinai stands 2,285 meters high and requires an early morning start as well as physical fitness to complete the climb. Though it can get very warm during the day, temperatures dramatically drop at night making a sweater or jacket necessary.
Those that make it to the summit get a spectacular view of four countries (Egypt, Israel, Jordan and Saudi Arabia) and the opportunity to witness an incredible diurnal cycle where you can watch sunrise on one side of the mount and sunset on another part. As difficult as climbing Mount Sinai may be, there are rewards no one should miss out on with this unique journey!
7. Experience a Float in the Dead Sea
Visiting the Dead Sea is an incredible experience. Floating effortlessly atop its mineral-rich waters and bathing in the sunshine are pure bliss. People come from around the world just to relax in the buoyancy of this salt lake, which sits 400 m below sea level and is one of the deepest land depressions on Earth.
It's an opportunity to soak up some sun that offers many therapeutic benefits as minerals fill your entire body through skin absorption, leading to an overall sense of relaxation and wellbeing. Be sure to take a moment for yourself as you inhale deeply, close your eyes, and enjoy the peaceful beauty of this majestic place.
8. Take a Wine Tasting Tour in the Golan Heights
Exploring the Golan Heights offers an experience like no other, and the perfect way to immerse yourself in its vast beauty is by taking a wine tasting tour. As one of Israel's top wineries, this area offers several unique varietals—including Assyrian, Chardonnay, Cabernet Sauvignon, Merlot and more.
The vine-covered hills provide exceptional conditions for growing grapes, which is why taking a tour here will give you a taste of some of the best Israeli wines around. From dry whites to full-bodied reds there's something for every palette here. A wine tour in the Golan Heights is truly the perfect opportunity to discover the culture while indulging in some of the world's finest wines.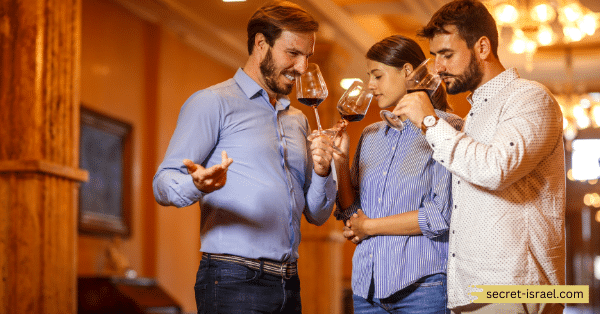 9. Visit the Bahai Gardens in Haifa
When it comes to captivating beauty, the Bahai Gardens in Haifa are truly a sight to behold. Set against the backdrop of Mount Carmel, these gardens house the holy shrine of Bab, one of the most important religious figures in the Bahai faith.
The 19 terraced gardens span over 600 acres and contain more than 17,000 vibrant flowers and shrubs, making them an ideal spot for photographers and nature lovers alike. Besides taking in its breathtaking views, visitors can tour the archives that preserve books and manuscripts on the Baha'i faith while exploring its rich history. A visit to Haifa would not be complete without a breathtaking walk through this beautiful landscape filled with spiritual meaning and historical value.
10. Explore Eilat
Eilat, a city on the Red Sea in southern Israel, is ideal for an unforgettable getaway. Find yourself lounging by its many beaches offering crystal clear waters and beautiful coral reefs. Relax under the warm sunshine and richly diverse wildlife or partake in the array of outdoor activities like paragliding and diving.
Tourists can also explore the city with trips to Timna Park, known for its ancient copper mines, mountaintop fortress of Masada, and St. Catherine's Monastery near Sinai desert showcasing exquisite Byzantine mosaic artworks. What's more? Dazzling resorts like Four Seasons and Dan Hotels which offer spectacular views of Eilat are also available if you're looking for luxurious accommodation when you visit this fantastic destination!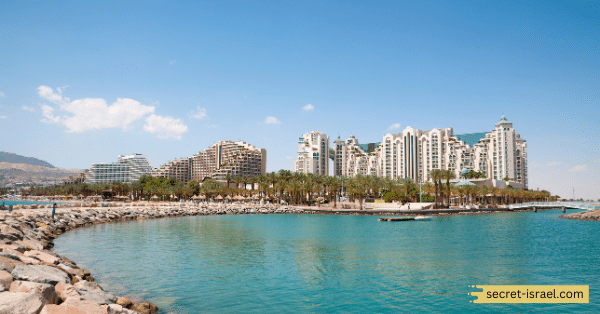 11. Take a Tour Around Israel's Desert Sites
Israel's desert sites are some of the most spectacular places in the country. From ancient ruins to stunning nature preserves, there is a variety of experiences available. Consider taking a tour through the Judean Desert and experiencing its rugged beauty, while visiting an archaeological ruin or seeing a natural wonder like the Dead Sea. In Jerusalem's Arava Valley, explore oases and canyons, or take a walk around Ein Gedi to admire its diverse wildlife.
The Negev Desert is another great place to experience as you explore ancient fortresses and monasteries that have been built throughout the area. It truly is an amazing experience to explore these majestic sites, soaking in all of their wonders with each step taken.
12. Enjoy Mediterranean Beaches
Israel is well-known for its stunning Mediterranean beaches, offering the perfect getaway for beach-goers of all ages. Whether you're looking for a peaceful stretch of coastline with plenty of sunbathing spots or an active beach with restaurants and activities like water sports, Israel has something to offer everyone. Accompanied by the amazing views and crystal clear waters, Israel allows visitors to experience diverse and vibrant beach cultures with something unique at every turn.
From Tel Aviv's bustling boardwalk life to the more low-key vibes of Haifa in northern Israel, there is no shortage of places to relax and enjoy the Mediterranean shores. Whether you're visiting for a weekend or staying longer term, don't miss out on the opportunity to explore all that the beautiful Israeli beaches have to offer.
13. Go Hiking in Negev Desert
The Negev Desert is the perfect backdrop for an unforgettable hiking experience. From steep mountains and remote canyons to flowing rivers, an adventurer's paradise awaits those who take on a Negev hike. Hikers have the opportunity to commune with nature in one of Israel's most scenic landscapes, known for its sand dunes, craters, and native wildlife. Along the way you will be able to take in breathtaking views of the desert while savoring traditional Bedouin culture and food. Come explore this captivating region and make lasting memories!
14. Shop at Shuk Mahane Yehuda
Shuk Mahane Yehuda is Jerusalem's vibrant, central market that serves both the local and international crowds. The lively atmosphere of this market brings together a variety of foods, fabrics, and spices from all over the Middle East. This unique shopping experience is unlike anything else available in the city! Not only can you get your hands on an array of Middle Eastern delights and items but they can also be purchased at lower prices than at most stores.
The open-air bazaar offers its shoppers a sense of culture as they learn about different verticals within Israel's food, products and economy. From exotic fruits to handcrafted jewelry; Shuk Mahane Yehuda has something for everyone to enjoy!
15. Visit the Church of the Nativity in Bethlehem
The Church of the Nativity in Bethlehem is a renowned pilgrimage site for Christians around the world. Founded by Emperor Constantine in the fourth century, it has remained virtually unchanged since then. Inside, visitors will find the venerated Grotto of the Nativity, which is said to mark the spot of Jesus' birth.
The original mosaics and columns are only some of the remarkable artifacts that grace this extraordinary basilica. The Patriarch's Parish Hall, with its frescos attributed to Giotto di Bondone, further add to its historical richness. Touring this cherished World Heritage Site is an unforgettable experience that invites profound reflection regarding one's faith and beliefs.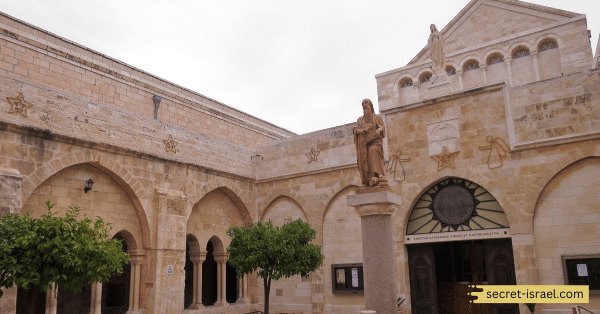 16. See the Marine Life at Coral Beach Reserve
Coral Beach Reserve is one of the most incredible spots to experience ocean life up close. Located on the southeastern coast, the reserve protects some of the world's most vibrant coral reefs and provides a home for countless colorful and diverse species. A wide variety of marine animals inhabiting the area makes it ideal for those looking to snorkel or scuba dive in order to get an up-close look of the incredible wildlife living right below the surface.
One might easily see schools of fish gliding through vast fields of coral and giant sea turtles unhurriedly roaming along with rays and dolphins somersaulting through vast blue waters, providing a truly awe-inspiring moment that no photo or video can ever come close to matching.
17. Go Camel Riding in Timna Valley Park
If you're looking for an adventure that will take your breath away, then look no further! Go camel riding in Timna Valley Park in Israel. This magnificent park is full of natural beauty and boasts remarkable geological and archaeological heritage a perfect place to have an unforgettable experience. A camel ride is a unique way to traverse the desert, as these animals are well adapted to the extreme temperatures and rugged terrain of the Negev Desert.
So mount up and enjoy the serene atmosphere while taking in all the sights around you! Ride alone or with a companion and be sure to admire the stunning views over the Arava Valley, Ein Avdat National Park, Red Mountain, and Ramon Crater along the way. Camel riding in Timna Valley Park offers something truly magical: a chance to explore one of Israel's most majestic landscapes.
18. Take a Tour Around Old Jaffa City
Old Jaffa City is a place filled with history, culture, and stunning beauty. Its ancient port is said to be mentioned in both the Bible and Homer's Odyssey and it has been constantly inhabited ever since 750 BCE. When you visit Old Jaffa City, you will be immersed in its majestic atmosphere, experience thundering silence amidst its rocky paths lined up with winding cobbled streets, enjoy the sounds of calm serenity while overlooking dramatic landscapes, and see the stunning sunsets that splash their colors into the Mediterranean Sea.
Every turn uncovers yet another layer of secrets to uncover in this irresistible city. Although it combines modern-day thrill seeking with historical ambiance, make sure not to miss out on sites like St. Peter's Church, as well as galleries full of relics from bygone times. For an unforgettable experience that will both refresh your spirit and connect you closer to history, come and take a tour around Old Jaffa City!
19. Have Adventure at Ghetto Fighter's House Museum
The Ghetto Fighter's House Museum in Israel is a must-see attraction for adventure seekers. Located in the Lower Galilee region, the museum presents visitors with a unique experience viewing authentic World War II artifacts, touring underground bunkers and tunnels, and learning about the local Jewish experience during the Holocaust.
The interactive exhibits and activities will stimulate your senses while you explore this monumental site, one that stands as a reminder of hope despite the tragedies of the era. Walking through the museum is an unforgettable journey that should not be missed.
20. Enjoy the Nightlife in Tel Aviv
Tel Aviv is the vibrant and bustling city to visit if you're looking for an amazing nightlife experience. Packed with clubbing scenes, bars and restaurants right on the beachfront, Tel Aviv provides the ultimate party atmosphere combined with stunning views of the Mediterranean Sea.
After spending day time exploring attractions such as Yarkon Park or ancient Jaffa, head out to one of the city's many venues for night entertainment and make sure you taste some delicious street food on the way. Whatever your plans are in this lively city, you're sure to enjoy every second of it!
21. Explore the Sea of Galilee
The Sea of Galilee, located in modern-day Israel, is a beautiful body of water that has been known for millennia. It's situated at 686 feet below sea level and is approximately 13 miles long and 8 miles wide. For those who take the time to explore it, the area offers some incredible sights such as lush vegetation, wild flowers, and fantastic views.
Whether you decide to sail across its waters or stroll along its shoreline admiring its captivating features, both will prove to be an unforgettable experience you can cherish even after you're back home. Its status as one of Israel's premier tourist attractions also suggests that it can be a great spot to bond with family and friends over rowing boats or just lounging together on the sunny beaches!
22. Visit the Caves at Rosh Hanikra Grottoes
Located in northwestern Israel near the Lebanese border, Rosh Hanikra Grottoes is a must-see destination for nature and outdoor enthusiasts alike. The area is home to an impressive network of underground limestone caves and features breathtaking views of the Mediterranean Sea. Visitors can explore the grottoes by taking an exciting cable car ride into the spectacular cliffs below.
In addition, visitors can take a guided tour of the cave passages, marveling at its beauty along with spotting centuries-old inscriptions carved into its walls. Above ground, take a stimulating hike up sharp ridges of rocks to soak in some of the best sights that Rosh Hanikra has to offer! Visiting the caves at Rosh Hanikra Grottoes promises a unique adventure that won't soon be forgotten.
In conclusion
Israel is a truly amazing destination that offers something for everyone. From the stunning beaches of Eilat to the bustling nightlife of Tel Aviv and the historical sites like Church of Nativity in Bethlehem; there are endless opportunities to explore this beautiful country.
Whether you're looking for adventure or relaxation, you'll be sure to find what you're looking for in Israel. So don't miss out on this wonderful destination and come explore all that it has to offer!