Jordan is a stunning country full of cultural, spiritual, and natural wonders. From exploring ancient ruins in Jerash to going on a camel ride in Wadi Dana and sampling delicious Jordanian cuisine. Whether you want to take in breathtaking views from the top of Mount Nebo or go snorkeling in the Red Sea, Jordan has something for everyone.
Are you looking for a unique and unforgettable vacation destination? Look no further than Jordan! From the ancient city of Petra to the Dead Sea, to the stunning desert views, Jordan offers something for everyone. Come explore this fascinating country with us as we uncover 13 amazing things to do in Jordan!
1. Visit the Ancient City of Petra
One of the most extraordinary travel experiences in Jordan. Located deep in the heart of the Wadi Araba desert, this once-lost city was sculpted into rose-colored cliffs by a tribe known as the Nabateans more than two thousand years ago. The well-preserved ruins were thought to have been left untouched until the 1800s, which is why they remain so incredibly intact today.
Once you arrive, you'll be amazed at how beautifully preserved each structure is from intricate facades on tombs and temples to modern touches added for visitors' convenience. From The Treasury and The Monastery to Urn Tomb and Colonnaded Street, there are plenty of incredible sites worth exploring within Petra's walls.
But that's not all! Beyond viewing Petra's famous architecture. Travelers can also choose to explore its cave dwellings and hike up nearby mountains for breathtaking views over the entire site.
Address: 28 Wadi Mousa – Jordan
Phone: +962 3 215 6060
Email: [email protected]
For pictures, booking, and more information, click here.
2. Explore the Ruins of Jerash
An unforgettable journey back in time. Located in northern Jordan, this ancient city is one of the world's best-preserved Roman ruins, with much of its original architecture still standing tall.
The first thing you'll notice when walking through Jerash are its majestic temples and colonnaded streets. As you wander through these avenues, you can experience the same atmosphere that was enjoyed by the city's ancient inhabitants. You'll also be amazed at how many original statues remain intact from lions to humans all of them tell a story about this once-thriving city.
Address: 7VHQ+GP8, Jerash, Jordan
Opening Hours:
Sunday 8:00 AM – 7:00 PM
Monday – Wednesday 8:00 AM – 6:30 PM
Thursday – Saturday 8:00 AM – 7:00 PM
Phone: +962 2 635 4653
For pictures, booking, and more information, click here.
3. Enjoy Stunning Views From Mount Nebo
Take a journey to Mount Nebo a stunning peak in western Jordan for some of the most breathtaking views in the country. The summit is around 817 meters (2,680 feet) high and overlooks much of Israel and Palestine. Making it the perfect place to appreciate the region's incredible geography.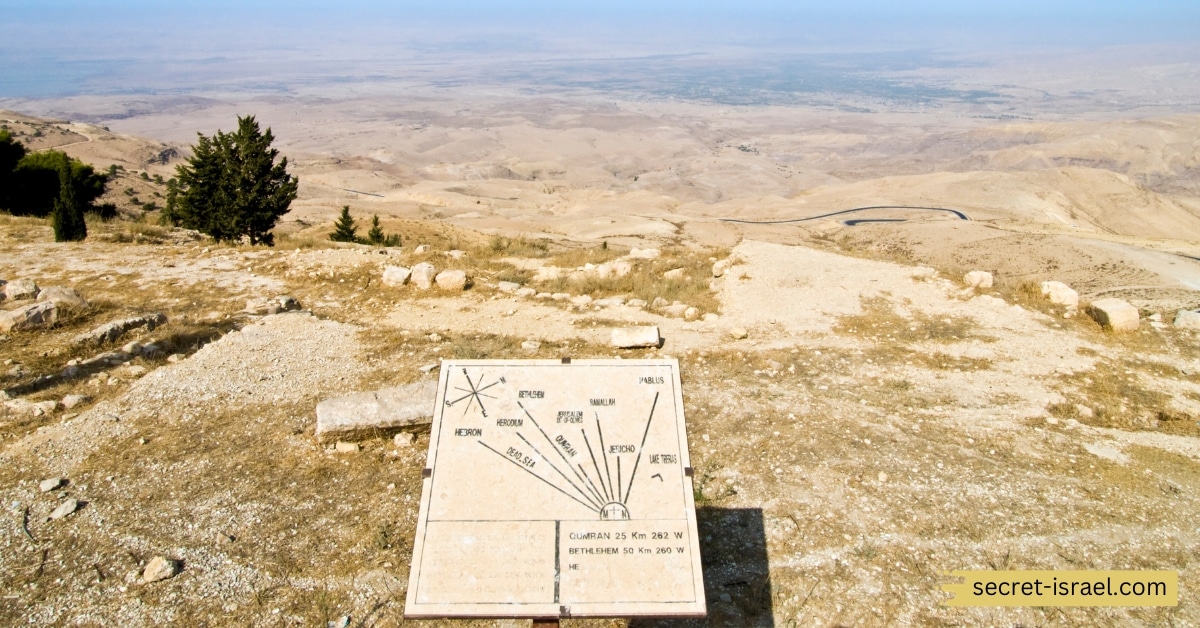 The area is also known for its cultural and spiritual significance. It is said that this mountain is where Prophet Moses saw the Promised Land for the first time before he passed away, which is why his burial site lies nearby. As such, it's no surprise that Mount Nebo is one of the holiest sites in all of Jordan.
When visiting, you can expect a few hours' hikes if you want to get to the top but it's worth every step! Once there, you'll be rewarded with an awe-inspiring 360-degree view of the landscape below. This is definitely one experience you won't want to miss!
Navigate here to see the location's actual view.
4. Sample Delicious Jordanian Cuisine
Experience the true taste of Jordan by sampling some of the delicious local cuisines. From mezze platters to freshly made bread, Jordanians have blended traditional recipes with modern flavors to create a unique culinary experience that's sure to impress any foodie.
No trip is complete without trying out hummus and falafel two staple goodies found in restaurants across the country. Other favorites include kofta (ground meatballs spiced with herbs) and shawarma (a wrapped dish of marinated meats slow-cooked on a rotisserie).
And when it comes to desserts, you won't want to miss out on knafeh—a sweet treat made with semolina dough, sugar syrup, and cheese topped off with crushed pistachios for extra crunch.
Jordanian cuisine isn't just about savory dishes either – tea plays an important role too. Whether it's green tea taken with sugar or mint tea enjoyed after dinner, this beverage will be served throughout your journey as an essential accompaniment for all meals.
5. Cruise Along the Jordan River
Venture along one of the Middle East's most iconic rivers – the Jordan River. Spanning 250 miles (405 km), it's a perfect way to experience some of the region's stunning landscapes and appreciate nature in all its glory.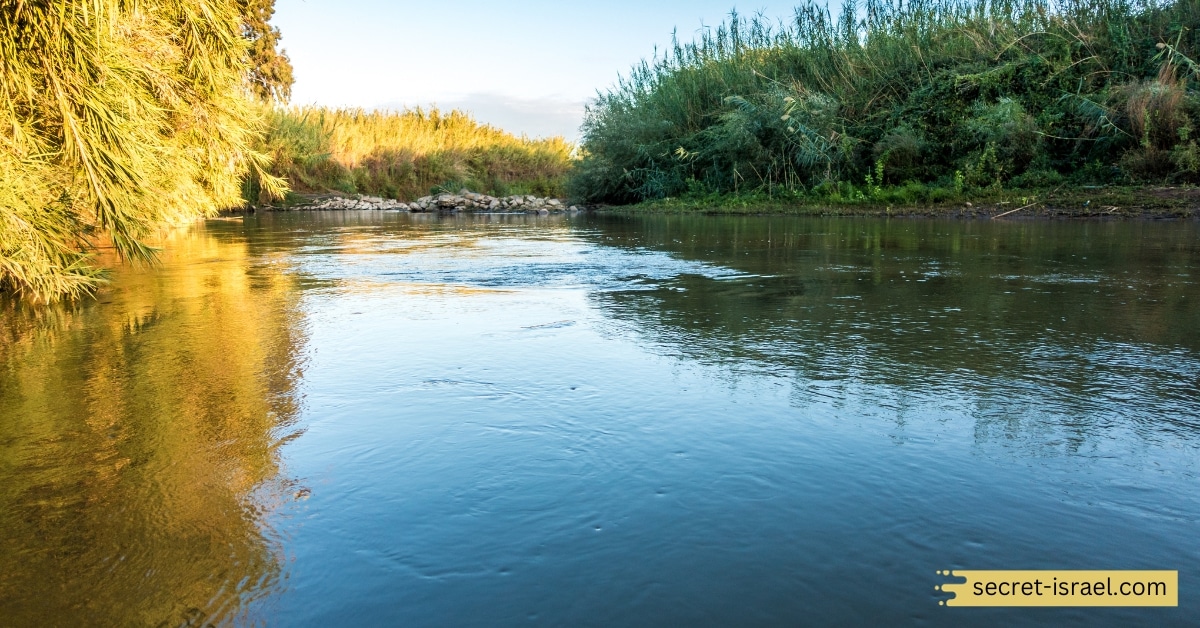 The river meanders through Jordan, Syria, Palestine, and Israel as it winds through some of the world's holiest sites. As you cruise along, take in views of lush green fields and hills on either side, interspersed with ancient monasteries and castles dotting the shoreline. You can also spot several species of migratory birds that make their home here – from herons and pelicans to flamingos!
On your journey, stop by Jericho the oldest city in the world with evidence dating back 10,000 years, or visit Qaser el Yahud—a baptism site where Jesus is believed to have been baptized by John the Baptist. Of course, no trip along this river would be complete without visiting the Sea of Galilee, one of Christianity's most important religious sites.
Navigate here to see the location's actual view.
6. Marvel at the Beauty of Wadi Rum
Step into the mysterious world of Wadi Rum, a stunning desert valley located in southern Jordan. Home to mountains, canyons, and sandstone cliffs, this landscape is a sight to behold!
Explore the area's abundant history by visiting ancient rock inscriptions and petroglyphs depicting humans, animals, and geometric shapes – many of which are thousands of years old. Be sure to check out the remarkable abandoned stone structures created by the Nabataeans too – it'll give you an incredible insight into their ancient culture.
Marvel at the changing colors of the sands as you make your way through one of Wadi Rum's awe-inspiring valleys. Then take a break from your journey and watch as breathtaking sunsets turn the sky into an array of beauty. After dark, spot constellations that look brighter than ever due to the lack of light pollution – an experience like no other!
Address: قرية وادي رم, Jordan
Hours Open: 24 hours
Phone: +962 3 2090600
Email: [email protected]
For pictures, booking, and more information, click here.
7. Visit Aqaba and Go Snorkeling or Scuba Diving in the Red Sea
Take a dive into the mesmerizing waters of the Red Sea and explore Aqaba – one of Jordan's most popular destinations! Located on the northern tip of the sea, Aqaba is home to a wealth of marine life, as well as its own dinosaur footprints.
Snorkel through crystal-clear waters to spot some beautiful reefs and vibrant aquatic creatures, from colorful clownfish to graceful turtles. For those seeking a more adventurous experience, scuba diving is an option too – you'll have access to sunken ships, coral gardens, and, more!
Aqaba also has plenty for land lovers – dye your skin in mud baths or explore ancient ruins like Ayla Fort or Umm Qays, said to be one of the oldest cities in the world. Discover Jordan's unique culture while sampling Arabic food at local restaurants and picking up handmade souvenirs from souks.
Navigate here to see the location's actual view.
8. Hike to the Dead Sea and Experience Its Unique Saltiness
Embark on an adventure to the Dead Sea and experience one of the world's lowest points. It's a setting like no other, with its rugged desert landscapes and mesmerizing salt flats – it's sure to take your breath away!
Take a walk along the shoreline, where you can feel the salty waves as they lap against your feet. Follow trails up towards Jordan's mountain peaks, passing through nearby ancient sites like Masada and viewing local wildlife. Spot some of the unique species that inhabit this area such as hyraxes and ibexes.
When you reach the sea itself, prepare for an incredible experience – its famous salty waters are not only therapeutic for your skin but also incredibly buoyant – perfect for floating on! Plus, you can use a range of natural mud baths made from Dead Sea mud that is said to have healing properties.
Navigate here to see the location's actual view.
9. Explore Madaba and Its Intricately Detailed Mosaics
Step into Madaba and explore some of the oldest and most intricate mosaics in the world. Founded in the 6th century BC, Madaba is known for its vibrant churches filled with detailed artwork that depict everything from biblical scenes to maps of ancient cities.
Start your visit at St. George's Church, which houses one of the most famous mosaics in the world – a sixth-century map of Jerusalem and the Holy Land. Take a leisurely stroll throughout the church and admire the vibrant colors and captivating details that make up this mosaic map.
Afterward, explore Al Khazneh Church – another stunning piece of artistry filled with beautiful mosaics that showcase local Jordanian life. Pay close attention to details and you'll find images of animals, plants, and everyday activities woven into each work of art.
Take your time meandering through Madaba's narrow streets and explore more intricately detailed churches – there are plenty to be found!
Navigate here to see the location's actual view.
10. Visit the Archaeological Site at Umm Al-Jimal
Visit the ancient city of Umm Al-Jimal and explore its archaeological remains. Situated in Northern Jordan, this historic site was first occupied during the early Islamic period and is filled with traditional black basalt stone architecture.
Start your visit at the Eastern Gate to take in stunning views of the surrounding desert terrain. Explore more of Umm Al-Jimal's structures, including a well-preserved Mamluk fort and a number of religious buildings that date back to the 7th century.
Learn about local customs as you wander through this ancient oasis – such as how people used to store water in underground cisterns during dry months and sell goods like dates to passing caravans.
Navigate here to see the location's actual view.
11. Go on a Camel Ride in Wadi Dana
Take a trip to Wadi Dana and go on an unforgettable camel ride in the desert. Located east of the Jordan Valley, this stunning oasis spans over 19,000 acres and is home to some of the world's most unique vegetation.
Start your journey by exploring the lush plant life that inhabits Wadi Dana – including acacia trees, thyme and juniper shrubs, and all kinds of colorful flowers. Then head out for a guided camel ride through the heart of this breathtaking desert paradise.
Take pictures along the way as you take in views of deep canyons, mysterious mountain caves, and vibrant rock formations – all while riding atop a camel! Follow your guide's lead as they tell stories about how Bedouin nomads used to travel these lands long ago and explore different camping sites when necessary.
Navigate here to see the location's actual view.
12. Wander Through Amman's Bustling Souks
Take a stroll through Amman's bustling souks and explore the old-world charm of the city. From textiles to spices, you'll find countless trinkets and goodies that you won't find anywhere else.
Go bartering in the spice market and discover all sorts of rare herbs, oils, and teas. Get lost in the winding alleys and visit tiny stores owned by generations-old families who stock everything from handicrafts to traditional sweets.
Don't forget to try some street food – freshly cooked falafel or za'atar served on fluffy pita bread is a must-try! You can also pick up fresh produce from local farmers who come from all over Jordan to sell their goods in the Souks.
13. Climb to the Top of Castle Hill for Breathtaking Views of Amman City
Venture to the top of Castle Hill in Amman for breathtaking views of the city! This monumental mountain is home to a centuries-old "castle" that stands tall overlooking the city.
Climb up and explore some of the ancient ruins on your way, including a Byzantine church and Ottoman tombs. Take in sweeping views as you make your way along the path – whether it's day or night, watching over Amman will leave you speechless.
When you reach the top, take some time to rest and marvel at the beauty of this Middle Eastern metropolis. Take pictures and videos so you can remember your adventure forever!
Navigate here to see the location's actual view.
In conclusion
For any traveler looking to experience the best of Jordan, there are countless destinations to explore. From the ancient ruins of Jerash and the stunning views from Mount Nebo. To sampling delicious Jordanian cuisine and exploring Madaba's intricate mosaics.
Cruise along the Jordan River or take a camel ride in Wadi Dana. Climb up Castle Hill or go on a scuba diving adventure in Aqaba. No matter what your preference, Jordan has something to offer and is sure to leave you with lasting memories. So don't miss out – start planning your next journey today!