Israel is a country that is steeped in religious history, with many sites of significance to Christians. Some of the most important sites include the Church of the Holy Sepulchre, the Garden Tomb, Mount of Beatitudes, and the Sea of Galilee. Visiting these sites provides a powerful spiritual experience, allowing you to connect with your faith and gain a deeper understanding of the life and teachings of Jesus Christ.
Are you a Christian looking to explore the holy sites of Israel? Then this is the article for you! In this post, we'll take a look at 12 incredible Christian sites in Israel that should be on every traveler's list. So read on to discover some of the most beautiful Christian sites in Israel!
1. Church of the Holy Sepulchre, Jerusalem
The Church of the Holy Sepulchre in Jerusalem is a renowned and historic Christian site to visit in Israel. Sitting on the Golgotha (also known as Calvary or the Garden Tomb), where Jesus is believed to have been crucified, buried, and resurrected.
This ancient church contains many shrines and grottos dating back centuries. It's fascinating for those interested in history and religion alike. Inside the church, you will also find various chapels with stone-carved sculptures of long holy figures from biblical times.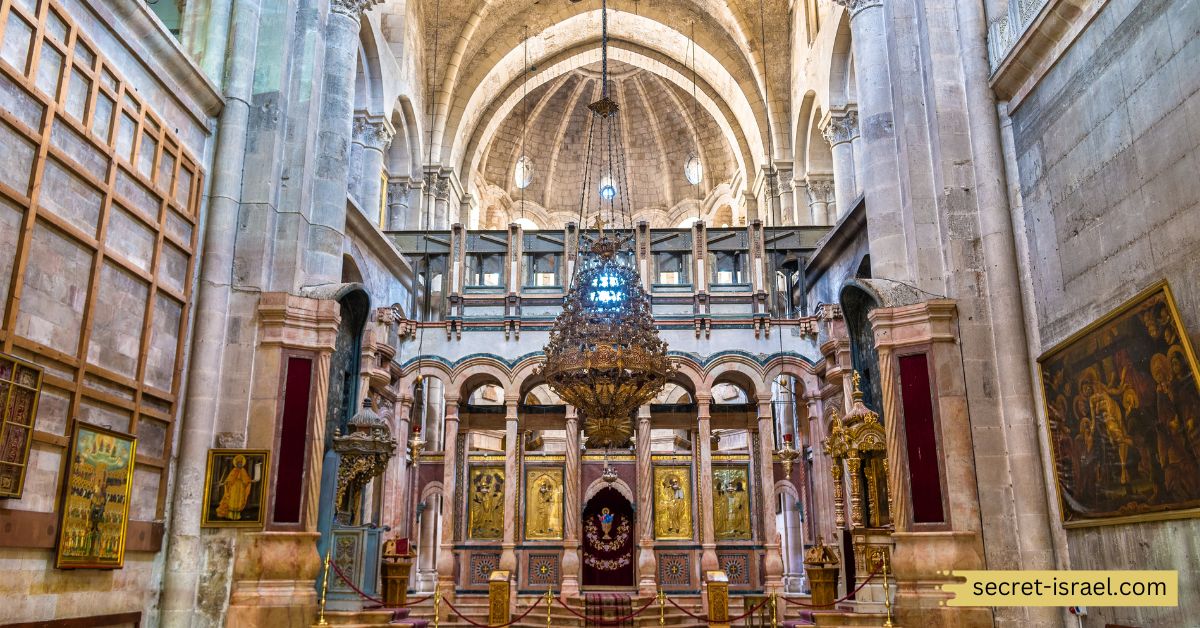 An awe-inspiring experience awaits inside these walls, with its grandiose architecture that takes you within an inner quiet sanctity for prayer and meditation. Don't forget to explore the exterior which holds sites ranging from the Franciscan Monastery to the Armenian Apostolic Cathedral. Giving visitors an even wider array of engrossing artifacts steeped in rich cultural history.
Address: Christian Quarter, Jerusalem, Israel
Opening Hours: 05:00 AM – 09:00 PM
Phone: +972-6273314
Admission Fee: Free
2. Garden Tomb, Jerusalem
Garden Tomb is one of the most important Christian sites to visit in Jerusalem, Israel. Found in 1867, it has long been associated with Christ's crucifixion and burial making it a popular pilgrimage site for many.
You can explore the tomb's grounds which feature ancient tombs, a large garden area as well as other features such as the "skull hill" (known as Golgotha). Here visitors can take part in various religious ceremonies like Easter services held annually or take part in guided tours that explain biblical events.
Its significance is quickly apparent upon visiting, making it essential for any pilgrim hoping to get an authentic spiritual experience during their holy tour of these sacred sites.
Address: Conrad Schick St, Jerusalem
Opening Hours: 08:30 AM – 5:30 PM ( closed on Sunday)
Phone: +972 2-539-8100
Admission Fee: Free
For pictures, booking, and more information, click here.
3. Nativity Church, Bethlehem
Nativity Church in Bethlehem is one of the most prominent Christian sites to visit in Israel. Sitting atop a hill overlooking the Judean hills, the church complex is said to be built atop The Cave of Nativity where Jesus was born.
To enter the church, visitors must pass through seven sets of gates with depictions of biblical scenes before coming face to face with its Byzantine and Romanesque stone façade. Inside are several altars, an iconostasis, and a silver star marking the place where Jesus is said to have been born.
There is also an underground cave known as St Jerome's Grotto which contains relics said to be from early Christians who sheltered there during religious persecution. In sum, a visit to Nativity Church offers a spiritual journey into Christian history whilst standing on some of the holiest grounds in Christianity.
Address: P635+P2C, Bethlehem Territory
4. Mount of Beatitudes, Tabgha
The Mount of Beatitudes, located in the north of Israel with stunning views of the Sea of Galilee, is some of the most important Christian sites to visit in the Holy Land. At Mount of Beatitudes, is believed to be the place where Jesus delivered his famous Sermon on the Mount.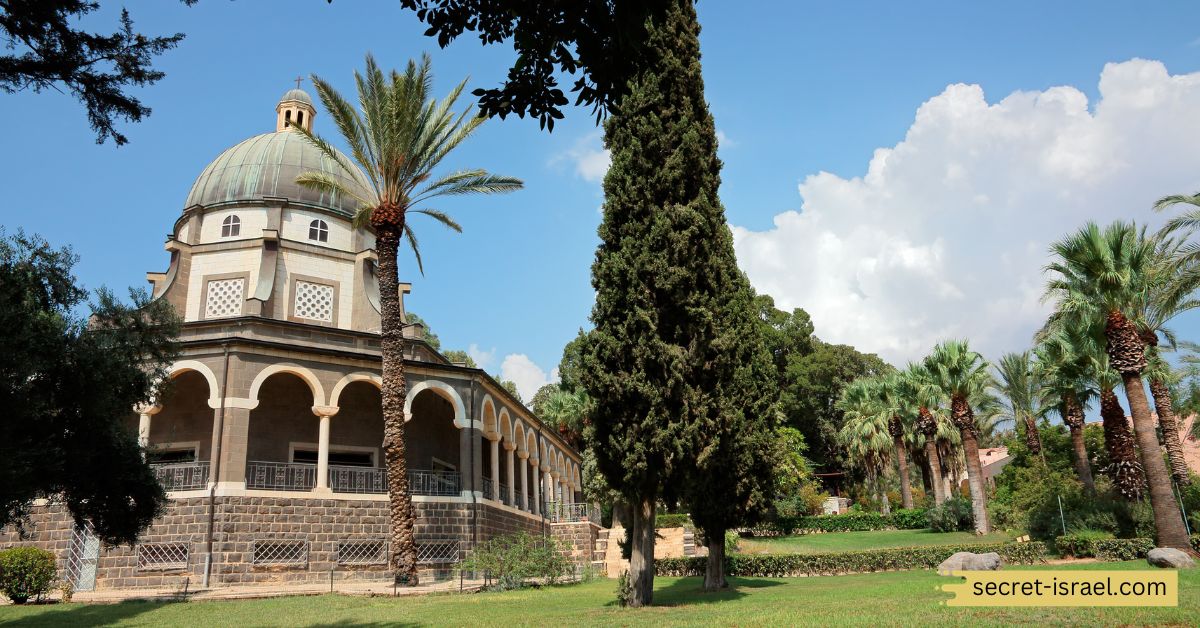 Visitors can find a Franciscan-run Catholic Church and several stone monuments marking where Jesus may have taught his teachings. The Church of Primacy of St Peter and The Church of the Multiplication. Both sites are breathtakingly beautiful with a great spiritual significance; they are an experience not to be missed when in Israel.
Navigate here to see the location's actual view.
5. Dome of the Rock, Jerusalem
Few Christian sites can compare with the grandeur of the Dome of the Rock in Jerusalem, Israel. Part of the larger Temple Mount complex and considered a sacred site for Islamic, Jewish, and Christian religions alike.
This shrine was constructed around 691 CE to protect a mysterious rock that Jews believe to be the landing place of Abraham's journey to sacrifice his son. Artistically impressive inside and out, it features an octagonal-shaped structure covered in gold leaf.
Along with various blue mosaics and Quranic inscriptions on the walls. Further reflecting its religious significance is its universal design. While all faiths symbolically use tefillin boxes when praying at this site, each religion can have individualistic approaches toward praising divine powers.
Such significance earned it recognition as a UNESCO World Heritage Site, providing travelers with an inspiring experience to listen within and grasp joyous moments of spiritual enlightenment.
Address: Temple Mount (Haram al-Sharif), Jerusalem
Opening Hours: 
Temple Mount is closed to tourists on Fridays, Saturdays, and during Muslim holidays.
(Sometimes Temple Mount can close without notice.)
For non-Muslim visitors, Temple Mount can be visited Sunday through Thursday:
Summer: April through September 8:30 AM – 11:30 AM and 1:30 PM – 2:30 PM
Winter: October through March: 7:30 AM – 10:30 AM and 12:30 PM – 1:30 PM
Admission Fee: Free
6. Caesarea Maritima, Caesarea
Caesarea Maritima, an ancient port city on the coast of Israel, is a fascinating place for history lovers to visit. This fascinating destination was built by King Herod the Great in 25 BCE. As a seaport and fortified capital and served both political and religious roles throughout its history under Roman, Byzantine, and Crusader rule.
Today, this former Jewish seat of power is considered one of the best-preserved archeological sites in existence. Those visiting Caesarea Maritima can take in the magnificent ruins of majestic palaces, bathhouses, a theatre, a harbor, and other archaeological features that contribute to its unique cultural heritage.
Visitors can also witness the impact left by Christianity with the two main Christian sites including the Church of Saint Peter (built c. 333 CE) and the 6th century Crusader Fortress located nearby.
Address: Caesarea, Israel
Opening Hours:
Sunday – Thursday and Saturday 8:00 AM – 4:00 PM
Friday 8:00 AM – 3:00 PM
Phone: +972 4-626-7080
For pictures, booking, and more information, click here.
7. Wailing Wall/Western Wall, Jerusalem
The Western Wall, also known as the Wailing Wall, is one of the holiest sites in Judaism. Located in the Old City of Jerusalem, it marks the last remnant of the ancient wall that surrounded its Second Temple.
Visiting this site can be a special and unique experience for anyone who is interested in Christian history and archaeology. As one of the most sacred locations in Israel, it draws hundreds of thousands of visitors each year from all around the world.
It also serves as an important religious site for those with minimal knowledge about Christianity, allowing them to explore their faith on a pilgrimage to such an iconic destination. Practicing Christians will not only be able to make a spiritual connection here but can also explore its rich history and culture with guided tours available for both locals and foreign visitors alike.
Address: Western Wall Plaza Jewish Quarter, Jerusalem 97500 Israel
Opening Hours: Open 24 hours
Phone: +972 2-627-1333
Admission Fee: Free
For pictures, booking, and more information, click here.
8. Dead Sea Scrolls Museum, Jericho
Israel is a country steeped in rich history, and the Dead Sea Scrolls Museum and other Christian sites in Jericho are an absolute must-see for travelers of faith. Located at Qumran National Park, the awe-inspiring museum offers visitors an up-close look at some of the oldest surviving manuscripts of religious texts in the world.
From there, hop over to ancient Jericho, one of the oldest continuously inhabited cities on earth, and experience a number of important biblical sites. Such as Hisham's palace walls and Herod's winter palace as well as visit Haram al Karameh (once a sacred mountain).
Be immersed in the incredible 2300-year-old story of Joshua's battle to drive out occupying forces from Jericho. Don't miss this incredible spiritual journey!
Address: 1, Kalya
Hours Open: Sunday – Saturday 8:00 AM – 04:00 PM
Phone: +972 2-994-2235
9. Yad Vashem Holocaust Memorial Museum, Jerusalem
Yad Vashem Holocaust Memorial Museum in Jerusalem is a must-see for those wishing to learn more about the tragic history of the Holocaust. Located on the outskirts of the city, Yad Vashem is home to both an interactive exhibition and a vast archive containing thousands of documents, memorials, and firsthand accounts from survivors.
Visitors can explore the nearby Valley of Communities or take part in one of many educational programs and activities dedicated to preserving the memory of the Holocaust. Meanwhile, those interested in faith-based travel can take in some of Israel's key Christian sites.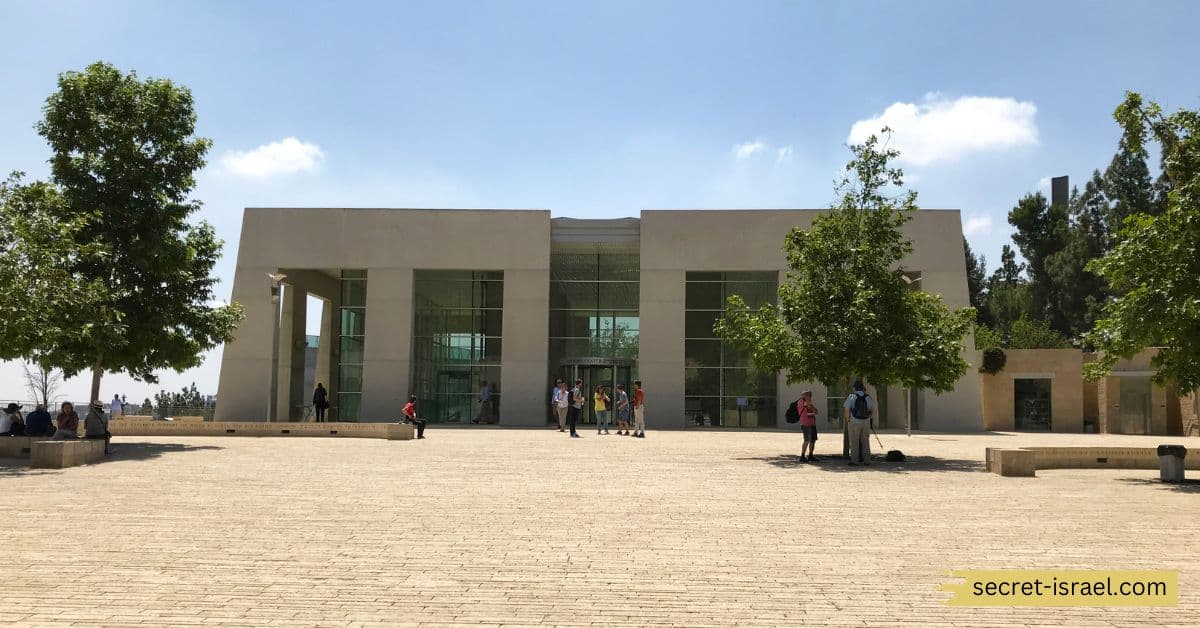 Such as the Church of the Holy Sepulcher, a 19th-century Greek Orthodox church rebuilt on the original site of Jesus' crucifixion. Other popular attractions include Saint Peter's Church, renowned for its ancient stone carvings depicting scenes from Christ's life, and Garden Tomb, where visitors can join guided tours while learning about scriptures that trace back to Jesus' death and resurrection.
Address: Jerusalem, 9103401, Israel
Opening Hours: 08:30 AM – 05:00 PM (Closed on Saturday)
Phone: +972 2-644-3400
Admission Fee: Free
For pictures, booking, and more information, click here.
10. John the Baptist's Birthplace Church, Jerusalem
John the Baptist's Birthplace Church is one of the most sacred and significant sites to visit in Israel. Located in the archeologically rich region of Bethlehem. This ancient church houses a grotto where the centuries-old faithful have come to pray for divine intervention and hope for a better future.
Built on top of an older Byzantine structure that dates back to the 5th century. The church itself is a great example of architectural heritage two millennia old. It's an excellent spot to visit for anyone who wants to get a glimpse into some of Christianity's holiest locations and commemorate the site where John the Baptist was born. Plus, it's an excellent opportunity to pay homage to some of the oldest known Christian relics and traditions.
Navigate here to see the location's actual view.
11. Mary's Spring in Nazareth Village, Nazareth
Mary's Spring in Nazareth Village is one of the most beautiful Christian sites to explore while traveling in Israel. Meandering cobblestone paths lead visitors through a breathtaking landscape, with sculptures depicting the Annunciation and the Flight into Egypt adorning the route.
Past vineyards and orchards, travelers can reach an ancient spring of pure, fresh water believed to have been visited by the Virgin Mary. The village also houses historical artifacts from first-century life in Galilee as well as a replica of a carpentry workshop where Jesus would have worked.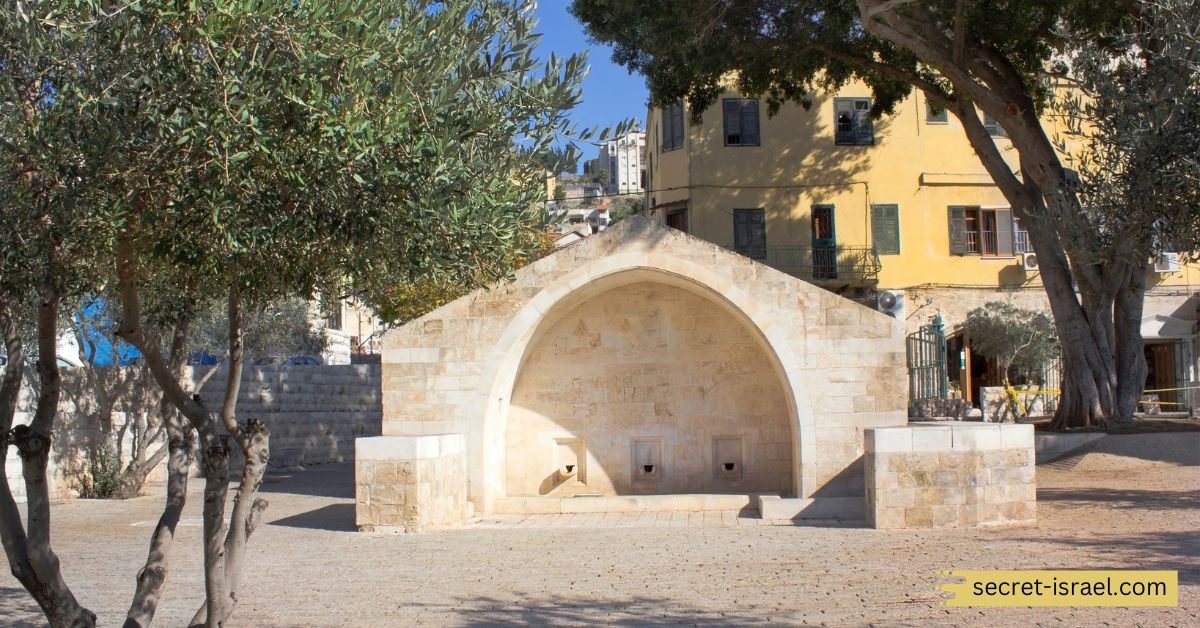 Boasting thousands of years worth of stunning artwork and peaceful surroundings, Mary's Spring is without a doubt one of Israel's most awe-inspiring Christian sites to visit.
Address: Al-Bishara St 55, Nazareth, Israel
Hours Open: 24 hours
12. Church of All Nations in Kidron Valley, Jerusalem
The Church of All Nations, situated in the serene Kidron Valley in Jerusalem. An oasis of beauty and holiness that draws hundreds of thousands of Christian pilgrims every year. This holy site is where Jesus spent part of his last days on Earth praying and preaching to his disciples.
Built over the traditional rock ledge venerated by many as being the spot where he prayed. It contains mosaic images depicting his agony prior to being arrested and crucified. Visitors can explore the columns lining the walls and dome ceiling, exquisitely decorated with intricate patterns which reflect its rich history.
They may also find some solace by reflecting on scripture depicted in frescoes positioned throughout the church building. While there are no events taking place at present due to COVID-19, make sure to plan ahead for future visits when possible!
Address: Jerusalem, Israel
In conclusion
Israel is a land steeped in history and culture that all travelers of faith should strive to experience. From the awe-inspiring Dome of the Rock to the majestic Mary's Spring in Nazareth Village.
Visitors can explore an incredible array of Christian sites across this extraordinary country. As such, embarking on a pilgrimage to explore Israel's rich spiritual heritage can be an awe-inspiring journey of self-discovery and inner peace.
Visiting these Christian sites in the Holy Land is sure to leave a lasting impression on you. Will provide you with a link to some of the most influential moments in history. So make sure to add a tour of the many religious sites in Israel to your bucket list and experience Christian history like never before!