Experience the spiritual and historical significance of the Holy Land with a tour of the 12 best places to visit in Israel. Discover the ancient fortress of Masada. Float in the healing waters of the Dead Sea. Walk in the footsteps of Jesus in Jerusalem, Nazareth, and Bethlehem.
Explore the vibrant culture of Tel Aviv, the charming old town of Jaffa, and the natural beauty of the Sea of Galilee and Eilat. Make your tour of Israel truly unforgettable.
1. Sea of Galilee
When planning an extended tour of the Holy Land, a trip to the Sea of Galilee is an absolute must locate in the northern region of Israel. This large freshwater lake is a sacred place for many Christian and Jewish faiths, as it was once inhabited by Jesus Christ himself. Rich with the beautiful and majestic scenery that's been affected by both natural and manmade elements over centuries. Seeing the Sea of Galilee allows travelers to discover a bit of history while exploring all around its 26-mile shoreline.
Numerous cities and towns dotting the area offer visitors exciting and varied experiences that are perfect when taking in some longer sightseeing days. Prized viewpoints such as Mount Arbel Cliffs or Capernaum give amazing panoramas ideal. For  those wanting to escape out into nature's beauty while learning more about religious culture sites can be done at nearby Safed and Tiberias. No matter what type of experience you're looking for on your holy land extended tour. Be it spiritual insight or simply ecological exploration – there's something for everyone at the Sea of Galilee!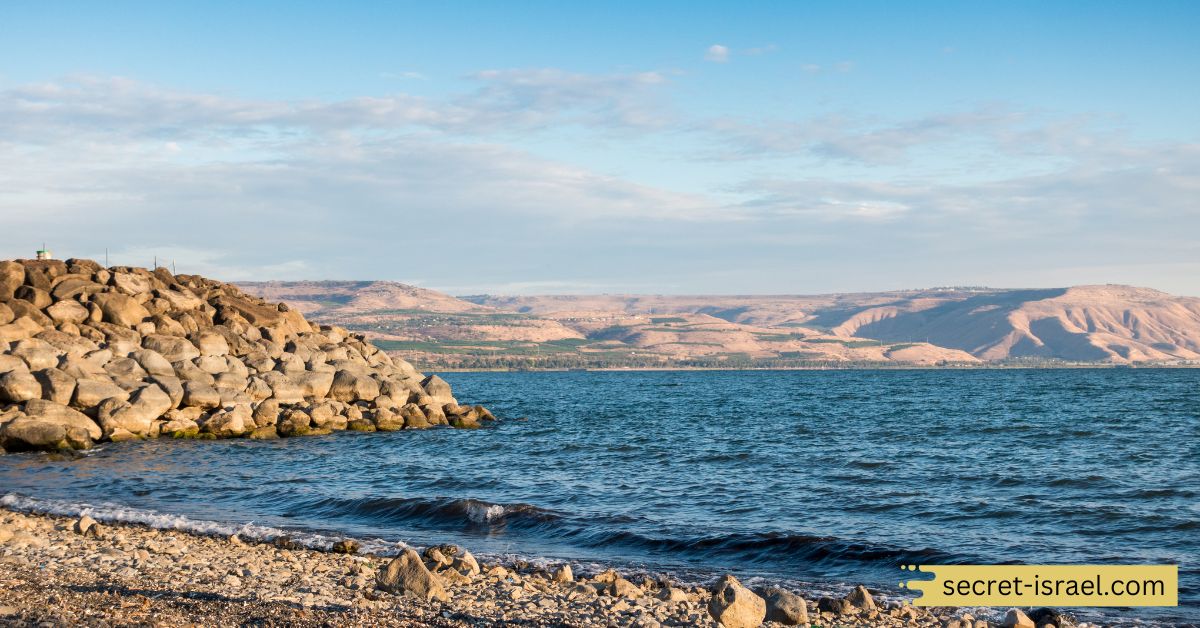 2. The Dead Sea
Set along the Jordan River on the West Bank, The Dead Sea is an amazing place to visit for a taste of Biblical history and culture. This region has been around since at least the times of Moses in Exodus. Making it a truly special place to explore and experience. With its incomparable mineral-rich waters that are four times saltier than regular seawater. The Dead Sea is known as one of the world's most important spas.
Visitors can take advantage of its variety of healing treatments, as well as enjoy swimming in its peculiar waters–the extreme salinity makes bobbing atop like a cork a breeze! Both locals and tourists alike flock to this stunning landmark for its gorgeous views, boosting leisure activities such as sunbathing on the beach. Camping at narrow ravines throughout the landscape, or taking hikes along ancient biblical trails. It's no wonder why this fantastic destination is one of Israel's best spots for an extended tour.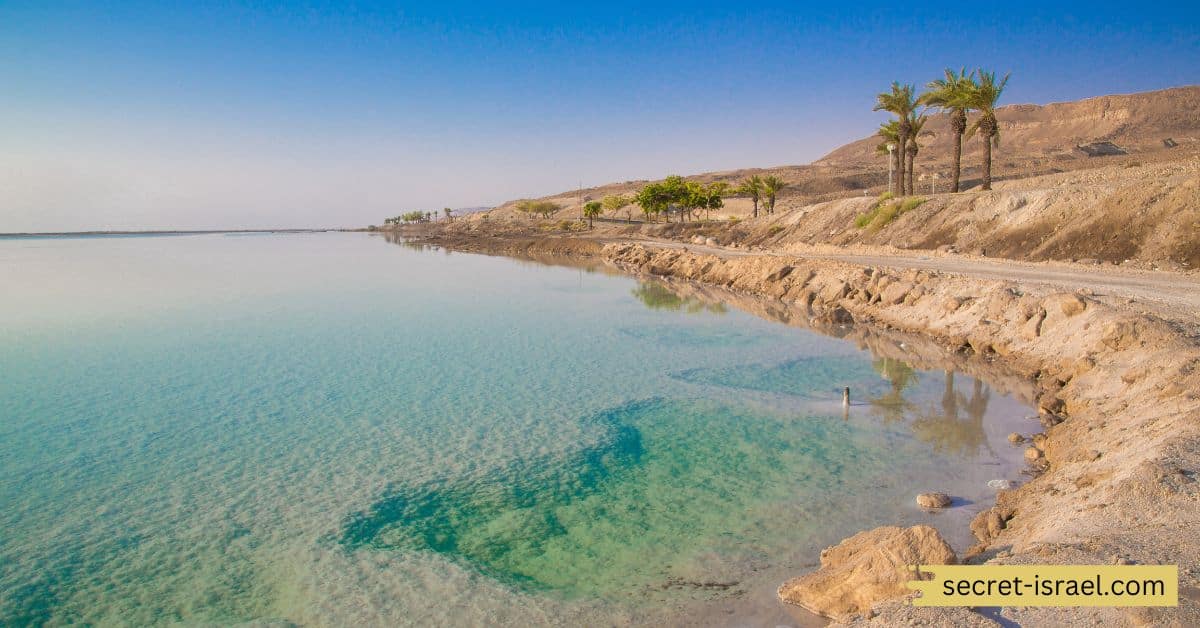 3. Masada
Masada is a must-see destination for those taking an extended tour of the Holy Land. Located near the Dead Sea in Israel, it's an ancient fortress that stands as a testament to Jewish pride and resilience. Climb up to the breathtaking plateau and explore what remains of this fascinating ruin while admiring views over the surrounding desert landscape.
Take your time to learn about Masada's complex history or join an audio guide tour available in multiple languages. Either way, you'll be moved by its beauty and important significance to Jewish culture and heritage.
4. Tel Aviv
With its sunny beaches, modern architecture, and vibrant nightlife, Tel Aviv is a must-see during any extended tour of Israel. Located along the Mediterranean coast, visitors to Tel Aviv get to experience incredible views of the endless blue seaside while enjoying the city's contemporary arts and culture scene.
Home to some of the world's best hummus restaurants, many love to explore Tel Aviv's delicious culinary offerings. The city also plays host to a huge selection of festivals all year round, allowing visitors to engage in local culture and traditions. With so much on offer in this diverse city, it would be impossible not to include it on your itinerary.
5. Nazareth
For those looking for an extended tour of the Holy Land, Nazareth is an absolute must-see. This city in northern Israel holds special significance for many religions as it is said to be the childhood home of Jesus Christ. Despite its small size, Nazareth has a lot to offer tourists. From historic churches and monuments to holy sites such as Mary's Well and The Church of Annunciation, there is something for everyone here.
The local marketplaces are filled with souvenirs and crafts that you can bring home as memories of your visit to Israel. Food lovers will enjoy sampling delicious Israeli cuisine like hummus and shawarma on their visit as well. It's no surprise that visiting Nazareth adds a unique element to any extended tour of the Holy Land!
6. Haifa
Haifa is a stunning coastal city in Israel and an ideal destination for those seeking an extended tour of the Holy Land. From its breathtaking Bahai Gardens to its array of museums and galleries, there's so much to see and do in this vibrant port city.
History lovers will be spoilt for choice with the countless archaeological sites spread throughout Haifa:
Bahai Gardens
Elijah's Cave
Stella Maris Monastery
For those looking for some retail therapy, ample markets are showcasing the unique flavors of Israeli cuisine and culture.
Culture buffs can enjoy performances from internationally acclaimed art institutions or visit one of the popular festivals occurring throughout the year like the SoundWave music festival or the Red Sea Jazz Festival. All in all, Haifa is a must-visit destination that should not be missed when exploring the spectacular Holy Land on an extended tour!
7. Bethlehem
With over 4,000 years of history, Bethlehem is an essential destination for any pilgrim to the Holy Land. The city holds many centuries-old churches and ancient sites that give insight into its colorful past. From the Church of Nativity and UNESCO World Heritage Site to Rachel's Tomb and Shepherds' Field, there are plenty of timeless attractions to explore.
Other recommended places include Milk Grotto Chapel, where tradition says that Mary fed baby Jesus while they were hiding from Herod's soldiers. The Manger Square outside the Church of Nativity provides a stunning backdrop to remember this traditional story. No matter what your travel plans are in Israel, a visit to Bethlehem is essential to fully embrace the history and spirituality of this unique part of the world.
8. Tiberias Hot Springs
Tiberias Hot Springs is one of the best places to visit in Israel for an extended tour of the Holy Land. Located right on the shore of the Sea of Galilee, visitors can enjoy soothing spa services while basking in the sun and marveling at stunning views of the Lake.
The naturally warm thermal waters provide a tranquil and tranquilizing experience that reaches far below the surface. For extra indulgence, you can try mud baths while also trying out special massages with essential oils, herbs, and clay. Plus, it's a great spot to take a boat ride or rent your kayak! Overall, whether you're looking for a relaxing getaway or some fun outdoor activities, Tiberias Hot Springs has something for everyone and no trip to Israel would be complete without a visit here.
9. Eilat
Eilat is one of the best places to visit in Israel for those looking to get a more extended look at the Holy Land. Located on the Red Sea, Eilat offers plenty of activities, from beachside relaxation to spectacular nature reserves, to vibrant nightlife.
There are attractions such as:
Kitesurfing
Wakeboarding
Diving
Snorkeling
Sites filled with colorful and diverse marine life! Accessible by air or land, you can easily spend an entire day touring Eilat's breathtaking Coral Beach Nature Reserve.
But that's not all – you won't want to miss out on visiting the underwater observatory marine park either! This is a great way to experience both worlds. Above and below sea level without having to get your feet wet. With so much to do in and around Eilat, there's something for everyone who wants a more comprehensive tour of the sacred nation of Israel.
10. Caesarea
One of the best places to visit in Israel for an extended tour of the Holy Land is Caesarea. This ancient port city is located on the Mediterranean Sea and was built by King Herod over 2000 years ago. It has a rich and checkered past, having frequently been conquered by various empires throughout history.
Today, tourists can visit sites like the harbor, Roman theater, Hippodrome, Crusader halls, and baths. Remains of an aqueduct marking the division between old & new cities, as well as a well-preserved moat around its defenses. While there is plenty to learn about Caesarea's history while visiting these sites. Visitors also have an opportunity to relax at local beach resorts or take part in activities from camel riding to deep sea diving or sailing trips. When planning your extended tour of Israel's Holy Land, be sure to stop by this breathtaking destination for a memorable experience!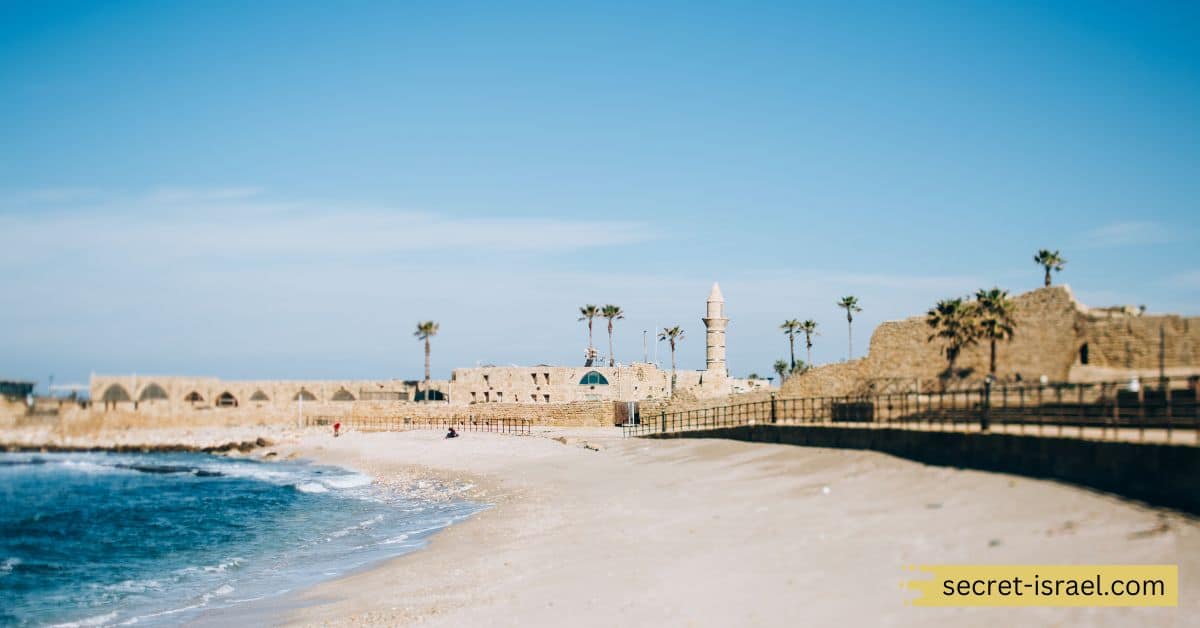 11. Jaffa
While Israel's singular most sacred site – the Temple Mount in Jerusalem – cannot be missed for its spiritual and historical significance.  Jaffa should also not be overlooked for a comprehensive tour of the Holy Land. A Tel Aviv suburb and one of the oldest port cities in the world. Jaffa is a very modern city with strong traces of antiquity as seen through both ancient structures and culture.
Its main attraction, Old Jaffa, is loaded with remnants from diverse historical eras. It also houses a vast range of alleyways bustling with art shops, galleries, and more. Local restaurants offer you a delightful range of Mediterranean-style dishes. While nearby beaches are perfect to take a break from sightseeing and revel in the beauty of nature that this vibrant town has to offer.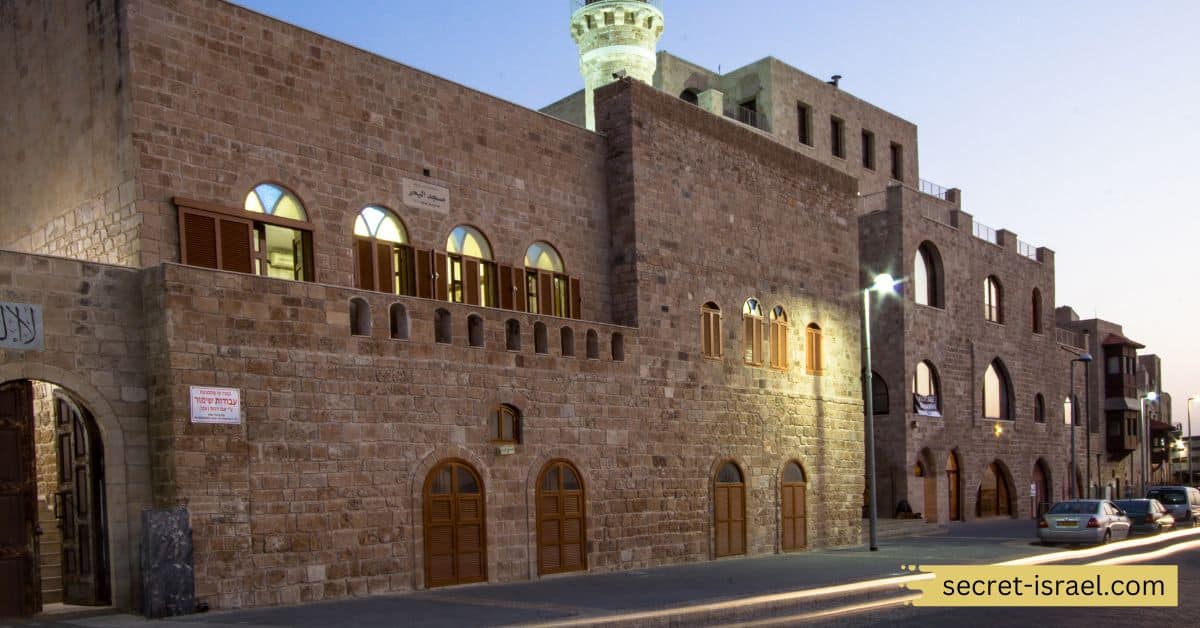 12. Jerusalem
Visiting Jerusalem is an experience like no other. This massive, storied city is truly one of the most fascinating destinations on Earth.
When visiting stop in at some of the many characteristic landmarks like:
Old City Walls
Dome of Rock
Temple Mount
Church of Nativity
Western Wall
Be sure to check out some of the fabulous museums around town like:
Yad Vashem Holocaust Memorial Museum
Tower of David Museum of the History of Jerusalem
Bible Lands Museum
Guided tour is recommended so you can appreciate all that there to see in this holy city.
For those looking to stay a bit longer in Israel than just a few days. Jerusalem can provide an unforgettable experience if explored further. Be it for history or religion – even enough for a whole extended vacation!
In conclusion
A visit to the Holy Land is an experience like no other. From ancient ruins and sacred sites to modern cities and nature reserves, Israel has something for everyone. Whether you're looking for spiritual insight or simply some relaxation time in the sun. There are plenty of places to explore during an extended tour of the Holy Land.
From Nazareth and Masada to Eilat and Tel Aviv, Israel is full of must-see destinations that make for an unforgettable journey. So, if you're looking for a long-term tour of this sacred nation, don't hesitate to check out all the wonderful sights Israel has to offer!