Tel Aviv is an amazing city with lots to see and do – and much of it for free! From street art in Florentin to birdwatching at the bird sanctuary, there's something for everyone. So get ready to explore Israel's vibrant seaside city and have the time of your life – without spending a cent!  Whether you're looking for a fun night out or some outdoor adventure, here are 20 cool things to do in Tel Aviv without breaking the bank.
1. Relax at the Beach
Tel Aviv's beachfront location makes it a natural choice for those looking to escape bustling city life and enjoy some time near the water. There are plenty of free or low-cost activities that visitors can take advantage of, such as sunbathing, walking the beach promenade, taking bike rides along the coastline, or even joining an outdoor yoga class.
With a stroll in either direction from Tel Aviv's Central Beach, you can find yourself transported to unique and vibrant nearby neighborhoods with endless opportunities for exploration. Don't forget to stop at one of the many beachside cafes for refreshments throughout the day; all these activities can work up quite an appetite!
2. Watch a Free Movie or Concert at the Yarkon Park Amphitheater
One way to experience a unique night in Tel Aviv without spending any money is to attend a free movie or concert at the Yarkon Park Amphitheater. Located in Yarkon Park, Tel Aviv's largest park, the amphitheater features plenty of seating, so it's easy to find a spot from which to enjoy the show.
On any given day, you could find yourself listening to a jazz band and watching blockbuster films on the big screen. The schedule often changes depending on the season, with special performances and events happening during holidays or other important dates. And no matter what you see, taking in some culture at this lovely open-air theater will be a memory you won't soon forget!
3. Explore Old Jaffa
If you're looking for something to do in Tel Aviv without spending any money, head to Old Jaffa! This ancient port city, which dates back thousands of years, offers lots of opportunities for an exciting and educational morning or afternoon. Explore the winding alleyways by day and admire the incredible architectural sights such as St. Peter's Church, Jerusalem Gate Tower, and Tantur's Monastery Plus.
Actors dressed as biblical characters are often present to recreate intense scenes from the bible – this is a great way to learn more about Ancient Israel. Take your time discovering all the hidden gems in this amazing landmark and don't forget to take some great pictures in front of its magnificent monuments while you're at it!
4. Enjoy Street Performers at Nachalat Binyamin
Nachalat Binyamin in Tel Aviv provides great entertainment for locals and tourists alike, as it is home to some of the best street performers in the area. Every Tuesday and Friday night, the streets of this pedestrian zone fill up with street musicians, magicians, clowns, mimes, jugglers, and more.
It's a fantastic opportunity to enjoy some local talent without incurring any cost – making it one of many cool things you can do for free in Tel Aviv. Plus it's always an entertaining evening out! If you want to experience the energetic vibes and soulful sounds of Israel's bustling capital city, make sure to check out Nachalat Binyamin on your next visit.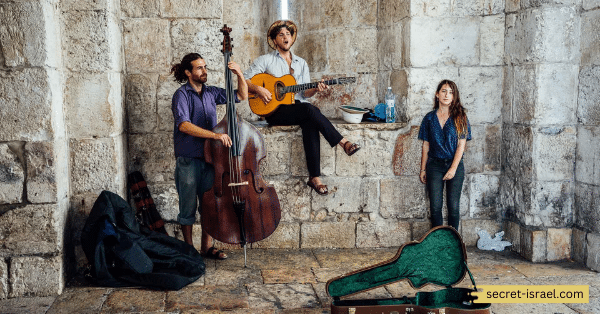 5. Go Shopping in Sarona Market
Sarona Market in Tel Aviv is one of the best places to go shopping for free. There is an extraordinary selection of handmade crafts and souvenirs, artisanal products like olive oils, trinkets, and jewelry, boutiques with top-of-the-line fashion items, and even sellers with fresh produce. It makes for a great day out just browsing through the vibrantly colored stands and talking to local artisans about their works.
If you're looking for entertainment without spending a dime, Sarona Market is the spot. You can spend hours getting lost in the hustle and bustle of this vibrant market or taking pictures of all its amazing sights in daylight or after dark. Plus, there are also plenty of delicious food stalls serving up scrumptious treats from all over the world – perfect to enjoy while strolling around as part of your free shopping experience!
6. Visit the Tel Aviv Museum of Art
Tel Aviv has an amazing art scene, and one of the best ways to experience it is by visiting the Tel Aviv Museum of Art. This museum houses an incredible collection of modern and contemporary Israeli art, with paintings and sculptures from renowned Israeli artists. Visitors can explore exhibitions that range from impressionism to surrealism, as well as multimedia installations and photography.
Thanks to Tel Aviv's vibrant culture, the museum often hosts workshops and events as well. The best part is, admission to most areas of the museum is free! Whether you're a die-hard art aficionado or simply looking for something fun to do in Tel Aviv without breaking your budget, this museum should be at the top of your list.
7. Explore the Azrieli Observatory
Situated within the iconic Azrieli Center, The Azrieli Observatory provides stunning vistas over Tel Aviv and its environs. Perched at a height of ninety-seven meters, this observatory offers breathtaking panoramic sights for free and is open year-round. During peak hours, viewers can find both locals and tourists alike on the third floor of this multistory center, where they can take in iconic landmarks such as Habima Square and the Mediterranean Sea.
On clear days, the views stretch out to Jaffa and Yafo – perfect for a romantic date or to show new visitors around town! During winter months you can even spot Jerusalem from far away horizon! On Fridays, when it is usually closed for business other than religious holidays, guests are invited to an hour-long tour with an audio guide explaining its significance. No matter when you come, you'll leave with something special: beautiful views that capture what makes Tel Aviv so unique.
8. Take a Walk Along the Tel Aviv Promenade
Tel Aviv's Promenade is undoubtedly one of the city's most beautiful landmarks. With the Mediterranean Sea to one side and the lively atmosphere of Kikar Rabin Square at its northern tip, a stroll along the waterfront will give you breathtaking views no matter what time of day. Stretching out over seven kilometers, this two-way path can be used by visitors to admire some of Tel Aviv's finest work in architecture as well as provide access to pristine beaches.
What's also great about this free activity is that you'll come across several attractions such as outdoor sculptures, outdoor markets, and activities for kids along the way; making it an ideal getaway for anyone who wants a more local experience during their stay in Tel Aviv.
9. Visit the Nahalat Binyamin Pedestrian Mall
Located in the heart of Tel Aviv, the Nahalat Binyamin Pedestrian Mall is a great stop for travelers seeking to discover authentic Israeli culture. Every Tuesday and Friday, the mall transforms into an array of vibrant colors containing a wealth of stalls split between artists selling their handcrafted goods, local eateries serving homemade delicacies, and street vendors providing entertainment to passersby.
It's a fantastic place to pick up unique souvenirs and get immersed in the city's distinctive atmosphere while observing locals going about their day-to-day lives. Last but not least, it's entirely free! Whether you're looking for a strong glimpse into Israeli culture or simply want to find gifts for family and friends back home without breaking the bank, Nahalat Binyamin has something for everyone.
10. Tour Hayarkon Park
Touring Hayarkon Park in Tel Aviv is a must-see if you're looking for free things to do in the city. Located close to many of the city's attractions, this 250-acre sprawling park offers plenty of activities that won't cost you a cent. Relax in its leafy trails, take a picnic to one of its many sunny spots, work out with locals at its excellent outdoor gym, or spend time cooling off at the serene Yarkon River running through it – these are just some of the amazing experiences on offer here.
Make sure to keep your eyes open too – there's plenty of local wildlife often seen within the park. Tour Hayarkon Park is an oasis within vibrant Tel Aviv and one of the best options for free entertainment around town.
11. Visit Habima Square and the Performing Arts Center
Habima Square and Performing Arts Center is a must-see for visitors in Tel Aviv. This world-famous theater, which opened in 1957, offers incredible performances including plays, lectures, and concerts that cover national and international art forms. Habima Square is nestled in the heart of Tel Aviv, making it an easy destination to get to. It also contains great green areas for relaxing or having picnics.
Whether you are looking for a new experience or just want to sit back and enjoy excellent performances, Habima Square has something to offer everyone. It is one of the coolest things to do in Tel Aviv that won't break the bank!
12. Enjoy Street Art in Florentin
Painting the iconic walls of Florentin is an incredibly popular activity for travelers and locals alike in Tel Aviv! While this unique form of urban art is often seen as a way of illegal expression, it is encouraged in the area. There are plenty of multi-hued house facades that serve as canvases for every Florentiner's inner artist.
Whether you're a talented spray painter or just someone with a knack for creative expression, it doesn't matter — Florentin Street Art gives everyone the chance to use their voice without speaking. It's easy to spend hours simply observing these public pieces of statement-making artwork; but to further appreciate their value, why not take up a DIY street art project? This authentic experience will be one that you carry with you wherever you go. So come join in on this exciting cultural trend and make some urban art history!
13. Visit the Tel Aviv Port
Tel Aviv Port is one of the most vibrant and picturesque places in Tel Aviv. As a major tourist destination, the port area offers plenty of activities for anyone interested in exploring the local culture and scene. Take a walk along the promenade and enjoy the beachfront scenery; take advantage of some of the amazing free events, such as street performers, weekly markets, beachside bars, and more.
Visit historical sites such as Sheinkin Street to understand what Tel Aviv has to offer. With its wide array of restaurants and cafes, you can experience local flavors without breaking your budget. No matter what brings you to Tel Aviv, spending time at the port will be an enjoyable experience!
14. Enjoy a Free Walking Tour of Tel Aviv
Tel Aviv is teeming with sights and attractions, but you don't have to spend a lot of money to take in everything it has to offer. Free walking tours are available to explore the fascinating city of Tel Aviv, ensuring that you can experience its beauty without needing deep pockets. Such tours focus on various aspects of the city, taking you through some of its top attractions and spinning tales from its fascinating history.
It's a great opportunity to get acquainted with the city's landmarks and cobbled streets. Moreover, travelers get to share a unique experience with fellow sightseers which will undoubtedly enrich their vacation. For those looking for free attractions in Tel Aviv, take part in a free walking tour – explore and appreciate one of the most beautiful cities in the world!
15. Explore the Old City of Jaffa
If you're looking for a great and cost-free way to experience the multifaceted city of Tel Aviv, look no further than exploring the bustling Old City of Jaffa. Here, amidst all the hustle and bustle from souk vendors selling spices, jewelry, fruits, and vegetables, you'll find yourself mesmerized by ancient churches and courtyards to get a taste of what life centuries ago was like.
One of the most magical experiences is walking along the stunning coastline towards Old Jaffa where some amazing street art awaits your discovery. Finally, make sure to take time for some delicious local cuisine in the unique night market that takes place every Friday evening – no better way to top off your journey through this spicy city!
16. Take a Self-Guided Tour at Neve Tzedek
A trip to Tel Aviv wouldn't be complete without spending a day exploring the beloved neighborhood of Neve Tzedek. This quaint, charming district is home to trendy restaurants, cafés, and boutiques, as well as plenty of hidden gems that make it worth visiting. If you're looking to save some money, why not take a self-guided tour of Neve Tzedek?
Its pedestrian streets are filled with opportunities for adventure – simply follow the street signs at your own pace and enjoy the journey. Along the way, marvel at the old architecture while soaking in contemporary art galleries and discovering local boutiques. The whole experience is sure to be unforgettable!
17. Free Art and Exhibitions at the Tel Aviv Artists' House
Tel Aviv is known for its vibrant art scene, and there are plenty of opportunities to enjoy current exhibitions at the Tel Aviv Artists' House, which showcases the work of emerging local and international artists. This city cultural center is a great place to visit for free – open every day starting at 11 am – and view artwork that ranges from sculpture, painting, and photography to installations.
Free guided tours are offered to engage with the artworks on display, as well as gain insight into what inspires these artists and viewings where visitors can enjoy conversations with some of them. Whether you're looking for an afternoon away from the hustle and bustle or want to connect with other creative minds in Israel, this venue is worth checking out!
18. Go Birdwatching at the Tel Aviv Bird Sanctuary
If you're looking to enjoy the great outdoors while visiting Tel Aviv, a trip to the city's Bird Sanctuary is a must. Located near Yarkon Park, this aviary is home to dozens of species of local and migrating birds that flock there all year round.
Whether you're an experienced birdwatcher or just someone who enjoys wildlife, the sanctuary provides ample opportunities for spotting different birds in their natural habitat. The sanctuary also includes walking paths, benches, and watering holes making it the perfect spot to relax and spend the day taking in the sights and sounds nature has to offer completely free of charge.
19. Visit the Meir Park and Botanical Garden
Visiting the Meir Park and Botanical Garden in Tel Aviv is one of the best things to do for free in this lovely city. This park is full of lush greenery that helps transform it into a tropical paradise, allowing visitors to forget their worries as they take a peaceful stroll through the vast grounds. Not only are visitors able to take in the beauty of nature, but there are also plenty of fun activities to partake in!
From bike trails perfect for exploring on wheels, play areas designed with families in mind, outdoor exercise classes free for all, and a relaxing golf course, Meir Park has something special to offer everyone looking for an enjoyable afternoon out. With its array of experiences, it's easy to see why Meir Park is such an iconic spot among locals and travelers alike!
20. Take a Tour of the Palmach Museum and Memorial Site
If you're looking for something free and interesting to do in Tel Aviv, the Palmach Museum and Memorial Site are worth a visit. It is dedicated to honoring the Palmach fighters who helped make Israel what it is today, from securing independence during the Palestinian campaign in 1948 to safeguarding cities during the Six-Day War. Inside this museum, you can learn the history of the legendary fighters, explore interactive exhibits and displays, view documents and artifacts related to their struggles, and even participate in seminars.
This exhibit gives a unique perspective on modern Israeli history, making it an ideal destination for anyone interested in learning more about this dynamic nation's past. After your visit, you can stroll through nearby Yitzhak Rabin Park or Katznelson Garden, both of which feature lush greenery surrounded by beautiful beaches and other cultural attractions open to visitors throughout the year.
In conclusion
Tel Aviv is a vibrant city that offers an abundance of free activities and attractions. From taking in the culture at Nahalat Binyamin Pedestrian Mall to exploring urban art on the streets of Florentin, or birdwatching at the Bird Sanctuary to admiring architecture by the beachfront – there is something for everyone to enjoy in this spectacular city.
Whether you're looking for an adrenaline-filled adventure or a relaxing day outdoors, Tel Aviv has something to offer everyone. So pack your bags and get ready to explore! You won't be disappointed by this amazing city and all that its free attractions have to offer.