Are you planning a trip to Tel Aviv? If so, there are some important facts that you should know before embarking on your journey. Tel Aviv is a truly unique destination for travelers. From its vibrant nightlife and countless beaches to the vast array of cultural and historic sites.
Here are 15 facts you should know before traveling to Tel Aviv to ensure that your trip is a success. From the official language and currency to cultural and historic sites, this guide provides all the information you need in order to have an amazing time in Tel Aviv. So read on and discover why Tel Aviv is one of the most exciting cities in the world!
1. Most Populated City in Israel
Tel Aviv is the most populated city in Israel with a population of 462,388. With its population and close proximity to the Mediterranean Sea. It is no wonder why Tel Aviv is considered one of the biggest cities in Israel.
As a bustling tourist hub, there are a few factors you should be aware of before traveling to Tel Aviv for the first time. For starters, make sure you have appropriate accommodations and understand what prices approximate so that you can budget accordingly.
Additionally, it is important to understand your rights as a tourist. Especially when taking pictures or engaging in cultural activities to prevent any legal repercussions.
Finally, educate yourself on the local laws and customs of the region so that you can remain respectful while exploring all that this vibrant city has to offer.
Navigate here to see the location's actual view.
2. It Is Known as "The City That Never Sleeps"
Tel Aviv has been praised for its thriving nightlife and gorgeous beaches, making it a popular tourist destination all year round. Due to its temperate Mediterranean climate, the rainiest months are usually November and December. While the summer months bring the highest temperature with an average of 25 degrees Celsius.
Although it is possible to travel by car, public transportation such as bus or train is recommended since Tel Aviv has high traffic compared to other cities in Israel. Whether your visit will be filled with visits to museums and historic sites or exploring local bars and restaurants. Tel Aviv offers an unforgettable experience for its visitors.
3. Language Spoken are Hebrew and Arabic, but English Is Also Widely Known
Tel Aviv is a city in Israel known for its lively arts and culture scene. With an impressive beachfront boardwalk that's perfect for long strolls and excellent people-watching opportunities. What many visitors might not know before traveling there.
However, is that Hebrew and Arabic are the official languages spoken throughout the city but don't worry! English is also widely used as a second language by many Tel Avivians. There's no need to learn any other language besides English before your trip.
Although it's never a bad idea to brush up on your basic statements in Hebrew or Arabic! With plenty of bilingual locals around to help. You'll never be at a loss in Tel Aviv whether you're ordering dinner or searching for souvenirs.
4. Currency Used Israeli New Shekel (ILS)
The primary benefit of using this currency is that it cannot be counterfeited due to its security features and regulation. Furthermore, conversion should not be a problem since Palestinian Territories also use ILS as their main currency. You will find mostly coins and notes issued by the Bank of Israel.
In circulation which has various denominations from 1/2 shekel to 200 shekel. It is highly recommended to carry multiple denominations of coins for making smaller purchases like drinks or snacks.
While one may get bigger bills accepted at larger outlets like malls or supermarkets. So make sure all your shopping expenses are covered before heading out to this magnificent city!
5. Home to the Largest Port in Israel
Providing travelers access to other parts of the country for exploration. Additionally, Tel Aviv's Jaffa Port offers stunning views of the Mediterranean Sea. An opportunity for beachside activities such as swimming and sunbathing.
Visitors interested in history can tour some of Tel Aviv's captivating museums and visit important heritage sites like Yehuda Halevi Street. With a wide range of high-end amenities, designer boutiques, luxury spas, delicious local cuisine, and so much more.
There's no shortage of possibilities for visitors to this dynamic city. Before traveling to Tel Aviv, it's important to research cultural norms and other helpful tips that will make your trip even more enjoyable!
6. Vibrant Nightlife
Tel Aviv is known for its vibrant nightlife. From trendy high-end bars and pubs to beachside discos. The city significantly offers a unique experience for visitors looking for an eclectic after-hours atmosphere. Some tip you should keep in mind before venturing out is to dress to impress, as Israelis are particularly stylish.
When it comes to their appearances, but more importantly, be prepared to stay out way past your bedtime. Additionally, some areas of Tel Aviv mandate certain day requirements on certain days of the week.
For example, Rothschild Boulevard hosts Thursdate. Only those aged 28 and older can attend evening events on Thursday nights. Thus with the right combination of adventure and preparedness, you will be able to best experience Tel Aviv's captivating nightlife culture.
Bars
Mike's Place Tel Aviv
Located right in the heart of Tel Aviv's downtown, Mike's Place is one of the most popular bars in the city. It offers an array of drinks and a live band every night to keep guests entertained. With its trendy atmosphere and affordable prices, it's no surprise why this bar is always packed with locals and tourists alike!
Address: Retsif Herbert Samuel St 90, Tel Aviv-Yafo, 6343125
Opening Hours:
Monday – Thursday 12 pm–1 am
Friday – Sunday 12 pm–2 am
Phone: 03-510-6392
For pictures, booking, and more information, click here.
The Block Club
For those looking to experience the city's rave and underground scene, The Block Club is a must-visit. Located in the South of Tel Aviv, this spot offers eclectic music, neon lights, and unbeatable vibes that make it one of the best places to party.
Address: Shalma Rd 157, Tel Aviv-Yafo
Opening Hours:
Saturday – Wednesday Closed
Thursday 9 pm–8 am
Friday 11:30 pm–8 am
For pictures, booking, and more information, click here.
Oscar Beach Disco
For a unique beachfront experience, Oscar Beach is the perfect spot. With its amazing drinks and spectacular views of the Mediterranean Sea, it's no wonder why this club is highly recommended for tourists visiting Tel Aviv!
Address: הרברט סמואל 5, Tel Aviv-Yafo, 6801828
Opening Hours:
Phone: 03-797-7966
For pictures, booking, and more information, click here.
7. The Beaches
Tel Aviv is home to some of the world's most beautiful beaches. With its Mediterranean location comes relaxed vibes and spectacular views. Whether you're looking for a break from the city or just want to soak in the sun. Tel Aviv's pristine beaches are well worth a visit.
Before you head down though, it might be wise to equip yourself with some important facts. Many of Tel Aviv's beaches have special rules such as no pets allowed and requiring beachgoers to provide their own seating. With that said, theft is rare so it's safe to leave your things on the beach when you take a dip in the crystal-clear sea.
Hilton Beach
Located in the center of Tel Aviv, this beach is great for sunbathing and swimming. It also includes facilities such as showers, restrooms, and a lifeguard tower during peak season.
Navigate here to see the location's actual view.
Frishman Beach
This beach offers stunning views of the sea along with decent amenities like umbrellas and chairs to rent. It is also a popular spot for surfers and bodyboarders.
Navigate here to see the location's actual view.
Metzitzim Beach
This beach is known for its stunning views of the sea and its vibrant nightlife after sunset. It includes facilities such as showers, lifeguard towers, and sun umbrellas. Additionally, it's great for swimming or just relaxing.
Navigate here to see the location's actual view.
8. Home of Cultural and Historic Sites
Tel Aviv is a city with a rich and diverse cultural history, full of fascinating sites to explore. Those journeying to Tel Aviv should certainly take the time to learn more about these unique locations and their stories.
In Old Jaffa, visit remains from the 19th century or browse through artifacts at the Ilana Goor Museum. The Yitzhak Rabin Center will provide insight into Israeli politics. While those looking for art and music can enjoy exhibitions at the Tel-Aviv Museum of Art and various shows by the Israel Philharmonic Orchestra.
For beach lovers, Neve Tzedek has lovely beaches whilst near Sarona Market visitors can enjoy great culinary experiences. With so much to see, travelers should make sure to plan ahead and check out all the cultural and historic gems that this amazing city has to offer.
9. Many Attractions for Tourists
If you're considering taking a trip to Tel Aviv, there is no shortage of attractions for tourists to enjoy. From world-renowned beaches and museums to vibrant nightlife options. The city truly has something for everyone. At the heart of it all stands Tel Aviv's famous Bauhaus architecture, which lends a unique character that can be found nowhere else in the world.
History buffs will rejoice in visiting Independence Hall, the site where Israel declared independence in 1948. Those looking to rest and relax should take advantage of the Mediterranean climate as they soak up some rays on one of Tel Aviv's golden sand beaches.
And finally, don't forget to add an evening out on the town to your list of things to do – there is no better way to experience all that Israeli culture has to offer than through its renowned nightlife scene.
10. Home of International Sporting
Known for its vast coastline, Tel Aviv is a majestic coastal city where many travelers flock to soak up the sun. But there's another reason international visitors may be interested in visiting Tel Aviv; the city has an exciting sporting culture that is worth exploring.
From well-loved volleyball and sailing competitions to beach race events like the Israeli Beach Marathon and Bronuts Challenge, there's lots of action happening in Tel Aviv. And if you've been looking for something more adventurous.
Take note – this is also home to some world-renowned wakeboarding and windsurfing events! Whether you are looking to compete or just spectating. You can find plenty of exhilarating activities in Tel Aviv that will make your vacation extraordinary.
11. Extensive Public Transportation System
This makes getting around Tel Aviv much easier for visitors who can purchase tickets and travel cards from kiosks throughout the city. It's important to note that there are separate tickets and passes for travel on different types of transport — buses require one kind and light rail requires another.
Additionally, some bus routes may be suspended or altered during holidays or special events, so it's wise to research your desired route ahead of time. On top of this, different kinds of single-journey tickets offer discount fares when bought in multiple.
Sometimes up to 50% off making public transportation even more budget-friendly. Knowledgeable travelers can thus make use of the efficient public transportation system in Tel Aviv as they explore this amazing city!
12. The Climate Is Typically Mediterranean
The temperatures are warm year-round with mild, wet winters and hot summers. Additionally, the city may experience occasional water shortages due to a lack of natural resources. It's important for travelers to be aware of these factors so they can properly prepare for their trip by packing the right clothing and knowing what to expect.
Generally speaking though, the temperature varies from an average low of 17 degrees Celsius (63 degrees Fahrenheit) in January and February to an average high of 32 degrees Celsius (90 degrees Fahrenheit) in July and August.
Once you have an understanding of these facts about Tel Aviv's climate, you'll be able to confidently plan your journey.
13. Has a Thriving LGBTQ+ Community
The city's commitment to LGBT rights has earned it the nickname of "the gay capital of the Middle East." Tel Aviv also offers numerous cultural and historical attractions. As well as expansive beaches and unlimited opportunities for entertainment.
With its welcoming atmosphere, it is no surprise that Tel Aviv consistently ranks among the top destinations for LGBTQ+ travelers. It is important to note that Israel does not grant marriage equality to same-sex couples.
So visitors should be aware that their rights in this area may still be limited while they're in Tel Aviv. Nevertheless, the city's thriving LGBTQ+ community continues to create a safe and welcoming space for anyone who visits.
14. World's Most Vibrant Cities With Its Unique Blend of Cultures, Religions, and Lifestyles
Tel Aviv is located on the Israeli eastern Mediterranean coast and has been an excellent spot for both business activities as well as leisure trips. Due to its vicinity to Jerusalem, Tel Aviv also has many historical attractions such as churches, museums, and old marketplaces.
The city offers plenty of outdoor activities, ranging from walks around the beach or Yarkon Park to biking tours along the Mediterranean Sea. It's also popular for shopping and nightlife by featuring various nightclubs and bars which are open until late hours.
Overall, Tel Aviv with its wide range of fascinating experiences makes it one of the liveliest places you'll find in the world.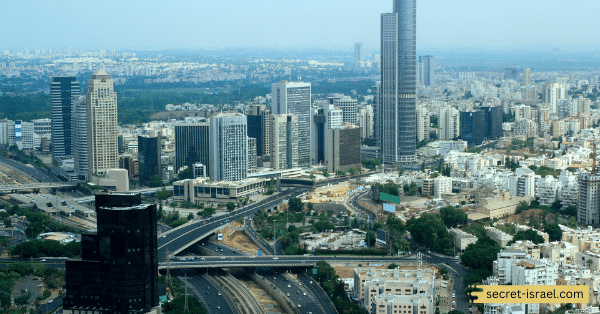 15. Ideal Destination for a Diverse Culture and Way of Life
This beautiful city lies on the Mediterranean coast and provides a great blend of modern architecture and historical sites. It also offers plenty of opportunities for relaxing in its many cafes, galleries, and beaches. Before visiting this multicultural eco-system, tourists should know that as a religiously observant Jewish state, most stores close on Saturday which is the Sabbath day in Israeli culture.
Additionally, restaurant prices tend to be expensive due to high taxes while public transportation is limited outside of the center region. Despite these drawbacks, Tel Aviv boasts nightlife activities rarely found anywhere else in the world along with viewpoints that capture its unique history and cultural charm. Whether you are just passing through or staying long term, Tel Aviv promises a rewarding experience by exposing you to its varied culture and way of life.
In conclusion
There's no doubt that Tel Aviv is a city unlike any other. From stunning beaches and captivating museums to vibrant nightlife and sporting events, it is world-renowned for offering travelers an amazing range of activities and experiences.
Visitors should make sure to research the cultural norms before visiting and be aware that some special rules may apply to certain areas or events. Furthermore, they should take advantage of the city's efficient public transportation system and use it to get around Tel Aviv easily and affordably.
With its unique blend of culture, history, entertainment, and modern amenities, this exciting destination will fulfill any traveler's wishes for the perfect vacation!