Whenever an Israeli goes to Eilat (for vacation, no one here goes there to meet some friends), they run the risk of spending the entire time by the hotel's pool or at the beach. Don't get us wrong, Eilat's beaches are the most beautiful in all of Israel, but that doesn't mean there aren't plenty of other activities that are well worth your time. If you truly want to see and experience everything this southern city has to offer, you'll have to get out of your watery comfort zone.
Exploit the absence of tax!
If you're behind on your souvenir shopping, or your laptop just decided to kill itself all of a sudden, Eilat is the place to go. This city is tax-free! Indeed, everything you see is devoid of tax, just so you tourists will tell your friends that they absolutely have to come to visit Israel. There are several big shopping malls in Eilat, and you'll essentially be walking around in a giant duty-free area. Just check to see if you're not paying extra to fishy salespeople.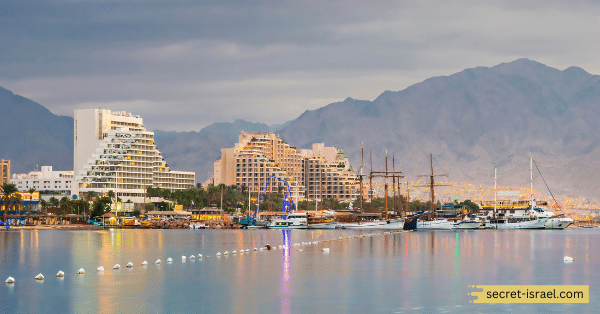 Discover the Arava
The Arava is the name of the seemingly endless desert that surrounds Eilat. It's not just there to be a background for the city. Get in your walking shoes and start exploring. Many day tours will take you to the major sites, but you can also do everything yourself (especially if you have a handy rented car with you). See those canyons, walk up the mountains, and catch a glimpse of Jordan. Just remember to pack a lot of water. It gets hot.
Go to Petra
If you want more than a mere glimpse of Jordan, why not go to Petra? We know it's a stretch calling this "a thing to do in Eilat," but technically, you'll be coming from Eilat, so… yeah… Anyway, Petra is one of the most beautiful and unbelievable places in the world. To see the spectacular sandstone temples, eat the cheap local food (it's just the original version of our food, be honest), and see the magnificent colored sands. It's only a matter of a day or two to experience the main attractions. You can take a guided tour, or save your cash and go the adventurous way – by yourself.
Dive with dolphins
If you can't stay away from the beach, at least let it be this beach. At the Dolphin Reef, you can, you guessed it, dive with dolphins. You'll be given a short introduction to scuba diving before you'll suit up and join the dolphins in their natural environment. Needless to say, the waters here are crystal clear, and that the dolphins are friendly and playful. It's diving with dolphins, what's not to like?! Perhaps the price can be on the hefty side. But who can put a price tag on such an experience?
Go to the observatory
Had fun with the dolphins? We highly recommend you visit the Underwater Marine Observatory. This isn't your regular sea-life museum. The observatory takes you tens of feet below sea level to see the amazing reef up close. Pray real hard, and you might see a shark having lunch. Actually, there's also a shark pool, so the chances are in your favor.
Hike up the mountains
Don't let those gorgeous mountains stay far away. There are so many easy-to-reach routes that will take you up Eilat's mountain; it's a crime to stay at sea level. Just navigate yourself to the Eilat Mountains Nature Reserve. It's just outside the borders of the city, and it's well worth the walk.